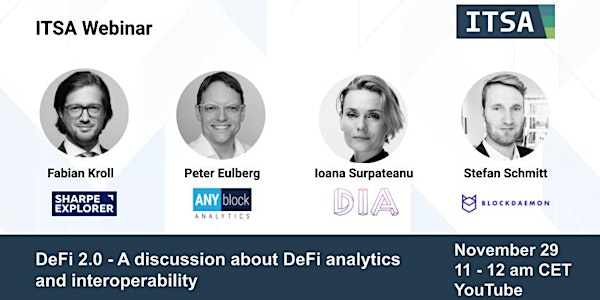 DeFi 2.0 - A discussion about DeFi analytics and interoperability
DeFi 2.0 - A discussion about DeFi analytics and interoperability
Zu diesem Event
Decentralized Finance (commonly referred to as DeFi) is a blockchain-based form of finance that does not rely on central financial intermediaries such as brokerages, exchanges, or banks to offer traditional financial instruments. DeFi platforms allow people to lend or borrow funds from others, speculate on price movements on a range of assets using derivatives, trade cryptocurrencies, insure against risks, and earn interest in savings-like accounts. As of October 2021, the total value locked in DeFi protocols exceeds $220 billion USD, of which $150 billion USD account for the Ethereum network (source: Defilama).
The first DeFi protocols emerged in 2017 when protocols like MakerDAO and Aave started offering their lending services. However, the utilization of DeFi protocols took several years to develop and has seen immense growth recently. While DeFi is often seen as empowerment of the people, many critics argue that high gas fees and funding by venture capitalists make it a playground for wealthy individuals and financial institutions looking for good returns. At the moment, DeFi is seeing its renaissance as new distributed ledgers with smart contract functionality like Avalanche, Fantom, xDai Chain or Cosmos are entering the market enabling low transaction cost and allowing retail investors to participate in a cost efficient manner. Yet, the constantly expanding DeFi sector can be chaotic and more transparency is necessary to improve the overall user experience and to prevent fraud. In that regard, better analytic tools and market standards can strengthen the trust in the ecosystem and propel the mainstream adoption of blockchain.
Some of the questions to kick off the conversation:
Is the future of DeFi multi-chain or will ETH 2.0 likely dominate in the long-term?
What tools are needed to improve user experience?
Will DeFi be regulated and how?
How will DeFi shape the financial system in underbanked countries? And will this have spillover effects on first-world countries?
You will receive the link to the live stream via email 20 minutes before the event. The event will be streamed on Youtube. We look forward to seeing you there!
Panelists
Peter Eulberg (Anyblock Analytics)
Stefan Schmitt (Blockdaemon)
Ioana Surpateanu (DIA)
Fabian Kroll (Sharpe Explorer)
Moderator: Christian Viehof, International Token Standardization Association
Location and Date
Location: Online. Details for the live broadcast will be sent to you on the day of the event (no prior software installation required)
Date: Monday, November 29, 2021
Time: 11h00–12h00 (CET)
Language: English
Agenda
11:00 - Welcome and introductory words (Christian Viehof, International Token Standardization Association)
11:05 - Introduction of the speakers
11:10 - Start of the panel discussion: DeFi 2.0 – Analytics and Interoperability
12:00 - End of online panel
Tickets and registration
Required via Eventbrite; you will receive the URL for the online panel in advance.
Who should participate?
Employees and decision-makers from the financial sector interested in blockchain technology
Investors with a focus on crypto and blockchain
Crypto funds interested in DeFi
Asset managers, family offices, funds trying to learn about blockchain and DeFi
Other groups of people with an interest in decentralized finance, blockchain, and investment
Anyone enthusiastic about blockchain technology
Contact
International Token Standardization Association
E-Mail: team@itsa.global
Phone: +49 151 52580120
Web: my.itsa.global
About ITSA
ITSA e.V. is a non-profit organization headquartered in Berlin primarily focusing on the standardization of tokens and crypto assets. In addition to the development of unique identifiers, an international classification framework and a token data register (Tokenbase), the center offers a platform for the exchange of knowledge and thought for decision-makers and startups as well as technology and industry experts. ITSA e.V. sets new research impulses for students and organizes educational round tables for executives in the field of tokenization.
Datum und Uhrzeit
Veranstaltungsort
Veranstalter von DeFi 2.0 - A discussion about DeFi analytics and interoperability