Dieses Event ist beendet.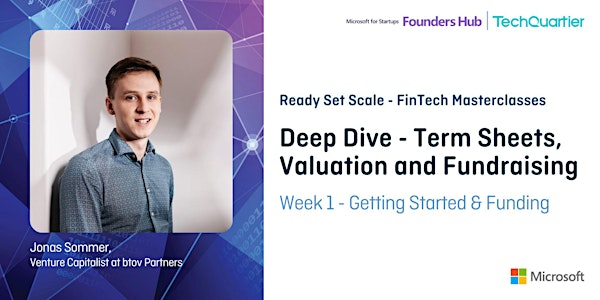 Deep Dive - Term Sheets, Valuation and Fundraising
Deep dive - Term Sheets, Valuation & Fundraising
Zeit und Ort
Datum und Uhrzeit
Mi., 15. Feb. 2023 05:00 - 06:00 PST
Zu diesem Event
This event is part of the Ready Set Scale Fintech masterclasses series powered by Microsoft and TechQuartier. The series covers engaging keynote speeches and startup impulses from top industry experts giving you a blend of knowledge, skill set and inspiration to bring your startup to the next level. In this four-week journey you will explore how to build foundations of your start-up, create strong technical backbone, safe compliance policies, successful sales plans, and more!
You will be listening to the live sessions via Microsoft teams and interact with the speakers in interactive Q&A's.
About this session: Deep dive - Term Sheets, Valuation & Fundraising
About the speaker: Jonas Sommer
What next after attending the masterclasses?
You are warmly invited to join our in-person networking event at TechQuartier, Frankfurt for startups, investors, and selected Microsoft clients to discuss financial technology trends in a smaller circle of relevant stakeholders.
We look forward to seeing you there!
Check out the full Ready, Set, Scale schedule here and if you are not part of Microsoft Founders Hub yet, make sure to sign up today and benefit from free access to business and technical guidance, free cloud (up to $150k), software tools and mentorship.
Interested in joining TechQuartier's startup community? Access a large network and helpful programs that can help grow your venture. It's free, but the opportunities are invaluable. Learn more here: https://techquartier.com/community/membership
For further information, reach out to events@techquartier.com