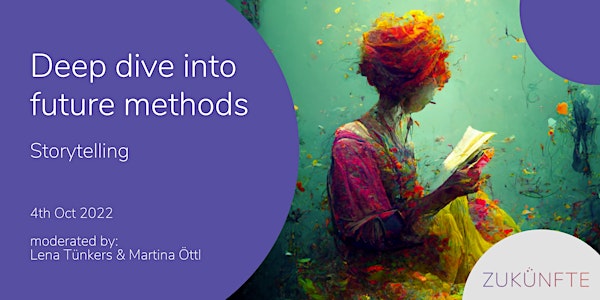 Deep Dive into Storytelling
A short but dense course focused on the method and approach of storytelling to practice using the future in your context!
Refund Policy
Contact the organiser to request a refund.
About this event
Humans are the masters of storytelling. It has been our magic weapon in fighting the sabre-toothed tiger, the foundation of our currencies, and the medium for transmitting ancient knowledge.
The power of stories is immense and can move entire generations. Still, today we often passively consume stories, fail to question them, let alone be able to invent our own powerful stories. Did we unlearn storytelling?
In this first deep dive on different future methods, we thus want to focus on storytelling and -writing. It's one element of how you can use the future in your individual context and work with the approach of Futures Literacy. Futures Literacy is understood as the capability to use the future with different methods for different purposes and has been promoted by UNESCO since 2012.
How it works
The online deep dive will take place on Tuesday, October 4th 2022 from 5:00 to 6:00 pm. In one hour we will introduce you to how we use the method and approach of storytelling and -writing, practice, and tie it back to the bigger picture - the approach of Futures Literacy by UNESCO.
Zoom and Miro will be used. Registration is possible via Eventbrite with a participation fee of 20 euros.
What to expect
A short but dense course focused on the method of storytelling and -writing in the context of future methods
A blend of theory and exercises from our work with the future
Insights into the approach of Futures Literacy
Who it is for
Anyone who wishes to learn methodologies and frameworks that allow using the future in their individual work context.
People who want to learn more about the approach of Futures Literacy.
Those who want to strengthen their general competency in dealing with the complexity, uncertainty and openness of the future.
Lena Tünkers aims to expand people's capacity to imagine and uses the future to alter perspectives and narratives in the present. After studying Innovation & Organizational Entrepreneurship, she worked in the field of innovation and business design. First, in a corporate context with HelloFresh, Spotify, and the UN. Then, in the start-up ecosystem in Denmark and Kenya with a focus on frugal innovation, sustainable consumption, and agriculture. Today, she guides people in their work with the future as a process designer and facilitator. She is co-founder of the German network ZUKÜNFTE, a board member of Founders of Tomorrow, and hosts the House of Beautiful Business in Copenhagen.
Martina Oettl has led numerous Futures Literacy processes for NGOs, the private sector and government. She teaches the method in German and English language and trains facilitators to learn the method for application in their own contexts. Martina has a decade of experience in collaboration design in which she facilitated large groups of stakeholders to solve complex challenges and design for the future. She worked with the government in Australia with a focus on transport design and for the aerospace industry in Europe with a focus on strategy.
Image: designed with Midjourney