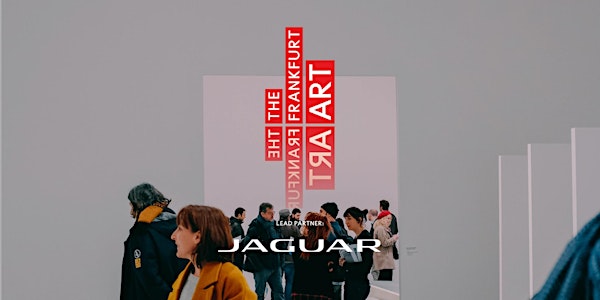 December Walks
Von Donnerstag bis Samstag, 1. bis 3. Dezember, zeigen vier Rundgänge eine Auswahl von 12 Galerien in Frankfurt am Main.
When and where
Location
Frankfurt am Main Treffpunkte sind in den Details hinterlegt 60311 Frankfurt Germany
Refund Policy
Contact the organizer to request a refund.
About this event
December Walks
1–3 DEC '22
Mit der Adventszeit bietet The Frankfurt Art Experience eine Dezemberausgabe der beliebten Kunstrundgänge an. Von Donnerstag bis Samstag, 01. – 03.12., zeigen vier Art-Walks eine Auswahl von 12 Galerien in den Stadtviertel Ostend, Sachsenhausen, Innenstadt, Bahnhofsviertel und Westend. Tauchen Sie ein in die Frankfurter Galerienszene, entdecken Sie zeitgenössische Malerei, Fotografie oder Skulptur und treffen Sie auf Frankfurter Galeristinnen und Galeristen, Künstlerinnen und Künstlern sowie Kunstinteressierte wie Sie.
Guides:
INNENSTADT—BAHNHOFSVIERTEL
Galerie Anita Beckers
Jean-Claude Maier
Kai Middendorff Galerie
Treffpunkt: Braubachstraße 9, 60311 Frankfurt am Main
Freitag, 2. Dezember, 18. Uhr
Samstag, 3. Dezember, 12 Uhr
OSTEND—SACHSENHAUSEN
Kunstverein Familie Montez
Galerie Heike Strelow
Peter-Sillem-Galerie
Treffpunkt: Honsellbrücke am Hafenpark, Honsellstraße 7 (Eingang Kunstverein Familie Montez)
Donnerstag, 1. Dezember, 18 Uhr
Samstag, 3. Dezember, 14 Uhr
WESTEND—BAHNHOFSVIERTEL
Die Galerie
Frankfurter Westend Galerie
Bernhard Knaus Fine Art
Treffpunkt: Grüneburgweg 123, 60323 Frankfurt am Main
Freitag, 2. Dezember, 18 Uhr (English)
Samstag, 3. Dezember, 12 Uhr
BAHNHOFSVIERTEL—WESTEND
Schierke Seinecke / Rundgänger
Sakhile&Me
Galerie Barbara von Stechow
Treffpunkt: Niddastraße 63, 60329 Frankfurt am Main
Donnerstag,1. Dezember, 18 Uhr (English)
Samstag, 3. Dezember, 15 Uhr