"Dear Barack" - the Extraordinary Relationship between Obama and Merkel
Author Claudia Clark speaks about her new book "Dear Barack - the extraordinary relationship of Barack Obama and Angela Merkel"
About this event
Today, we know US President Barack Obama and German Chancellor Angela Merkel as two of the world's most influential leaders, together at the center of some of the biggest controversies and most impressive advancements of our time. But while their friendship has been the subject of both scrutiny and admiration, few know the full story.
Taking office at the height of the 2008 global recession, Obama was keenly aware of the fractured relationship between the US and Europe. And for her part, Merkel was suspicious of the charismatic newcomer who had captivated her country.
Faced with the challenges of globalization, the two often clashed over policy, but—as the first Black president and first female chancellor—they shared a belief that democracy could uplift the world. United by this conviction, they would forge a complicated but inspiring partnership.
Dear Barack is a thoroughly researched document of the parallel trajectories that led to Obama and Merkel meeting on the world stage and the trials, both personal and political, that they confronted in office. At times in the leaders' own words, the book details such events as Merkel's historic acceptance of the Presidential Medal of Freedom, Russia's annexation of Crimea, and the 2013 NSA spying scandal, demonstrating the highs and lows of this extraordinary alliance.
A story of camaraderie at a global scale, Dear Barack shows that it is possible for political adversaries to establish bonds of respect—and even friendship—in the service of the free world.
About Claudia Clark:
She received her Bachelor of Arts degree in History and Public Policy from Michigan State University. At Michigan State, she served as President of the College Democrats and was active in Amnesty International, NOW, and Pro-Choice groups. Clark holds an M.A. in Labor in Industrial Relations from the University of Illinois at Urbana-Champaign, a Masters in U.S. History with an emphasis on women's history from San Jose State University, and a Master of Social Work (MSW) from the University of Michigan with an emphasis in Community Organizing.
Claudia and her husband recently moved from San Jose, CA, to Bavaria, Germany, where she is the national Get out the Vote (GOTV) coordinator for the Democrats Abroad Germany Chapter. In this role Claudia is responsible for helping to secure American Democratic expat voters living in Germany cast their ballots from abroad.
You can buy her book IN GERMAN at Amazon.de or any other book store. The US version in English will be released just before our event, on October 19th.
COVID RULES: This event is a "2G" event. That means you need to provide a certificate that you are fully vaccinated, recovered or a medical exemption certificate.
You will benefit from a special "American Club" menu at the MEATERY restaurant of the SIDE Hotel. You will receive an eMail with details after your registration.
A welcome drink at the event is included in the ticket price.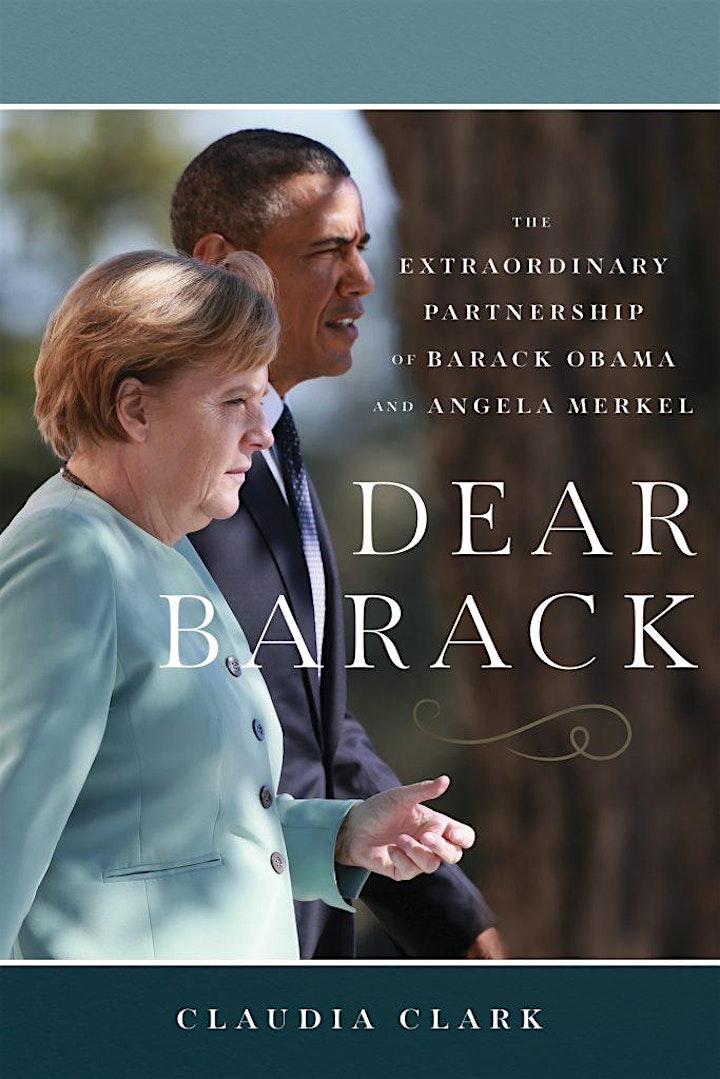 Organizer of "Dear Barack" - the Extraordinary Relationship between Obama and Merkel
The Club seeks to enhance the professional and social relations between American nationals, companies, organizations, and residents of Hamburg and Northern Germany. In pursuit of this, the Club's activities are focused on the promotion of social, commercial, cultural and educational ties and the enhancement of the American-German friendship. Furthermore, the Club serves as a forum for intellectual exchange among Americans, Germans, and foreign residents in greater Hamburg.