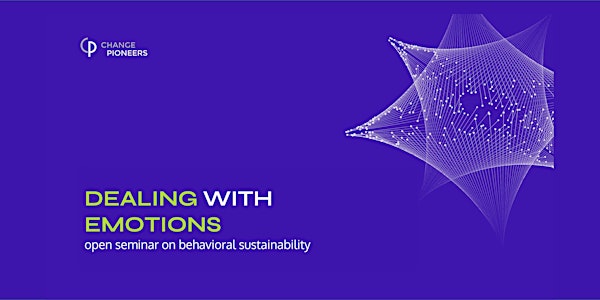 DEALING WITH EMOTIONS - IN TIMES OF UNCERTAINTY AND STRESS
DEALING WITH EMOTIONS - IN TIMES OF UNCERTAINTY AND STRESS
About this event
7 hours 30 minutes

Mobile eTicket
Our world is changing with increasing speed and the resulting challenges are getting more and more complex. The climate change, the pandemic, the violent conflicts and as a consequence, the way organizations try to cope with this. All this influences us … feelings of uncertainty and stress cause conditions that impair our mental health.
Therefore, dealing with these emotions is crucial to develop the inner resources to face to lead a life of fulfilment and well-being – personally. And this becomes more important when we look as our role as leaders. There, we not only have to manage our own emotions but those of our team as well. However, simply neglecting this is no longer an option today. For the sake of ourselves, our employees and our organization as a whole.
YOUR BENEFIT
Recognizing and dealing with your emotions enables you to find appropriates ways to handle challenging times – personally and professionally. It increases your self-confidence and self-efficacy, leading to increased resilience.
At the same time, you will be a catalyst for your team, enabling them for highest team performance and healthy relationships. A great way to reignite the inner glow of yourself and the ones around you.
FOCUS
Your role as a manager and leader in the process of creating a working environment in which individuals feel emotionally free and safe, by providing state-of-the-art methods and techniques to manage emotions.
TARGET GROUP
Leaders and managers who want to develop themselves and the ones around them.
METHOD
The seminar incorporates the latest models and approaches to personal and professional development. They are rooted in the neurosciences to produce sustainable results. Theoretical impulses will be reflected, exchanged and applied to your current emotional challenges. In this way you will develop sustainable solutions for yourself and, as a leader, for your team.
FORMAT & FEE
Duration: 1 day
Group Size: 4-12 participant - if the minimum size of 4 participants will not be reached the organizer will postpone or cancel the seminar. Any fees already paid will of course then be refunded.
Experience level: All
Investment: EUR 790; Early Bird until 31.12.21. EUR 590 (after signing up you recieve an invoice)
Dates: 28.02.23, 09:30h – 17:00h
Location: Greater Munich Area
Your accompanying Change Pioneers