Dieses Event ist beendet.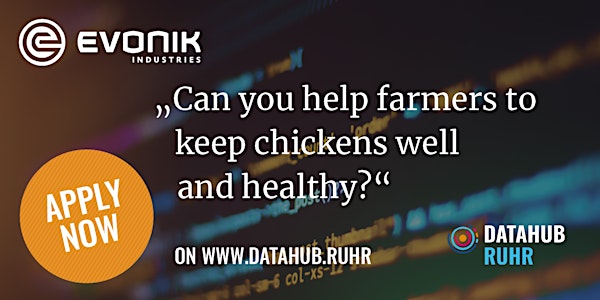 DataHub Ruhr - Q&A - Challenge: BROILER-CHICKEN MONITOR
The behaviour of livestock indicates their health. Can you help farmers keep chickens well and healthy with the help of object tracking?
Zu diesem Event
On 06.05.2020 at 10:30 am CEST our Q&A for the Data Challenge "BROILER-CHICKEN MONITOR" will take place together with our partner Evonik on Zoom.
Get all important information about the DataHub Ruhr, the challenge and all information about how a perfect application should look like. You can also ask all your questions about the challenge directly to our corporate partner.
We are looking forward to welcoming you!
You will receive the link to our Zoom Q&A after you have registered for the event for free.
About the Challenges
"BROILER-CHICKEN MONITOR"
In the European Union 24kg poultry meat per capita was consumed in 2018. Producing this amount of livestock, while respecting animal wellbeing, is a constant challenge to farmers and suppliers. Some early indicators for health issues of chickens are reduced movement, slow growth or low populated spots in the house. Top-down pictures from the house should allow us to detect health and other issues automatically and notify farmers early to take action. Can you help to increase health and welfare of broiler chicken?
About DataHub Ruhr
The Data Hub is a business building program that connects startups with leading corporates from the German Ruhr region. Our corporate partners are looking for innovative ideas for their data-challenges, that will be tackled within a 3-month cooperation to create a POC with a 20.000 € funding. The Data Hub Ruhr is open to all startups with data expertise.
You will receive the link to our Zoom Q&A after you have registered for the event for free.
This event will be recorded and then made available on our website. With your participation you agree to the recording.