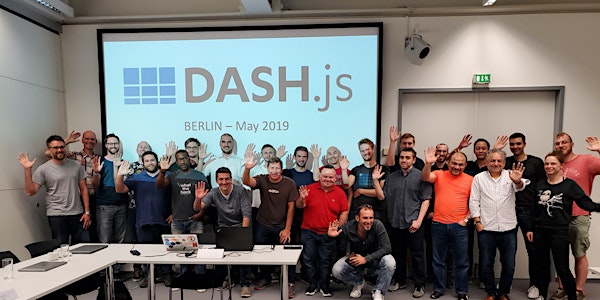 dash.js face-to-face Meeting 2023
dash.js face-to-face Meeting 2023 : Open for dash.js community members, contributors, and everyone interested in dash.js development
Date and time
Monday, June 12 · 1 - 6pm CEST
Location
Fraunhofer FOKUS Kaiserin-Augusta-Allee 31 10589 Berlin Germany
About this event
This is our annual face-to-face meeting of the dash.js project. This meeting is open for dash.js community members, contributors, and everyone interested in dash.js development and usage. It is appropriate for those with a foundational understanding of MSE/EME player development, and an interest and understanding of MPEG DASH. We discuss architectural questions and changes, new features and the future planning of the project. The meeting is free to attend. After the meeting we will go for a DASH-IF sponsored dinner and have some beers together.
The agenda and related discussion items are available here: https://github.com/Dash-Industry-Forum/dash.js/discussions/4151
This meeting is being hosted by Fraunhofer FOKUS in Berlin, and is co-located with the Media Web Symposium. The FOKUS Media Web Symposium (MWS) is an annual international conference organized by Fraunhofer FOKUS hosting 200+ participants from all over the world discussing Internet based media delivery.
The registration for the FOKUS MWS can be found here: https://mws10.eventbrite.com/
In two days MWS covers technical aspects (workshop, tutorials, and exhibition on the first day) as well as trends and business related aspects (conference on the second day). The Media Web Symposium will take place on June 13-14 and consist of interactive discussions and deep dives on several enabler technologies.
This is a fantastic opportunity to meet industry experts around media and explore the industry context in which dash.js resides. We look forward to meeting and working with you in Berlin.
Health & Safety Measures
The annual face-to-face meeting of the dash.js project will again be held as an in-person event on June 20, 2022, at our conference center at Fraunhofer-Institute FOKUS, Kaiserin-Augusta-Allee 31, Berlin.