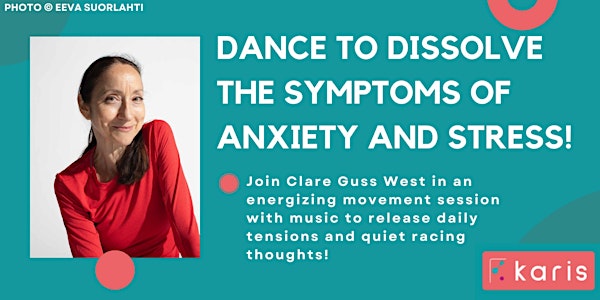 Dance away daily tensions and soothe racing thoughts with Clare Guss West!
Join Clare in an energising movement session with music to release daily tensions, no prior dance experience is required!
About this event
The session will consist of 40 min of dancing and 10 min of optional chat at the end with the teacher.
You will need loose comfortable clothing for movement, either barefoot or wearing a light shoe for the session, a clear space of approximately 2m2, an upright chair and some water to drink.
Natural feel-good endorphins and dopamine will help dissolve the symptoms of stress and anxiety. A sense of balance and well-being will accompany you long after the dancing has stopped to promote calm, clear attention and focus in everything you do.
Clare Guss West MA is a former professional dancer, international choreographer, holistic health practitioner and wellness author. She is a specialist in mindful movement and dance-based health and is a member of the International Association of Dance, Medicine and Science (IADMS).
This session is brought to you by KARIS digital, the first online platform offering well-being activities led by teaching artists.