Hosted by: GIIN-German Israeli Innovation Network & 5P Health Care Solutions® (Verena Voelter, Founder & MD), Gold Sponsor: Novocure
About this event
This event takes place via Zoom
*Registration Deadline: 26th June 2021*
Innovating means breaking new frontiers. In health care, more than elsewhere, the public & private sectors need to work hand-in-glove - enabling novel solutions in policy just in parallel to the smart new innovations breaking through to the patient, providers, pharma & payers.
Our goal is to discuss challenges & future opportunities in D-Health - fostering the interconnectivity between Israel's & D-A-CH experts in the realm of D-Health, Science & MedTech to lay the foundation for growing a community of practice.
Furthermore, this event aspires to:
Share academic & industry knowledge between all participants for the benefit of smarter & faster patient-centered solutions
Catalyze the dialogue between the different stakeholders in the health care & the emerging D-Health industry
Showcase various approaches in cross-sector collaboration among public & private actors
Enlarge the professional network to encourage long term cross-disciplinary & cross-cultural cooperation.
For whom is this event?
Hospital leaders
Researchers
Pharma leaders
Startup Entrepreneurs
MedTech leaders
Policymakers
Accelerators & Investors
Healthcare professionals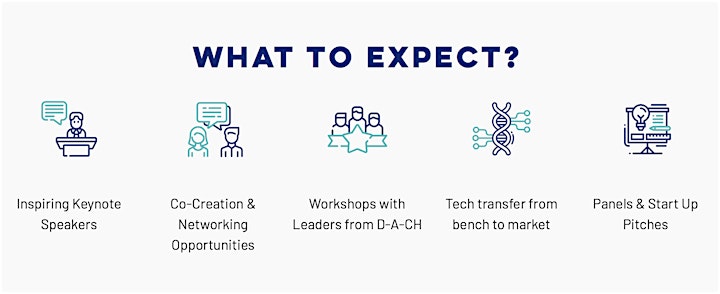 AGENDA - 29th June 2021
| Central European Time |
09:00-09:05
Welcome
09:05-09:15
Connectivity between D-A-CH & Israel as a Catalyst for D-Health Innovation
09:15-09:25
The 5 Ps approach – What is it & Why is it Important?
09:25-09:45
MedTech at the Forefront of Science & Patient Needs
09:45-10:00
How do Policymakers best Endorse D-Health? 3 views (D-A-CH)
10:00-10:30
Panel #1: Next Frontiers in Public-Private Collaboration, Cross-Talk on D-Health
10:30-10:45
BREAK
10:45-11:00
Data Privacy - Disabler or Enabler?
11:00-11:30
Panel #2: Smart Patient Centricity: Digital Brings Back the Human Touch and Efficiencies to the System
11:30-12:00
Opportunities for Computational Science in D-Health
12:00-12:20
The Israeli Health Care System
12:20-13:00
BREAK (interactive networking)
13:00-13:15
Morning Summary
13:15-13:40
How Digital Connections Enhance the Patient Experience & Efficiencies
13:40-14:00
Get to Know: Israeli Startup Pitches
14:00-14:15
Successful Tech Transfers from Bench to Market
14:15-15:15
Co-Creating New Solutions in 3 Parallel Interactive Workshops
#1: Shape The Future of Digital Therapeutics (DTx)
#2: Deliver Patient Apps for MedTech & DTx solutions
#3: Accelerate Your Tech Transfer - from Science to Business
15:15-15:45
Closing Panel #3: D-Health Outlook into the Future
15:45-16:00
Call for Action - Follow-up Projects - Networking - See You in 2022!
Organizer of D-Health Virtual Innovation Tour D-A-CH & Israel