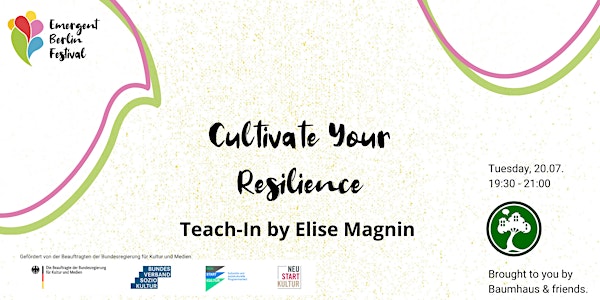 Cultivate Your Resilience with Elise Magnin | Emergent Berlin Festival
Learn how to navigate life's changes and challenges by developing your resilience on a daily basis!
When and where
Location
Panke Culture Gerichtstraße 23 #Hof V 13347 Berlin Germany
About this event
About this Workshop
The last year has shown us that life is unpredictable and can change quickly and dramatically. Unexpected and undesired changes can feel very uncomfortable and sometimes be painful.
What if you learned how to get through difficulties and uncertainties with more confidence and inner strength? To bounce back from these unexpected changes more rapidly?
In this workshop, we will have the opportunity to:
Discover the 7 pillars of resilience

Learn simple and effective tools to develop your resilience on a daily basis

Ask questions and discuss the topic
Materials: Please bring something to write with.
Registration: This event is free, but spots are limited so please only register if you are sure you can attend.
About Elise Magnin, Life & Business Coach
By interweaving systemic coaching techniques and mindfulness practices, Elise guides her clients through powerful journeys of self-exploration to getting unstuck and walking towards the life they're dreaming of.
About Emergent Berlin 2021 | An event series by and for local projects.
Every Tuesday night in the second half of 2021, this year's EMB provides a platform for people and places to reconnect, reflect on and share our collective and individual experiences and strategies.
Theme 2021: "Rising to meet the crises." As we gradually emerge from the pandemic in Berlin, the climate catastrophe is knocking at our doorstep. We need to act with a sense of urgency. We invite fellow social-ecological projects and people who want to take action to reconnect, reflect on and share our collective and individual experiences and strategies. Where are we at? What can we learn from the pandemic? How can we step up to the evermore urgent climate and sustainability crises now?
Each month, we shift our focus on another aspect of taking action for transformation: personal, ecological, aesthetic, cultural, economic and social.
Month #1 July: Local Projects & Personal Sustainability
Month #2 August: Local Projects & Ecological Sustainability
Month #3 September: Local Projects & Aesthetic Sustainability
Month #4 October: Local Projects & Cultural Sustainability
Month #5 November: Local Projects & Economic Sustainability
Month #6 December: Local Projects & Social Sustainability
As always, Emergent Berlin Festival is brought to you by Baumhaus & friends. If you have trouble finding us, call Karen: 0176-7856-6593
Website: www.emergentberlin2021.de
IG: @baumhausberlin