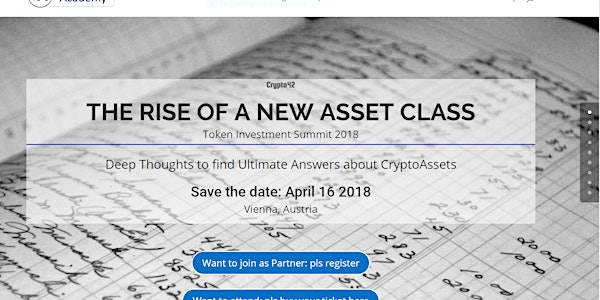 Crypto42 Token Investment Summit Vienna 2018
Location
WU (Wirtschaftsuniversität Wien)
1 Welthandelsplatz 1
1020 Wien
Austria
Refund policy
Refunds up to 7 days before event
Description
Ryan Selkis (Co-Founder of the Digital Currency Group) has quite some projections for 2018, like:
...2017–2019 will be THE big crypto bubble. Things could get nuttier from here…far nuttier than in the dotcom era. The retail investor base is 10x larger, with 24/7 access to the FOMO and get rich quickism. And we've got CNBC to help with the pump..

....Crypto-securities aren't really a thing yet, but they will be massive, and they will actually have measurable fundamental value due to their cash flows or the residual claims they give their holders. Most surviving utility tokens will at least try to convert to crypto-securities.. (for more projections pls see here)

so we are heading to a quite interesting future and we should start to discuss asap how to value, to account, to audit and to tax Crypto Assets.
So let get us gather here in Vienna, the starting point of the Austrian school of economics at the University of Economics as of April 16th, 2018.
for more info pls go to : http://crypto42summit.com/.