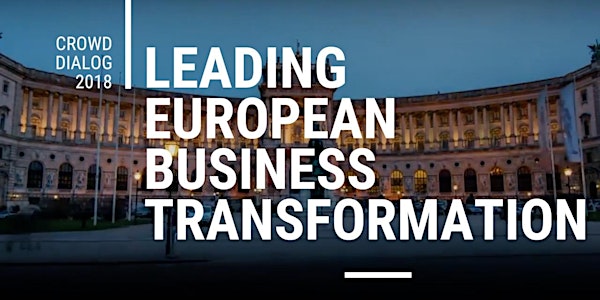 Crowd Dialog Europe 18 - The new Digital Now
When and where
Location
Hofburg Vienna Josefsplatz 1010 Austria
Description
In partnership with the EU Commission and the Parliament of Austria, the city of Vienna invites THE European Business Transformation Experts and Country Delegations from all 28 European member states, discussing diverse practical and conceptional scenarios beyond the hype from the fields of alternative Finance, Blockchain Innovation and Digitalization.
---
Alternative Finance
Crowdfunding has played a significant role as alternative financing for SMEs in the last years. Now the next generation of value transfer is made possible by innovative FinTech applications, notably blockchain technologies. As a consequence, the value carrier - the cryptocurrency - becomes an additional design element. The rapid growth of so-called initial coin offerings (ICO) suggests that we are at the beginning of a new age of SME financing.
Future of Work
The desire for more flexible employment models and more self-determination of people can be achieved with digital work platforms. Crowdbusiness and the Gig-Economy also create new digital business models, products and services with the help of the crowd. In it, creative work becomes more and more important. However, more flexible frameworks also create new challenges in the planning and control of work systems.
Open Innovation
Open innovation and especialy Crowdsourcing uses digital media to generate and evaluate ideas by a crowd of people. For SMEs, this opens up new opportunities for the formation of knowledge networks and distributed value chains in the collaborative economy. Using blockchain technologies, process innovations, digital services and business models can now be made even more flexible and easier. The digitalization of the innovation process provides great opportunities, especially for SMEs.