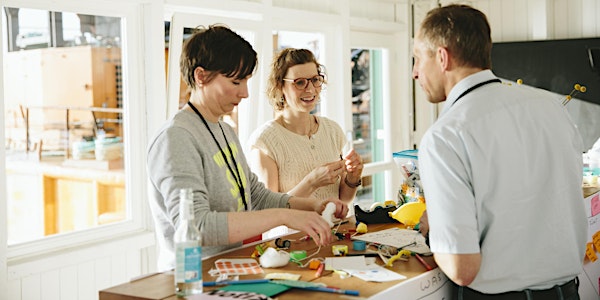 Cross Innovation Academy
Become a Cross Innovation Expert in our Cross Innovation Academy.
By Hamburg Kreativ Gesellschaft mbH
Refund Policy
Contact the organizer to request a refund.
About this event
Who can participate?
The module aims to address issues that arise when planning cross innovation processes. In particular, we would like to encourage (semi-)public intermediaries throughout Europe promoting the CCIs who want to foster Cross Innovation processes and explore their opportunities. For interested parties working in the private sector, we hope to offer another programme soon.
What will you learn?
In three 4-hour online workshops that will build up on each other, we will introduce you to the most important success factors of Cross Innovation as well as the first steps to take to set up your own Cross Innovation project.
We will give insights into general legal and regulatory frameworks and practice how to facilitate Cross Innovation workshops with the help of appropriate methods. We will provide answers to questions such as: How do I reach out to other industries? How do I organise intellectual properties and other rights issues? How can I encourage collaboration at eye level?
With over 5 years of experience, we can give you valuable insights into our daily practice and learning journey by sharing various experiences with different stakeholders, disciplines and event formats.There will also be time for exchange of ideas and feedback on your own approach. Each participant is welcome to share their own questions and challenges to collectively discuss them in the group.
When and where will it take place?
Our meetings will take place via Zoom, Miro and Moodle on the following dates:
Workshop 1: Introduction to Cross Innovation & how to win partners
08.10.2021, 9 am - 1 pm
Workshop 2: Implementation of cross innovation processes & formats
15.10.2021, 9 am - 1 pm
Workshop 3: Methods for Cross Innovation
22.10.2021, 9 am - 1 pm
The participation fee amounts to €450 per person. Please note that a maximum of two people per organisation can participate.
For more details please visit: https://kreativgesellschaft.org/innovation/xi-academy
About the organizer
More knowledge, space, financing and innovation for Hamburg's creative minds – this is the mission to which Hamburg Kreativ Gesellschaft, an institution of the Free and Hanseatic City of Hamburg, is committed. Since our founding in 2010, we see ourselves as a central point of contact for all players in Hamburg's creative industries. In addition to workshops, lectures and networking events, we also offer individual consulting, coaching, crowdfunding and assistance in financing and finding suitable workspaces for authors, filmmakers, musicians, visual and performing artists, architects, designers, game developers and all other professional groups from the eleven submarkets of the creative industries.