Sales Have Ended
Ticket sales have ended
Thanks for your registration! Woohoo. Get ready ;-)
Sales Have Ended
Ticket sales have ended
Thanks for your registration! Woohoo. Get ready ;-)
Description
Intentionally Manifest your Dreams at the
CREATE YOUR LIFE
VISION-BOARD WORKSHOP

Most of us have fleeting ideas of what we want to be, do or have in our lives. But they remain just that: fleeting. After all, who has the time to intentionally get clear about what we want to create?

Well, everyone from Katy Perry to Jack Canfield to Ellen DeGeneres to Oprah Winfrey swears that they intentionally created outcomes by using a simple tool: Vision Boards.
A Vision Board is a way to sell your own ideas to yourself, to anchor to your dreams and to allow the magic of manifestation to work in your life. Finally!
As a coach and someone who has made my own Vision Boards (and manifested some amazing results!), I've learned it's more than just slapping a picture onto a poster board. It's about first getting clear on your authentic life, letting go of what's in the way – and then clearly connecting with your dreams while designing a vision that calls to you.
That's why I'm leading this unique and amazing CREATE YOUR LIFE VISION-BOARD WORKSHOP... to give you the space you need to intentionally define your dreams and create a Vision Board that will effortlessly attract your ideal outcomes to you!
HERE'S WHAT YOU'LL GET
Clarity on what you really want (No more settling for someone else's dreams)
Insight about your core values (No more guessing about your true north and wondering about discontentment)
Space and time to map out your ideal outcomes in each area of your life
A map to understand how you mentally and physically create results in your life
Connection with like-minded peers (No Negative Nellies permitted!)
A method to clear out the natural "gunk" that arises (Time to let go!)
All the tools and time to create your own powerful Vision Board (You don't have to bring a thing. I've got all the materials you need right in the room!)
Your very own Vision Board to take home and effortlessly attract your ideal outcomes in the months ahead.
A full day of breathing room and dream-time. (The very thing you keep telling yourself you'll give yourself but never do!)

BONUS
High quality A3 colour carton (3 colours to choose from)
Empowerment keepsake to remind yourself of your dreams daily
Your own FREE to FOCUS chart, TEST your DREAM (a 10 step chart to keep being on track with your dream)
OTHER
Bring a photo of yourself - you might like to put it on your Vision Board
Feel free to grab your favourite magazines to use onsite
Although materials are ready to use at the event, you are invited to bring your craft material along
*Note: Because of the powerful work in our day together, there are only 10 spaces available. However, shall the group be smaller than five, we will change the venue for a more appropriate atmosphere. The location is in Berlin-Friedrichshain and all participants will be informed prior to the event.

Doubts, excuses and wavering are just the ego's way of stopping you from creating your dreams! So use them as your stepping stone and get registered now.
Need some more information? Glad you've asked. I have prepared FAQs (scroll down) for you to go through and answer those for you.
The venue
The Lounge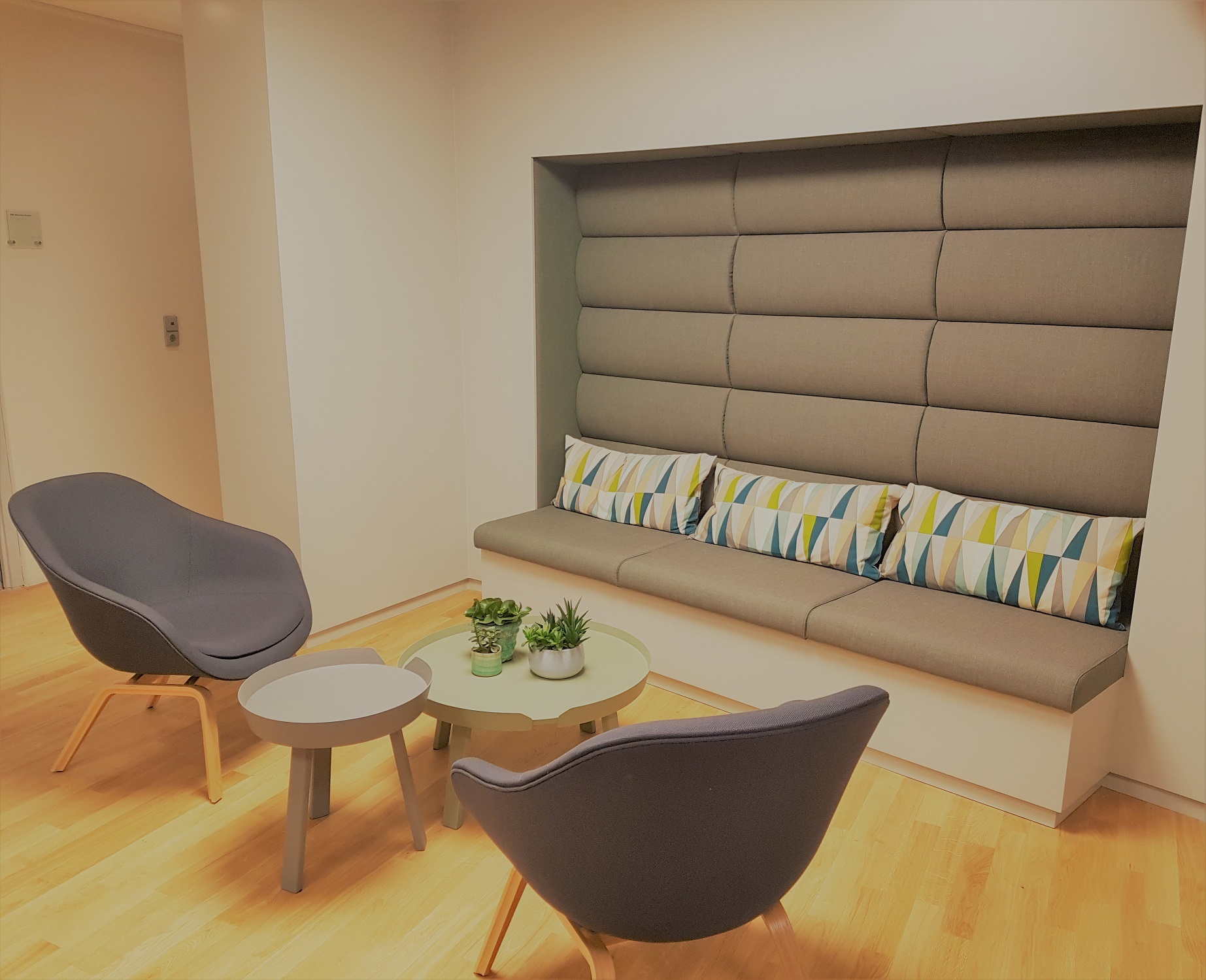 The workshop room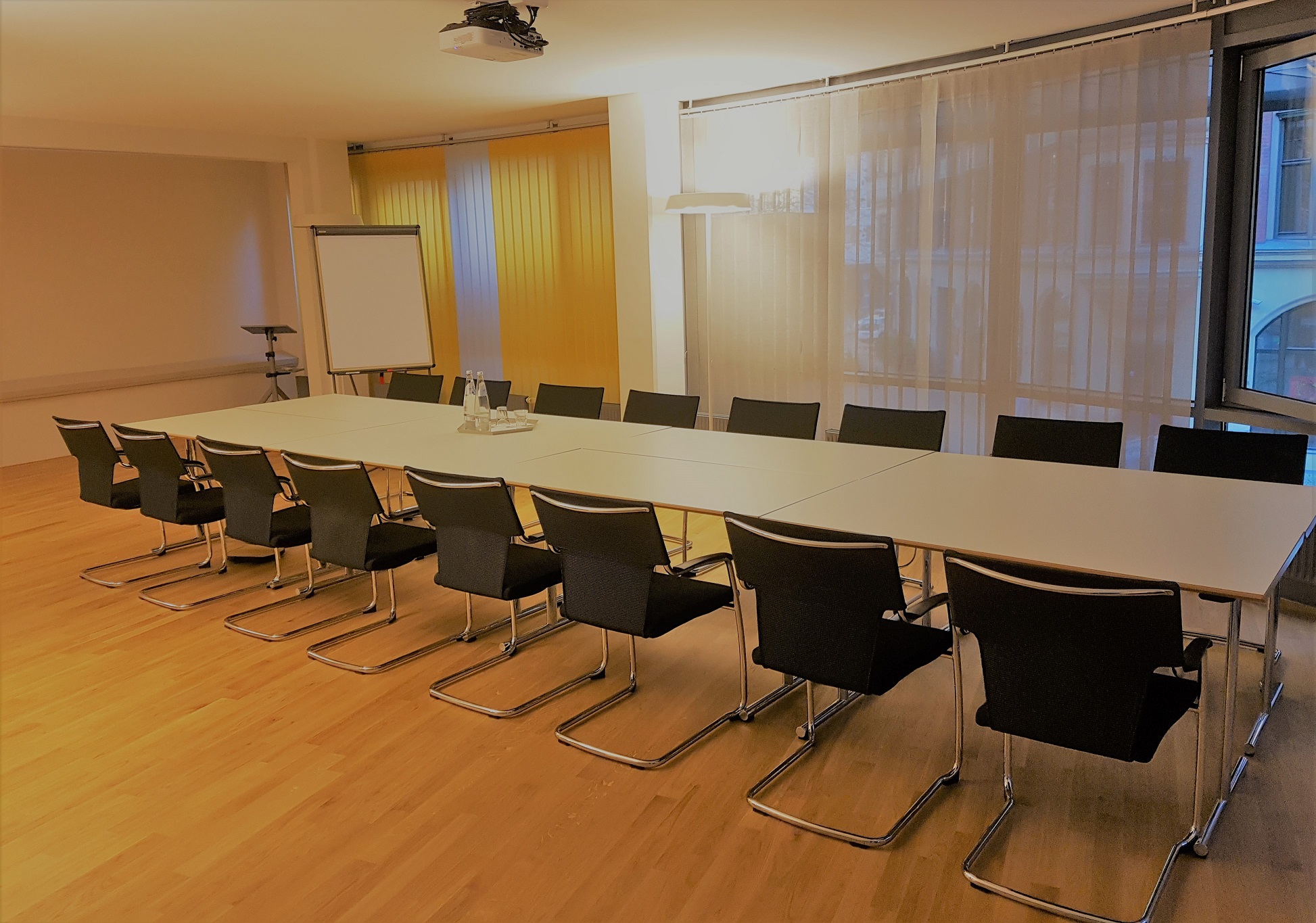 Break out area infront of the room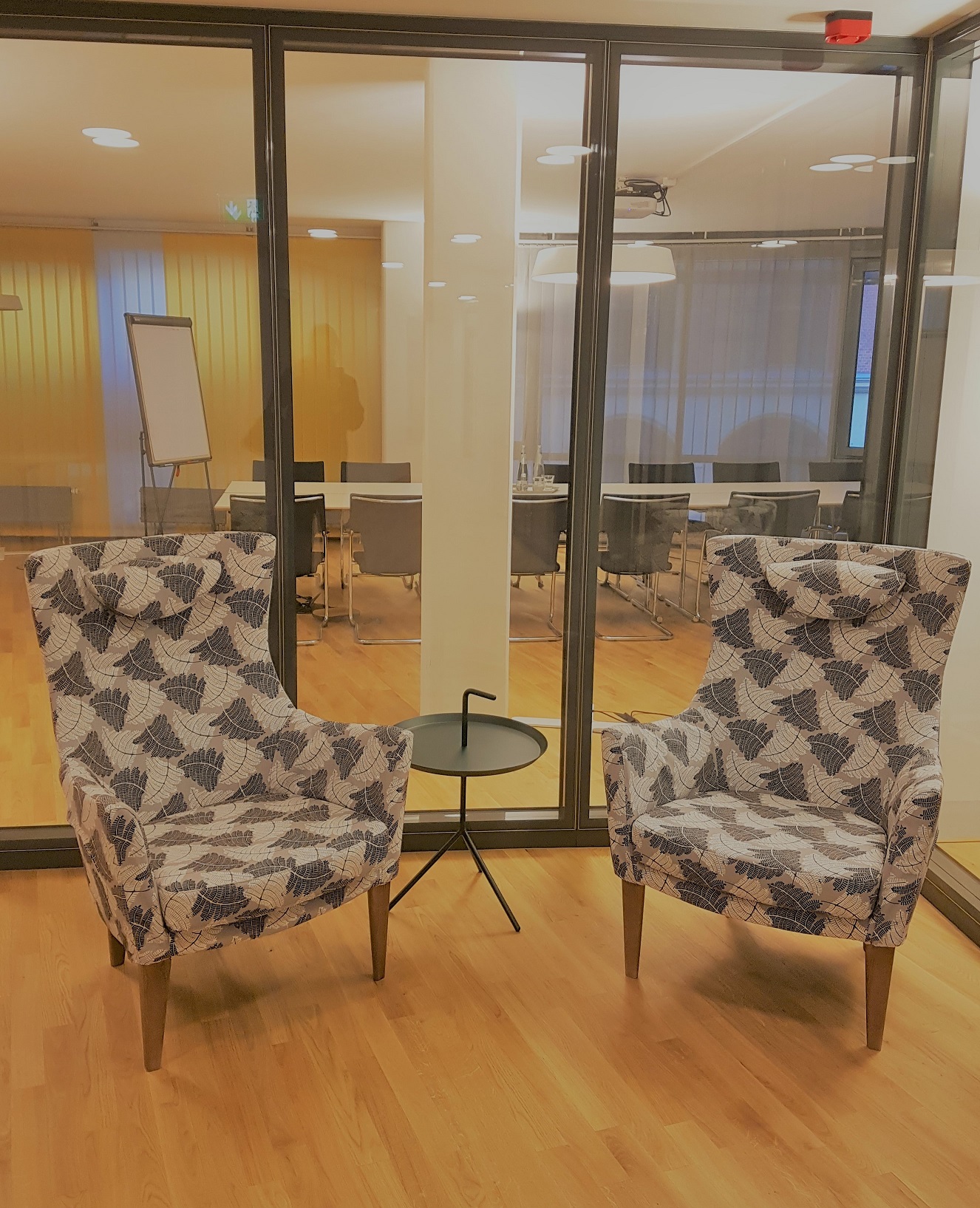 FAQs
How do I get to the event with public transportation and are there parking spaces?
The venue is close to Alexander Platz and right at Hackescher Markt S-Bahn station, with plenty of public transport options such as bus, train, underground and tram.
You will be able to find parking around the venue. However, as we are in Berlin-Mitte public transportation might be a good choice to get as close as possible to the venue and on time.
How many people will be there?
The venue covers up to 10 people. However, shall the group be smaller than five, we will change the venue for a more appropriate atmosphere. The alternative venue will be in Berlin-Friedrichshain, near to the S-Bahn Storkower Straße. ORFEO.Berlin - Eldenaer Str. 29, 10247 Berlin.
What happens when I am late to the event?
Being late is not ideal and it feels ackward to stumble into a room of already tuned in people. I get it! In the event of being late at the beginning, please continue to come. We will have a full day of excercises, tools and creation. You will catch up and easily get into the sequence. Just enter the room and quietly find a seat. As soon as there is an opportunity to welcome and integrate you, I will do so.
Note that I might not be able to see your call or pick up the phone as we already started. To find your way to the room, see the last question of the FAQs as well as the second question for our alternative venue.
What if my English is not sufficient? Do you have this in German?
This full-day workshop will be held in English. However, shall you need partial translation into German, it is possible to do so. Shall all participants speak and understand German, we can also have sequences and discussions fully in German. Yet, the handouts for our practices will be printed in English.
What do I have to bring to the event?
Good mood, intention and an open mind.
Other than that....for the day it is best to bring something to write such as your journal. I also recommend that you bring your favourite magazines to the workshop. Although there will be plenty of magazines to choose from, you might have a special taste that your magazines reflect best.
To transport your final vision board safely, I also suggest you bring something to wrap it up or cover it. (the size of your board is 50cm x 70cm). Keep in mind that the coloured carton is most likely not to be rolled.
What about refreshments and food?
Onsite you will find water, coffee and tea as refreshments. Own drinks are allowed to bring to the venue, except alcohol.
For our lunch break the area is perfect to grab a good meal. However, you can bring your own lunch. (e.g. sandwiches, salat, etc.)
How can I contact the host in case I have a question?
Shall you have a question about the workshop, you can contact me via email at events@ebonyfagbuyi.com.
Are there any statistics about visualisation methods?
Oh YES and YES! You will find plenty when you google them.
E.g. Harvard Business Review has published a report about the acceleration of success and achievement results for those who have goal plans in mind. They also state that those who have them in mind are 10x more successful than those without goals, which by the way are 83% of people. (WOW)
They also mention that those who actually write their goals down are again 3x more successful than the ones that have them only in mind.
Now this is for writing. The study goes further over the course of time, smart people found out that visualisation triggers your brain in a way that you think you are already there doing it. It is also very often a method in sports and space travel.
We will actually cover that topic and I will show you what happens when we create results. Pretty cool stuff!
Here are some facts:
• Scientific studies reveal that when you visualize an action, you stimulate the same brain regions as when you actually perform that action.
• Medical studies prove that when stroke victims imagine moving a limb - even after it's paralyzed by a stroke - brain blood flow increases enough to reduce tissue death. (Wow!)
• One athletic study proved that visualization enabled nationally ranked gymnasts to execute several complex tricks for the first time.
• Visualization has also been shown to improve high jumpers clearing the bar!
Now, are you ready to change your life for the better you seek? Let's go!
Do you offer further guidance after the Vision-Board Workshop?
My friend, I see you are all IN. And therefore my answer is YES.
Myself I know how tough it can get when we reach out for our dreams and something is blocking us. You might even find out during the workshop what that is. And as many before you did in my mini workshop series, I bet you too will have your "aha" moment. Yet, to have a professional coach by your side that smoothly guides you through the process, will make a huge difference.
Especially for this workshop I have put together a coaching package that will help you through the process of CREATING YOUR LIFE. It is designed to acompany you for two months and contains four virtual coaching sessions. (virtual = via phone or Skype)
You can purchase this as an option during your workshop registration to have access to this power package. You will find all products that are designed to enhance your workshop, at the end of the registration form.
What else do you offer in alignment with this workshop?
At the end of your registration form you will find three additional offers:
Professional Coaching
Mentoring Hour
Audio Set - Life Partner (BETA version - only accessible for workshop attendees at this point)
What is coaching?
Coaching is a useful way of developing people's skills and abilities, and of upleveling performance. It can also help deal with issues and challenges before they become major problems.
A coaching session will typically take place as a conversation between the coach and the coachee (person being coached), and it focuses on helping the coachee discover the ideal answers for themselves.
It sounds like a normal conversation, yet coaching is a process which needs special skills. Your coach will ask questions you might not have asked yourself, points out observations that have been shown during the conversation and/or challenges you to hold you accountable to what you truly want, according to your set goal.
Therefore, professional coaching is carried out by qualified people who work with clients to improve their effectiveness and performance, and help them achieve their full potential.
What qualifies you as a coach?
What a great question. Really!
First, I have my own coaches and mentors. Yes, multiple ones. I believe what distingueshes a good coach from a great coach is the fact that a great coach still works on him or herself.
Secondly, there are my degrees as a certified personal and business coach, NLP Practioner and Master as well as John Maxwell leadership coach. Yet, I also believe that knowledge about something doesn't make you good at something. It is the experience + the evaluated experience that let's us grow in skills and wisdom. It builds the competence. I practice coaching on a regular basis since 2004.
Thirdly, there is my well developed skill of sensing atmospheres, incongruence, patterns and seeing people with a non-judgemental attitude. What do I mean? Well, a coach needs to be free of their own issues during coaching so they don't project their issues subconsciously on the coachee. That is a skill I have mastered over the years. This skill needs a high awareness.
Lastly, RESULTS. I create results for my coachees. But isn't that mandatory? I believe so. Yet, each coach needs to learn to stay on track with their coachees during each session and during the season. I am not interested in pro-longing your journey by my lack of focus or being a shoulder to cry on. So I made it my priority to guide my coachees through the process with a lazer sharp focus to stay on track as their ally.
Do you give refunds?
I stand for empowerment. Upon you choosing to invest in you, I keep you in your responsibility, which means no backing out. In the event of you not being able to come to the event you may give your ticket to another person. To do so you need to register your replacement/friend with events@ebonyfagbuyi.com no later than 48 hours before the event begins. (send first name, lastname, email address)
Do I have to bring a printed version of my ticket?
No, I've got you covered. ;-)
Can I hand over my ticket to somebody else?
Yes. We would be sad not to have you with us that day. Yet, changes happen. To hand over your ticket to another person you need to register your replacement/friend with events@ebonyfagbuyi.com no later than 48 hours before the event begins. (send first name, lastname, email address)
How do I find the room we are in?
Upon entering the main entrance on Rosenstraße 2, you walk straight to the elevator infront of you. Take the 4th floor and to your right you will find the Zieher Business Center entrance. Now, as you step in, you will see the sofa lounge infront of you, turn around to walk down the hallway (the left.handside) Walk all the way to the end of the hallway and you will see us.
Shall we meet at the alternative venue for a group smaller than five attendance, you will find us at the training room, ground floor next to the entrance of the appartmenthouse of Eldenaer Str. 29.