creaKIX 2016 - Leading by Co-Creation.
When and where
Location
Gebrüder Fritz Bleibtreustraße 38-39 10623 Berlin Germany
Refund Policy
Contact the organiser to request a refund.
Description
creaKix 2016 - Leading by Co-Creation.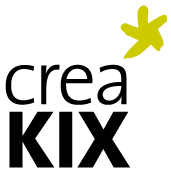 We live in challenging times. Our environment is increasingly complex. Most of the important challenges we face can not be solved in a simple way.
Uncertainty is our new freedom. While this freedom is overwhelming for a lot of people and even frightening for some, it gives us the opportunity to dream, create and shape our own world.
This calls for new ways to deal with the challenges, as people, organizations, companies and also as nations. There is a need for blending different competencies, experiences and ways of thinking in order to co-operatively generate new ideas, develop (sometimes surprising) solutions and change our world for the better.
"Tomorrow belongs to those who can hear it coming."
David Bowie
In business Co-Creation becomes more and more relevant and is practiced through Design Thinking, in agile development, creative problem solving, lean startup and others. In education co-creation enables for self-directed learning. Artists use co-creation.
Co-Creation involves, integrates and leverages a diverse set of mindsets, experiences and skills to thrive in a complex environment. Only by a joint collaboration in ideating, prototyping and testing solutions are we able to master a complex challenge.
We want to motivate and inspire people around us to use their full creative potential so that we co-operatively solve the challenges we face. Empowering people for co-creation means to enable others to build and strengthen their creative confidence and comptence.
We want to lead by example!
"You can design and create, and build the most wonderful place in the world. But it takes people to make the dream a reality."
Walt Disney
This is WHY we invite you to creaKIX 2016 to share and explore how to lead by co-creation.
How might we...
inspire for co-creation?

enable people to co-create?

lead co-creation by shared values and shared responsibility?

build a co-creative mindset?
Let's drive co-creation, so that everyone becomes a co-creator!
WHAT is creaKIX?
Welcome to the 2nd Edition of creaKIX!
This year it is a two-day event which brings together an international community of creativity experts and practitioners and those who are interested in diverse areas of creativity. Our central theme this year will be...
Leading by CoCreation!
creaKIX welcomes experts from different European countries. We will spend exciting days offering and/or attending sessions around the topic of CoCreation.
WHAT will happen?
A short preview of the two days:
The 1st day will be full of inspiration! After a short opening, we will already be heading outside for a field trip! We will explore with "people from within" co-creation in world politics. After that, we will then explore co-creation in Arts & Culture.
Then we will have lots of inspiration and start the first open space!
At the end of the day we meet for dinner at a very cool location.
The 2nd day will be full of exciting sessions with deep conversations and hopefully some co-design regarding co-creation. We will close creaKIX 2016 with a last co-creational experience!
creaKIX will offer an open space where everybody can offer and/or attend sessions in several breakout-rooms. The more co-creative and hands-on, the better! We invite you to bring a session (of max. 45min) to the event, built around our central theme: Leading by Co-Creation. Us participants create and manage our agenda of parallel working sessions. During the day everybody can then facilitate his or her session or just attend. Please have in mind that you don't have to "facilitate" your session: Of course you can bring a prepared session, but you could also bring a discussion topic, a question to explore, or a challenge to prototyoe a solution for - and then this will be your session!
During creaKIX 2015 - which was only one day and had "Nurturing Creativity" as a topic - we had sessions on cultural issues of creativity, leadership and creativity, comfort zones, visual facilitation and lots more.
Here, as an example, the session plan of creaKIX 2015: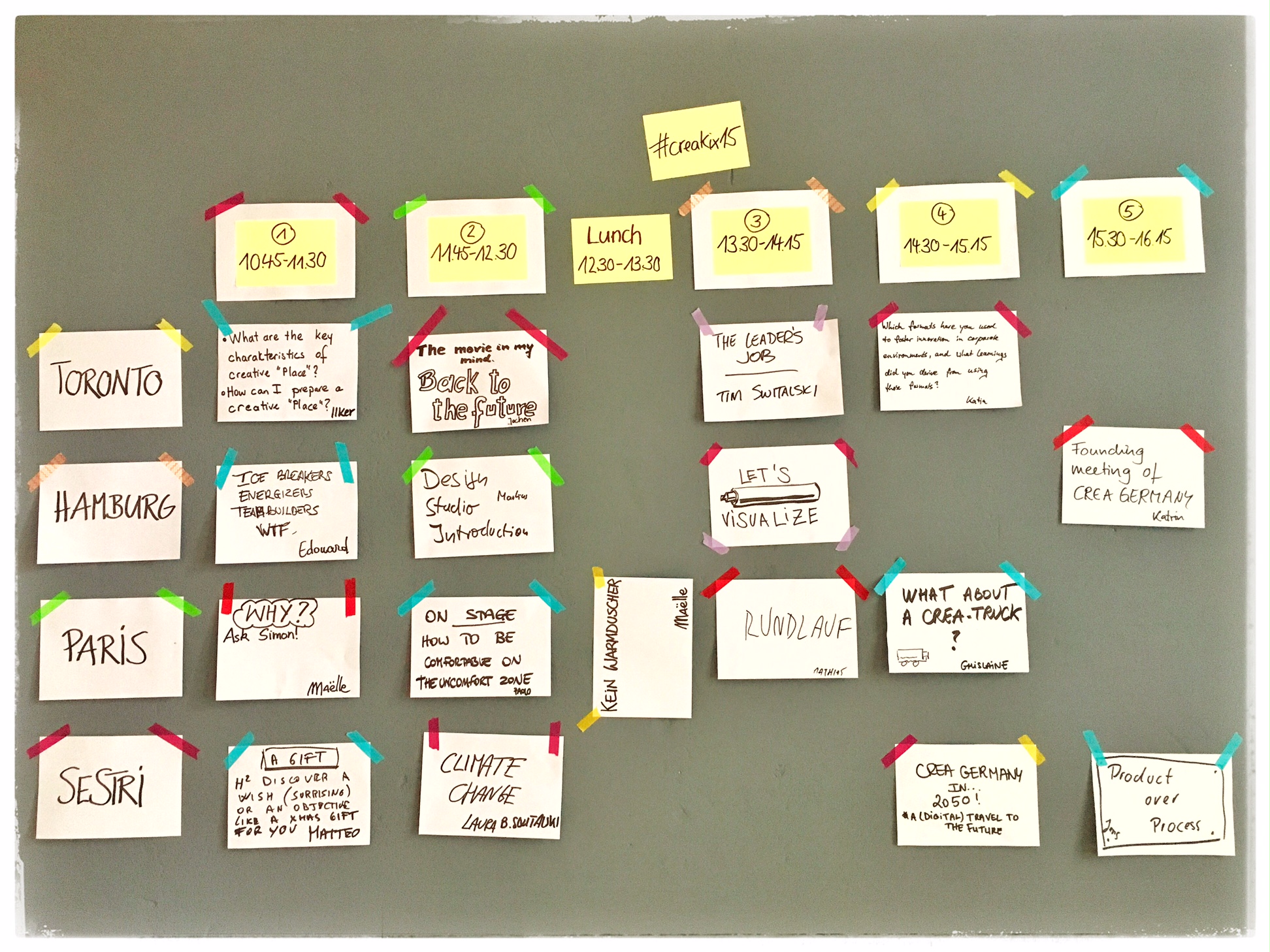 During creaKIX 2016 we expect more sessions around co-creativity and all the challenges and opportunities it brings!
WHERE will it happen?
To gather, we have come across a wonderful venue, typically different from what people at CREA events usually experience. Gebrüder Fritz is like home, if home was in Berlin. It has a huge kitchen, welcoming rooms, cosy and original furniture. It is a good place to build together, laugh, hug, argue, listen, doze off, and work again. If you need to book a hotel we recommend the Motel One Ku'damm or the NH Hotel Ku'damm which are in walking distance.

Crea Germany e.V.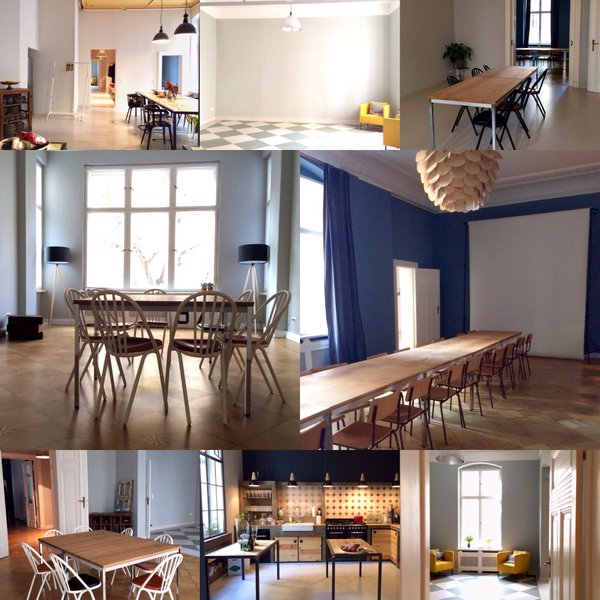 We're proud that Crea Germany e.V. has now been officially registered. We are a non-profit organization to promote creative thinking in science, education and society. creaKIX is our 2nd creative learning community event of creativity in Germany! It is inspired and triggered by the international community of creativity experts composed with CREA Conference, Crea-france, Crea-Quebec, etc. If you are interested to become a member of Crea Germany e.V. or if you want to sponsor our goal, please get in touch.

Sign up now and join us for two days full of learnings and insights around Creativity, Innovation and CoCreation!