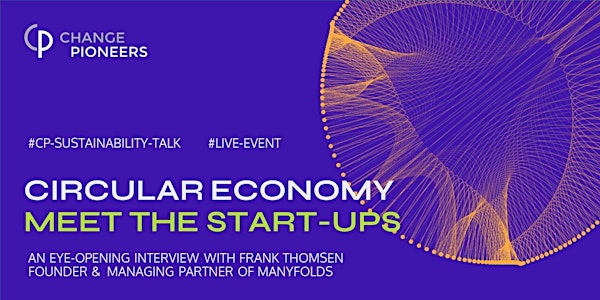 CP SUSTAINABILITY TALK: Circular Economy – meet the start-ups
AN EYE-OPENING INTERVIEW WITH FRANK THOMSEN FOUNDER & MANAGING PARTNER OF MANYFOLDS
About this event
The COP27 in Sharm al-Scheich is just over and the need for acting economically in a sustainable way is increasing from day to day. Such that our civilization can survive on this planet. Although we know about this development since the Club of Rome in 1972 published its "Limits to Growth" we were able to leave behind those scenarios in the most negative sense.
So, the question is: Why is this so? Even though we rationally know about the consequences of our behavior, we did not change it … or at least not enough to make a smooth turnaround. Are our brains just wired the wrong way? That seems not to be the case, since there are a lot of activities already going into the right direction. Especially when you look at the start-ups in this field.
To gain more insights, we invited the founder of Manyfolds, one of the most successful sustainability start-ups in Germany, for an interview to gain some insights to the field of sustainability. We want to discover the interconnectedness of a sustainability mindset with the neurosciences and what that means for organizational development.
In this interview/discussion:
You will learn how a mindshift towards a sustainable thinking is possible – although your brain does not like it.
You will learn how sustainability can be brought into a newly founded organization.
You will learn how social sustainability can be introduced into a newly founded company

POWERED BY:
Change Pioneers is a holistic training and consulting ecosystem for organizational and leadership development. We have been accompanying people and organizations on their expedition to the future for over two decades.
We work on an international scale for organizations of all sizes and industries. Being experts for large scale change, leadership development and neuroscience we use state-of-the-art and research-based and scientifically proven methodologies in a way that is individually adjusted to your needs.
Check out our channels:
Linkedin: https://www.linkedin.com/company/change-pioneers
YouTube: https://www.youtube.com/channel/UCPtO40o97fJH7fA_tGbqKCw?sub_confirmation=1
Website: https://change-pioneers.com/en/