Wednesday April 28 2021 9-12h CET on Zoom
About this Event
A joint inquiry into the human qualities we need - to lead self and others - based on Liberating Structures and supported by Liberating Structures
LS is more than a toolbox. It is a mindset and a way of nurturing the human qualities of connection and collaboration. Could it be that when we fully embody the LS principles, mindset and inclusive approach AND use the LS tools - that we come close to the leadership and the human qualities that we long for and need in the 21st century?
More than ever we talk about leadership: The importance of great leaders in times of disruption and turbulence; our yearning for new kinds of connection and collaboration, the need to lead one-self to navigate the jungle of options and ambiguities.
We collectively go through rough times. We are challenged personally and as a society on different levels. With moving our connection and collaboration online we accepted the challenge to find a way forward in experimentation. We see new options for an update of our operating systems towards more inclusiveness, more diversity, more energy, more HUMANNESS. If we are yearning for a new kind of connection and collaboration, we are yearning for a different kind of leadership.
What are the human qualities and skills we need to lead ourselves and support others?
When we dive into the ocean of leadership styles, or labels, of today such as transformational, authentic, courageous, conversational we find many similarities with the Liberating Structures (LS) Principles.
What is your understanding and experience of the human qualities that are so urgently needed now to lead self and others?
What leadership for self and others are you longing for?
What leadership qualities do we need right now?
What qualities of yours are important in these times now?
What qualities do you want to develop and strengthen for yourself?
Jointly we will explore which human qualities are needed to lead ourselves and others. Using Liberating Structures, we will help each other to explore our strengths and areas that might need some work on.
The purpose of our workshop is:
To offer you a safe and creative space for a personal and a joint inquiry into the entire spectra of energies and qualities of leadership, and unpacking the meaning behind the female/masculine - the yin & yang - and reflecting on our own qualities.
To define the kind of leadership in the virtual and physical world we need to strengthen to better connect and collaborate to find joint solutions to tough problems.
If you join us - this is what you get
A lively process, highly interactive and dynamic guided and supported by a selection of Liberating Structures
A string of facilitation tools - Liberating Structures - to re-use to explore other topics
A space for self-reflection and joint inquiry
An inspirational moment of togetherness with curious people of different background and age
Unfortunately we cannot offer you delicious coffee or a cup of tea but we will take care to keep us at our best.
For whom this workshop is
We invite people from all walks of life with a curious mind and who are keen to explore leadership qualities for the 21st century, and wanting to learn simple facilitation techniques to support connection and collaboration (= learn liberating structures).
The initiators
We are three women living in Sweden, Switzerland and the Netherlands. What connects us is our great interest and involvement in collaborative processes. Both in our daily lives and in our work as coaches, hosts, facilitators and trainers, we notice time and again how powerful moments of joint reflection can be and that we can inspire and emnetize each other with our open mindedness, our listening and our presence. In a world that seems to go faster and faster, we find it important to keep feeding this source of inspiration.
When and where we meet
Wednesday 28th of April, 9-12h CET
Online on Zoom
TICKETS
100 chf (around 92 Euro)
Refund policy: We do not refund tickets. If you are unable to attend the event, please pass your ticket on to someone else.
Join us on the 28th of April and explore with us what Liberating Structures - the underlying mindset, the way of being, thinking and doing, the toolbox - offers you to take your leadership to the next level!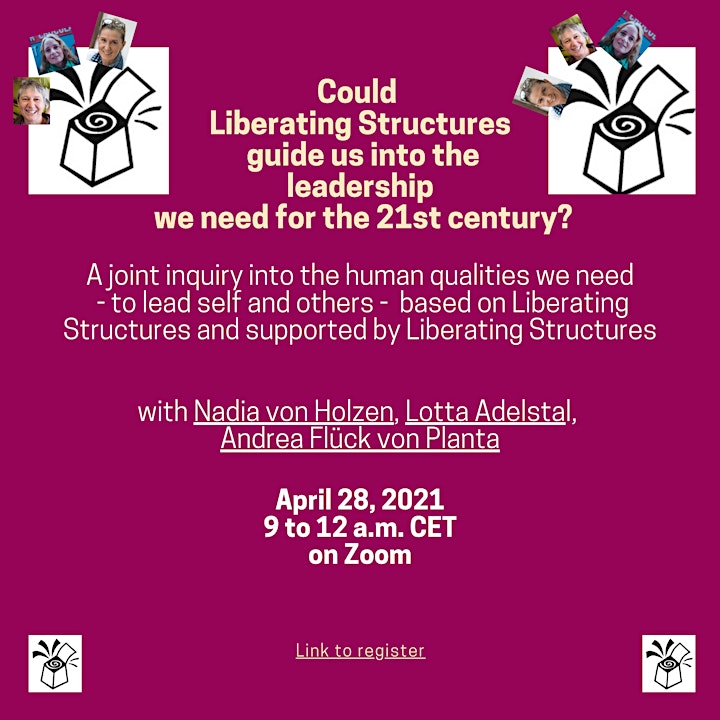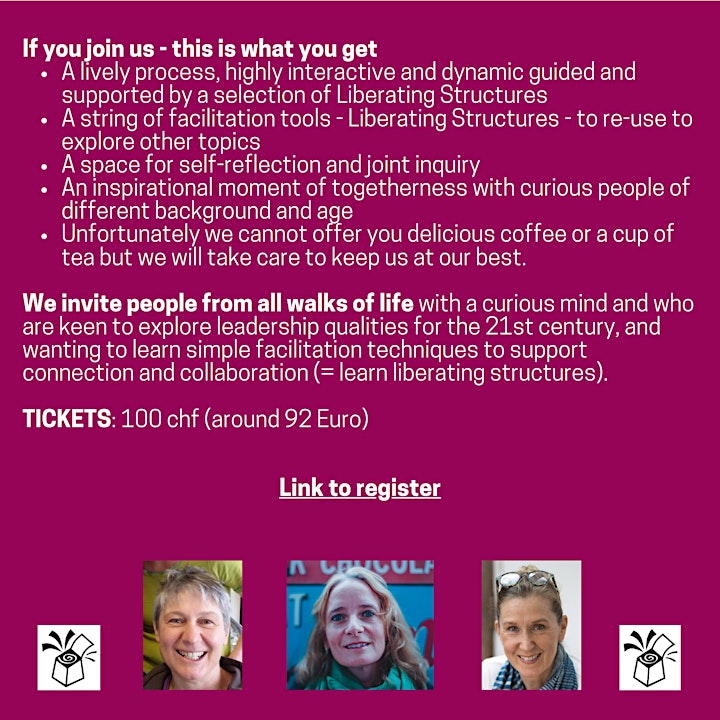 Date and Time
Location
Refund Policy