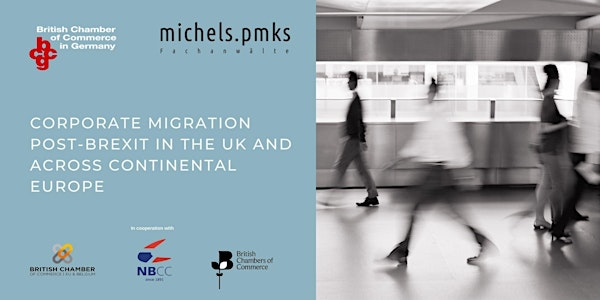 Corporate migration post-BREXIT in the UK and across continental Europe
BCCG Webinar: "Corporate migration post-BREXIT in the UK and across continental Europe"
About this event
After the United Kingdom had already withdrawn from the European Union with effect from 1 February 2020 and the transitional period agreed in the withdrawal agreement until 31 December 2020 has expired in the meantime, the abolition of privileges is now openly apparent. The only yardstick for relations is now the free trade agreement negotiated between the EU and the United Kingdom, which may represent compensation or mitigation in some areas.
For example, in the area of labour migration law, i.e. for the employment of foreign workers, it is regulated under which conditions they may enter the country for short stays (up to 90 days within a period of 180 days) for business purposes. For longer stays, in particular for the purpose of employment, the existing regulations of national law in the country of assignment are decisive and must be known.
The event will give an overview of the regulations now in force and briefly present the possibilities for the short- and medium-term deployment of British nationals in the European Union and of EU citizens in the United Kingdom. This will be done on the basis of exemplary case studies, whereby constellations introduced by the participants will also be discussed.
The speakers are experienced corporate migration lawyers from the UK (London) as well as from the Netherlands (Amsterdam), Belgium (Brussels), France (Paris) and Germany (Cologne) who have known each other for many years and have considerable practical experience which they would like to share with you.
Presenters: