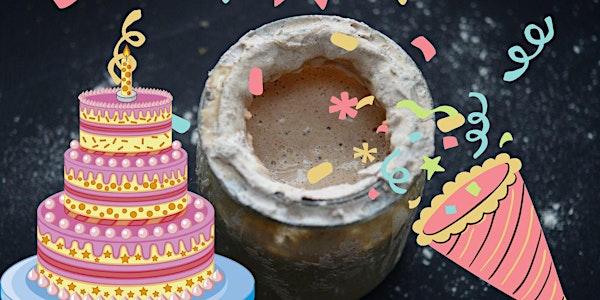 Cornelius the Sourdough's 157th Birthday Bread Party!
Hip Hip Hurrah to the guy that only gets stronger with age! Happy 157th Birthday Cornelius! We will nerd out with breadsperts #breadtalk
When and where
Location
Edible Alchemy in the Remise Moosdorfstraße 7-9 12435 Berlin Germany
Refund Policy
Refunds up to 1 day before event
About this event
Cornelius the Sourdough turns 157 years old!
Have you heard of our dear old Cornelius? #corneliusthesourdough
Maybe you have even adopted him from one of our sourdough workshops.
This November will mark Cornelius's 157h birthday and we want to celebrate together with all his bread-loving friends and fans!
This party is for EVERYONE who loves the complexity of sourdough - whether you already have Cornelius, you have your own sourdough starter, you would like to dive into the sourdough baking world, or just want to eat a lot of good bread... you are invited!
We will have an adoption center for those who would like to adopt some of Cornelius, or Canaria his Spanish girlfriend (wheat) or Else their Latvian cousin (rye). Bread baskets and other tools will be for sale.
The table will be full of spreads, dips, krauts, kimchi, and miso-butters for topping our bready creations and tantalizing our taste buds.
If you have Cornelius or other sourdough starters, pasta-madres, spounges or Hermans, bring a baked sourdough-something to share with the party! Bread, cake, cookies, waffles you name it! #potluckstyle
Don't be intimidated, bringing your own loaf is a great way to talk with other bakers and improve your baking game!
We will tell the tale of Cornelius and his origin story and hear of his ongoing adventures, trials, failures and successes with other bakers.
We will have some sourdough breadsperts (bread experts) who talk about the value of baking with sourdough learn other tips and tricks, eat lots of tasty sourdough creations and more birthday surprises. ;)
BREADSPERTS:
- Karl De Smedt - LIVE / VORORT! the @Sourdough_Librarian - Inauguration of Cornelius in the Sourdough Library in Belgium
- Olga Graf - founder of @Korn.Labor with Maria Kalenska co-founderss of @bake.for.ukraine - storytelling and tasting of Cornelius in Ukraine, and tasting of freshly ground wheat varieties
- Katrin Simonis - experimenting with sourdough lamination @katrinsimonis
- Zed - owner of Moksa Restaurant, expert in Sourdough Naan Bread @moksa.kitchen
As all Edible Alchemy events, we will have lots of probiotic foods to top our bread and bubbling drinks to wash them down.
Come join us for an edutaining (educational-entertaining) night of sourdough celebrations!
Spots are limited
----