Event Information
Refund policy
Refunds up to 7 days before event
Connecting the dots in a fast-changing world: How the science of serendipity can help us turn uncertainty into meaning, impact & smart luck
About this event
Modern life is full of chance encounters, changing plans, delayed journeys, human errors, and—yes—even pandemics. But what if we could turn such unpredictability into positive outcomes? Dr. Christian Busch has spent a decade exploring how, if acted upon, unexpected moments can enhance our worldview, expand our social circles, and create new opportunities for innovation and impact. In this talk, Christian will share how we can use uncertainty as a pathway to more purpose and success, for companies and individuals alike.
"Wise, exciting, and life-changing." (Arianna Huffington, Founder, Huffington Post)
"Highly recommended!" (Reid Hoffman, co-founder, LinkedIn)
"Offers practical insights for all." (Paul Polman, CEO, Unilever 2009-2019)
Speaker: Prof. Dr. Christian Busch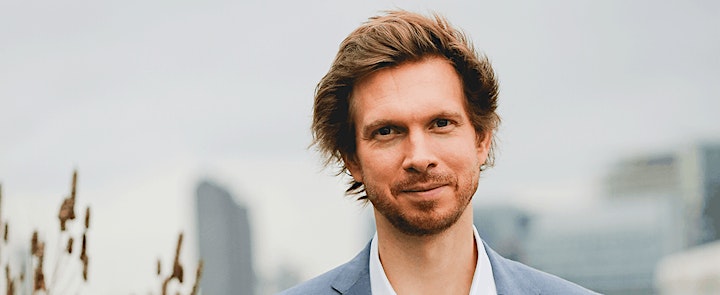 Dr. Christian Busch, FRSA, is an internationally known expert in the areas of innovation, purpose-driven leadership, and serendipity. He is the director of the CGA Global Economy Programme at New York University (NYU), and also teaches at the London School of Economics (LSE). A cofounder of Leaders on Purpose and the Sandbox Network – and a former director of LSE's Innovation Lab – he has worked with senior executives and governments around the world. He is member of the World Economic Forum's (WEF) Expert Forum, a Fellow of the Royal Society of Arts, and on the Thinkers50 Radar list of the 30 thinkers "most likely to shape the future."
His work has been featured by outlets such as the Strategic Management Journal, Harvard Business Review, Forbes, The Guardian, and the BBC. Christian's bestselling book, The Serendipity Mindset (Penguin Random House), has been highlighted as a "wise, exciting, and life-changing book" (Arianna Huffington), and was featured on platforms such as the BBC, Harvard Business Review, and Forbes. He received his PhD from the LSE. He received his PhD from the LSE.
Benefits for the participants
This session will show how we can use uncertainty as a pathway to more purpose, innovation, and success. It will:
Frame the context: Uncertainty, transitions, new ways of working (acknowledging current situation, workplace transitions; need for customer centricity).
Explore serendipity (unexpected positive outcomes) in the context of COVID-19 and other times of uncertainty.
Show how we can use the science of serendipity as a tool for innovation and impact.
Harness concrete practices on how to cultivate serendipity for enhanced meaning and success .
Format
40-minute presentation, 20-minute Q&A (including dynamic peer-to-peer sharing).
CCEU
Information to follow
More information
https://bit.ly/serendipitymindsetcoaching

Date and time
Location
Refund policy
Refunds up to 7 days before event
Organiser of Connecting the dots in a fast-changing world
Die International Coaching Federation (ICF)  wurde 1995 in den USA gegründet und ist heute mit fast 37.000 Mitgliedern (Stand März 2020) in 143 Ländern, weltweit, die größte Non-Profit-Vereinigung professioneller Coachs. ICF Deutschland gibt es seit 2001, mit derzeit über 630 Mitgliedern.
Die Ziele der ICF sind:
Die Integrität des Coaching-Berufs zu stärken und zu fördern.
Durch Zertifizierung von Coachs mehr Transparenz für Klient/Innen und professionelle Coaches zu ermöglichen.
Die ethischen Standards des Berufsstands auf hohem Niveau zu prägen und weiter zu entwickeln.
Klientinnen und Klienten bei der Auswahl des für sie geeigneten Coachs zu unterstützen.
Forum und Interessenvertretung für die weltweite Gemeinschaft der Coachs zu sein.
Die ICF-Mitglieder durch kollegialen Austausch, interne Weiterbildung, Pressearbeit und internationale Vernetzung bestmöglich bei Ihrer Arbeit und ihrem professionellen Wachstum zu unterstützen.
Die Förderung der Kunst, Wissenschaft und Praxis des professionellen Coachings Die International Coach Federation (ICF) wurde 1995 in den USA gegründet und ist heute mit mehr als 37.000 Mitgliedern in über 143 Ländern der weltgrößte Verband professioneller Coachs und Hauptansprechpartner für Menschen, die einen Coach suchen. Sie ist die einzige Coaching-Organisation mit einer weltweit anerkannten Zertifizierung, hohen ethischen Standards und 8 Kernkompetenzen, die den Rahmen für professionelles Coaching definieren. ICF in Deutschland gibt es seit 2001, mit derzeit rund 630 Mitgliedern. Voraussetzung der ICF-Mitgliedschaft sind Nachweise einer fundierten Coaching-Ausbildung sowie der aktuellen Tätigkeit als Coach. Zudem wird jedem ICF-Mitglied empfohlen, eine der drei ICF-Zertifizierungsstufen (ACC/PCC/MCC) zu absolvieren, um dadurch Professionalität zu demonstrieren.
Coachingverständnis
Die Mitglieder der ICF verpflichten sich zu einer Coaching-Form, die den Klienten als Experten des eigenen Lebens anerkennt. Sie sind demzufolge der Überzeugung, dass alle Klienten über genügend Ressourcen verfügen, um ihre Ziele zu erreichen. Und dass sie kreativ, eigenverantwortlich und in sich vollkommen sind.
Die ICF-Zertifizierung als internationaler Standard Bereits 1998 eingeführt, ist sie die international am weitesten verbreitete und zugleich die einzige weltweit anerkannte Coaching-Zertifizierung. Aktuell gibt es bereits rund 30.000 ICF-zertifizierte Coachs. In zahlreichen internationalen Konzernen und Organisationen (z.B. IBM und NASA) ist eine ICF-Zertifizierung Voraussetzung für die Aufnahme in den Coaching-Pool. Die Zertifizierung ist nicht an eine Mitgliedschaft gebunden; auch verbandsunabhängige Coachs sowie Mitglieder anderer Verbände können sich durch die ICF zertifizieren lassen. Der Neutralität der ICF dient es auch, dass der Verband keine eigenen Ausbildungsinstitute betreibt.