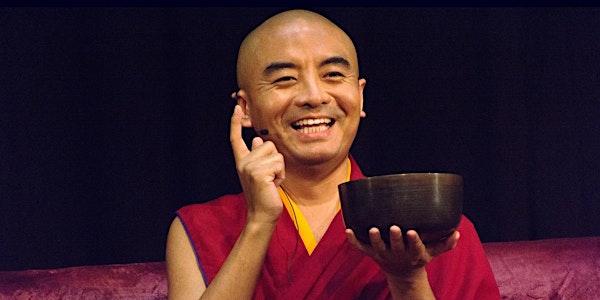 Compassion with yourself & others in times of change. With Mingyur Rinpoche
During this event we will explore the natural qualities of our mind.
When and where
Location
Germanisches Nationalmuseum Kartäusergasse 1 90402 Nürnberg Germany
About this event
[English version below]
Mitgefühl für sich selbst und andere in Zeiten des Wandels. Meditationsworkshop mit Yongey Mingyur Rinpoche und weiteren Tergar Lamas
--
Diese Veranstaltung setzt sich aus zwei Teilen zusammen, die du einzeln oder als Kombination buchen kannst:
In Teil 1 am Montag, den 15.08., wird Rinpoche über Geduld und Gelassenheit in herausfordernden Situationen lehren.
Das kombinierte Ticket "Geduld und Mitgefühl. Workshop mit Mingyur Rinpoche" umfasst die komplette Veranstaltung von Montag bis Dienstag.
--
Mitgefühl – sich um sich selbst und andere kümmern, gut zu sich selbst und anderen zu sein ist die Haltung, mit der wir spontan und andauernd inneren Frieden und Sinn erleben können. Wir alle kennen dieses erfüllende Gefühl von Zufriedenheit und Glück, wenn wir einem Menschen oder einem Tier wirklich helfen konnten und gleichzeitig im Einklang mit unseren eigenen Bedürfnissen bleiben konnten.
Bei dieser ganztägigen Veranstaltung erkunden wir in Vorträgen und Praxissitzungen die natürlichen Qualitäten unseres Geistes: Gewahrsein, Mitgefühl und Weisheit. Mingyur Rinpoche wird uns in Meditationsformen einführen, die uns unser mitfühlendes Herz entdecken lassen. Diese Praktiken ermöglichen es, unser Mitgefühl für uns selbst, Lebewesen, denen wir nahe stehen und denen die uns fern sind, zu entfalten und zu erweitern. Es wird Gelegenheit geben, das Gelernte praktisch anzuwenden, in den Alltag zu bringen und Rinpoche und unseren Lehrern Khenpo Kunga und Lama Trinley Fragen zu stellen.
Warum sollte ich teilnehmen?
Die Veranstaltung bietet
Eine wunderbare Gelegenheit, Mingyur Rinpoche in Person zu erleben
Erste Erfahrungen mit Meditation sammeln
Für langjährig Praktizierende, die Möglichkeit, neue transformative Einsichten gewinnen
Die Gelegenheit, die Gemeinschaft vor Ort zu erleben
Was werde ich lernen?
Wie du mit deinem angeborenen Mitgefühl für dich selbst und andere in Kontakt kommst
Dich mit anderen zu verbinden und dadurch emotionales Wohlbefinden, innere Stärke und Mut gewinnen kannst
Wie du Meditation in den Alltag integrieren kannst
Was beinhaltet dieses Seminar?
Belehrungen von Mingyur Rinpoche mit praktischen Übungen
Die Möglichkeit, Fragen zu stellen
Belehrungen und Praxiseinheiten mit Tergar Lama Khenpo Kunga und Tergar Lama Trinley
Ticket-Preise und Ermäßigungen:
Tergar ist ein gemeinnütziger Verein, dessen Grundsatz es ist, allen Menschen zu ermöglichen, den Nutzen von Meditation zu erfahren. Wenn die genannten Preise für dich nicht möglich sind, kontaktiere bitte anmeldung@tergar.org um eine nochmalige Ermäßigung von 50 % auf den ermäßigten Preis zu erhalten oder für andere Möglichkeiten.
Uns bei Tergar ist bewusst, dass die ansteigenden Lebenshaltungskosten in ganz Europa für viele von uns finanzielle Auswirkungen haben. Daher haben wir in diesem Jahr zusätzliche Anstrengungen unternommen, um diese Lehren für so viele Menschen wie möglich zugänglich zu machen.
Da die Kosten für die Durchführung dieser Veranstaltungen höher sind als je zuvor, möchten wir diejenigen, die in der Lage sind, den Sponsorentarif zu zahlen, bitten, dieses in Betracht zu ziehen.
Wenn du dich mit einer Spende an den Kosten für die Veranstaltung beteiligen möchtest, wende dich bitte an de@tergar.org oder spende hier über PayPal.
Wenn du dich für eine Spende entscheidest, gib die Referenz YMRNB an. Bitte beachte, dass du dich damit einverstanden erklärst, dass Tergar Meditationsgemeinschaft e.V. die gespendeten Gelder zur Deckung von Kosten im Zusammenhang mit dieser Veranstaltung verwenden darf.
Danke, und wir wissen deine Großzügigkeit sehr zu schätzen.
COVID-19 Richtlinie:
Bitte halte dich an die örtlichen behördlichen Covid-Regelungen, die zum Zeitpunkt der Veranstaltung gelten. Für die bestmöglicher Sicherheit aller, empfiehlt Tergar außerdem als zusätzliche Vorsichtsmaßnahme das Tragen von Masken.
Wie ist die Stornierungsregelung?
Wir bitten euch, mindestens 14 Tage vor Veranstaltungsbeginn zu stornieren, um die volle Rückerstattung zu erhalten. Wenn du zwischen 14 Tagen und dem Startdatum des Programms stornierst, ziehen wir eine Verwaltungsgebühr von 50 Euro von deiner Rückerstattung ab.
Im Krankheitsfall erstatten wir auch im Zeitraum bis zu 14 Tage vor Veranstaltungsbeginn den vollen Preis.
Um die Veranstaltung 14 Tage (oder mehr) vor Beginn zu stornieren, melde dich bitte in deinem Eventbrite Konto an, das du bei der Anmeldung erstellt hast. (Falls du bei der Anmeldung kein Passwort angegeben hast, hole das bitte laut den Anweisungen auf der Eventbrite Webseite nach). Innerhalb deines Kontos rufe dann deine Tickets auf (oben rechts), klicke 'Rückerstattung beantragen' und trage bitte die geforderten Informationen ein.
Bitte kontaktiere anmeldung@tergar.org, wenn du die Veranstaltung innerhalb der 7 Tagen vor Beginn stornieren musst.
Programm-Ablauf:
Die Veranstaltung startet am um 10:00 Uhr und endet 18:00 Uhr.
10:00 - 12:00 Uhr Talks und Meditationspraxis mit Khenpo Kunga / Lama Trinley / Holger Yeshe
12:00 - 14:00 Uhr Pause
14:00 - 18:00 Teaching mit Mingyur Rinpoche inkl. 45 min Pause
Du benötigst kein ausgedrucktes Ticket. Es gibt vor Ort eine Anmeldung, bei der sich alle Teilnehmer*innen bitte nochmal melden, so dass wir die Anmeldungen abgleichen können.
Anreise, Unterkunft und andere Vor-Ort Informationen:
Bitte lies dieses Dokument, es beinhaltet Informationen zu Anreise, Unterkunft, Verpflegung, Kleidung etc. Dies ist ein sog. Non-residential Retreat, das heißt, du musst dich selbst um Unterkunft (falls nötig) und Verpflegung kümmern.
Wenn du Fragen zu Veranstaltungsort, Verkehrsmitteln und Unterkunft hast, eine Sitzmöglichkeit mit besonderem Bedarf benötigst oder andere Anliegen hast, melde dich bitte unter anmeldung@tergar.org.
Biografien:
In seinem Ansatz, Meditation zu lehren, integriert Mingyur Rinpoche traditionelle buddhistische Praxis und Philosophie mit dem aktuellen wissenschaftlichen Verständnis von Geist und psychischer Gesundheit - und macht die Meditationspraxis für Schüler*innen auf der ganzen Welt relevant und zugänglich. Weitere Informationen findest du hier.
Außerdem wird es Belehrungen von Tergar Lama Khenpo Kunga und Lama Trinley geben. Um mehr über sie zu erfahren, klicke bitte hier.
Meditation workshop with Yongey Mingyur Rinpoche and other Tergar lamas
--
This event consists of two parts, which you can book individually or as a combination:
In Part 1 on Monday, 15th August, Rinpoche will teach about patience and calmness in challenging situations.
The combined ticket "Practising Patience and Compassion. Workshop with Mingyur Rinpoche" includes the complete event on Monday and Tuesday ( 15th August and 16th August).
--
Compassion – taking care of ourselves and others, being good to ourselves and others is the attitude with which we can experience spontaneous and lasting inner peace and meaning. We all know this fulfilling feeling of contentment and joy when we could really be of help to a human or an animal while staying in tune with our own needs.
In this full-day event, we will explore in various workshops and talks the natural qualities of our mind that we can recognize in awareness, compassion and wisdom. Mingyur Rinpoche will introduce us to forms of meditation that allow us to discover our compassionate heart, to open and expand it to living beings, those we are close to and those far. There will also be the opportunity to put our new insights into practice, bring it into everyday life and ask questions to Rinpoche and our teachers Khenpo Kunga, Lama Trinley and HolgerYeshe.
Why should I attend?
The event offers:
A wonderful opportunity to experience Mingyur Rinpoche in person
First experience of meditation
For long-time practitioners, the opportunity to gain new transformative insights
The opportunity to experience the community in person
What will I learn?
How to get in touch with your innate compassion for yourself and others
How to connect with others and thereby gain emotional wellbeing, inner strength and courage
How to integrate meditation into everyday life
What is included in this programme?
Live teaching and practice sessions with Mingyur Rinpoche
Teaching sessions with Tergar Lamas Khenpo Kunga/ Lama Trinley/ HolgerYeshe
Guided meditation
Q&A
Ticket prices and discounts:
Tergar is a non-profit organisation committed to making the benefits of meditation available to everyone. If the fees are a deterrent, please contact anmeldung@tergar.org for a discount of 50% off of the reduced fee or to inquire about other options.
At Tergar we want to acknowledge that the continued rises in the Cost of Living throughout Europe is impacting on many of us financially. We have therefore made additional efforts this year to make these teachings accessible to as many people as possible.
As the cost of putting on these events is currently higher than ever however, we would like to invite those of you who are able to pay the sponsorship rate to please consider doing so.
Alternatively, if you would like to make a donation to contribute towards the cost of the retreat, then please either contact us at de@tergar.org or donate via PayPal HERE.
If you do choose to make a donation, please include the reference YMRNB. Please note that you are agreeing for Tergar Meditationsgemeinschaft e.V. to use the donated funds to help offset costs related to this event.
Thank you very much. Your generosity is greatly appreciated.
COVID-19 policy for in-person events in 2022:
Please adhere to the local Covid restrictions that are in place at the time of the event. Tergar also recommends that face masks are worn as an extra precaution to keep everyone safe.
What's the refund policy?
We ask that you cancel at least 14 days in advance of the program start date for a full refund. If you cancel between 14 days and the program start date, we will deduct an administrative fee of 50€ from your refund.
If you need to cancel because of illness, between 14 days prior and the start of the event, we will provide a full refund.
To cancel prior to 14 days before the program, sign into the Eventbrite account that you created by registering (if you did not create a password during registration you will need to follow the prompts on the EventBrite website to do so). Inside your account, navigate to your tickets (top right), click the 'Request a Refund' button, and provide the information requested.
Schedule:
The program will begin at 10:00 a.m. and will end at 06:00 p.m.
10:00 a.m. - 12:00 p.m. Talks and meditation practice with Khenpo Kunga / Lama Trinley / Holger Yeshe
12:00 p.m. - 02:00 p.m. Break
02:00 p.m. - 06:00 p.m. Teaching with Mingyur Rinpoche incl. 45 min break
You do not need a printed document. There will be a registration on site, where all participants are asked to check in so that we can compare the registrations.
Travel, Accommodation, and Other Local Information:
Please review this document for local travel and accommodation information. This is a non-residential retreat. You will need to secure your own accommodation if you need it and purchase your own meals.
If you have questions about the location, transportation and accommodations or need special seating or have other requirements, please contact anmeldung@tergar.org.
Biographies:
In his approach to teaching meditation, Mingyur Rinpoche integrates traditional Buddhist practice and philosophy with the current scientific understanding of the mind and mental health – making the practice of meditation relevant and accessible to students around the world. For further information check here.
In addition, there will be teachings by Tergar Lama Khenpo Kunga and Lama Trinley. Click here for more information.