Communications rooms are the new way of working: based on individual contribution & impact we inspire co-creation that solves REAL problems!
Zu diesem Event
WHY participate in the Communications Room Training?
We can see today:
To keep people engaged in your business, you need to help every employee in finding an individual space
None of us will return to the old office – instead we will come together in places that allow co-working
The differences between remote and on-site work need to disappear
All this will only happen, if we create a new understanding of communications – get a practical feeling!
WHAT are Communications Rooms?
Communications Rooms are the new way of working: based on individual contribution and impact we create a team purpose that pulls and motivates.
Together with you, we will open:
new rooms,
new pictures,
new horizons
for effective and efficient communications across the entire company.
HOW does the Communications Room Training work?
In 2x3 hours remote, on-site or hybrid training you get clarity about:
Your own individual purpose and what drives you at work.
How to develop a common mindset even in difficult settings or around contrarian topics.
Why we need a new communications culture to succeed in future business (and how to design such a culture).
How to practically facilitate a Communications Room that is a space for true innovation.
We practice with you to solve your real challenges that you bring along - and make you familiar with all the facilitation skills that you need to act as a communicator of the future.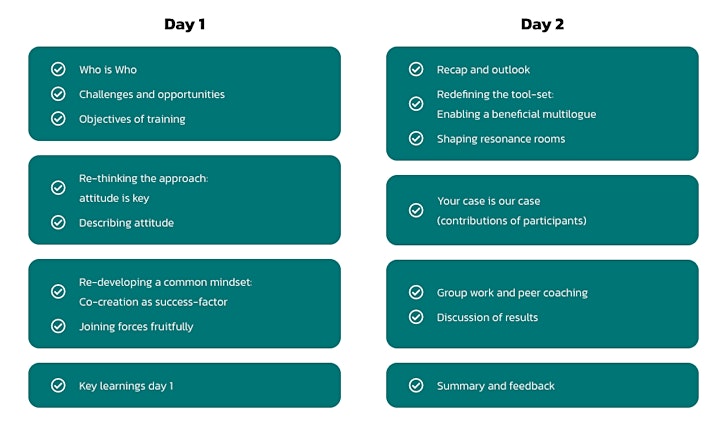 TEAM WORKSHOPS
For individual team workshop arrangements, please contact us via:
mark@derbacher-communications.de
or
office@hartmuthuebner.com
FOR WHOM?
All managers and experts that currently face a challenge that is related to communications, such as:
Problems of overload or accountability in your teams
Disruption in your market that creates the need for a new narrative for employees, customers, partners, investors, politicians and society in general
Changing customer needs that require a new type of co-creative dialogue
Complex technologies and innovations that are not easy to grasp for counterparts
Businesses that have a challenge to attract young talents in the long-term.
MEET THE TRAINERS
Dr. Mark Derbacher and Dr. Hartmut Hübner have decades of experience as executives in Corporate Communications and as coaches in organizational development. They know large international organizations and their challenges inside-out. Benefit from their experience and be inspired by their facilitation - mind-opening moments guaranteed!
FORMAT
The sessions run online via Zoom, supported by jointly working on a virtual whiteboard plus other platforms.
In addition to the dates below, we offer tailor-made trainings for individual organizations or mixed/functional teams.
One training includes 2x3.5 hours online sessions, full of interactive communication and collaboration.
Datum und Uhrzeit
Veranstaltungsort
Veranstalter von Communications Room Training