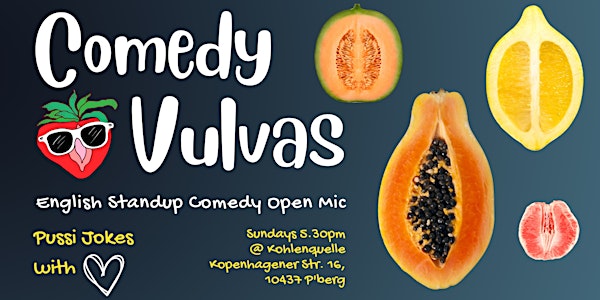 Comedy Vulvas: English Standup Comedy Open Mic #13
Pussi Jokes with Love.
Date and time
Sunday, March 19 · 5:30 - 7:15pm CET
Location
Kohlenquelle Kopenhagener Straße 16 10437 Berlin Germany
About this event
Ladies, gentlemen, and everyone in between, get ready to meet some of the funniest and most talented female-identifying comics from around the world!
Welcome to "Comedy Vulvas," the ultimate playground for womxn comics to experiment, push boundaries, and develop new material. We've got 8 international and diverse performers every Sunday*, each one bringing their unique perspectives and hilarious observations to the stage.
*Except last Sunday of the month
🚫 We are cencored by Facebook due to the word "Vulva". Now unable to do paid marketing, we fully rely on word-of-vulva. Help us spread the word!
🎤 Host by Moni Zhang 🇨🇳 (INS: @moni.zhang.comedy)
Winner of Berlin New Standup Award 2019 & Founder of Berlin Mental Health Festival. Moni is featured by BBC, Euronews, Scottish Field, and The Scotsman. Now touring with her solo show "Child from Wuhan".
Check more info at www.monizhang.com
🍑🍑🍑 Lineup 🍑🍑🍑
🎤 Palma Palacios 🇩🇴 (IG: @palmapalacio)
🎤 Sofia May 🇺🇸 (IG: @sofiamaycomedy)
🎤 Marta Paley 🇷🇺 (IG @martajuggler)
🎤 Luīze Beča 🇱🇻 (IG: @luizebeca)
🎤 Laura Kaddour 🇫🇷 (IG @kadlau_)
🎤 Shannon Brooke 🇦🇺 (IG @shanbrooke_comedy)
🎤 Laura Niedrich 🇩🇪 (IG @lauramariarebekkaa)
With HEADLINER
🎤 Anshita Koul 🇮🇳 (IG: @anshitakoul)
36, Married, Indian, Doesn't want a child, and is a standup comedian by profession, Anshita Koul is the poster child of everything heteronormative patriarchy hates but don't worry kids, she hates it back way more.
She recently made it to the 'One to Watch' list at Funny Women Stage Awards 2021 and is also a finalist at Funny Women Stage Awards 2022 in the UK.
Ticket:
👉 It's time to break the myth that laughter is free. Comics have rent to pay, Falafels to eat, and probably a few therapy bills to cover up their emotional scars from telling jokes for a living. We can't pay the bills with compliments or rainbows, we need cold hard cash.
🤑 This ain't no free gig. It's a Pay What You Want situation. How does it work? You get to decide how much to donate AFTER you've laughed your butt off. If you're planning on soaking up the jokes without leaving a tip, better skip this show!
💰 We suggest a donation of 12€ - 20€.
💰 Students & unemployed 5€ - 7€.
💰 We accept cards & cash.
❓ "I don't have a vulva, can I come to see the show?"
🤪 Of course! You silly.
❓ Is smoking allowed at the show?
👉 No!
❓ Wow, this show is so interesting, but I can't make it on this date :( When's the next one?
👉 Weekly, except the last Sunday of the month! Follow Moni's Eventbrite Page to get notified of future shows.
❓ I want to perform. How may I sign up?
👉 This is an open mic, so even beginners can perform. Please go to the following link, on each event's discussion page to write "spot" and a one-sentence introduction to sign up. Please DO NOT pm me, it's very hard to keep track of direct messages!
https://www.facebook.com/moni.zhang.comedy/events/
When & where:
Sundays, except the last Sunday of the month
Doors open: 5.30pm
Show time: 6.00 - 7.15pm
📍Kohlenquelle: Kopenhagener Str. 16, 10437 Berlin. Close to S+U Schönhauser Allee