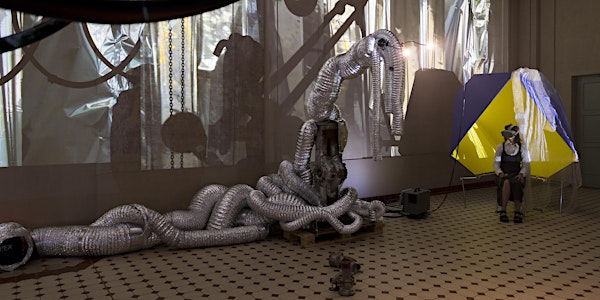 Cold Light and The Real Line
Two new exhibitions at E-WERK Luckenwalde
When and where
Location
E-WERK Luckenwalde 73 Rudolf-Breitscheid-Str 14943 Luckenwalde Germany
Refund Policy
Contact the organizer to request a refund.
About this event
Please note: on Saturday 8 October, E-WERK will be closed except to CURRENTS ticket holders. Please purchase your festival ticket from Resident Advisor. We will reopen to the public the following weekend (15 October).
Bitte beachten Sie: Am Samstag, den 8. Oktober, ist das E-WERK außer für Inhaber von CURRENTS-Tickets geschlossen. Bitte kaufen Sie Ihr Festivalticket bei Resident Advisor. Wir werden am folgenden Wochenende (15. Oktober) wieder für die Öffentlichkeit öffnen.
EN
Cold Light, Lindsay Seers & Keith Sargent in collaboration with Performance Electrics
In September 2022 E-WERK Luckenwalde will unveil Cold Light – a new video installation and virtual reality work by Lindsay Seers & Keith Sargent in collaboration with Performance Electrics for EW's Turbine Hall, Engine Room and Gallery Two.
The exhibition has been shaped by the artists' research into the life and work of inventor, engineer and futurist Nikola Tesla, best known for his contributions to the design of the Alternating Current electrical system. The title draws on historic references to the first electric lights. No longer reliant on fire for illumination, the new electric light bulbs were referred to as 'Cold Light.'
The Real Line, Arantxa Etcheverria, Adelina Ivan and Alina Popa
The Real Line is an exhibition about movement and moving. It is about the point and the line and all the gestures in between. It brings together Bucharest-based artists Arantxa Etcheverria, Adelina Ivan and Alina Popa (1982 - 2019) working with geometry and its extensions in gender inequality and our society's constructs in what is known as a women's place.
The idiosyncrasy of this proposition comes from the direct confrontation of the apparently opposing concepts of feminisms and domesticity in a critical attempt to investigate the possibility of one reinforcing the other. Can domesticity be a site of transformative feminist discourse and praxis? Can geometry, a traditionally male dominated discipline, be an agent for this transformation?
Please donate 5€ per ticket. As a non-profit organisation without institutional funding, EW fundraises for its contemporary art and energy programme in its entirety. Every contribution, no matter how small, will enable us to continue producing and feeding carbon negative electricity Kunststrom into the national grid, and support the most inspiring contemporary artists working today.
DE
Im September 2022 wird das E-WERK Luckenwalde Cold Light enthüllen - eine neue Videoinstallation und Virtual-Reality-Arbeit von Lindsay Seers & Keith Sargent in Zusammenarbeit mit Performance Electrics für die Turbinenhalle, den Maschinenraum und die Gallery Zwei des EW.
Die Ausstellung wurde durch die Recherchen der Künstlerin und des Künstlers über das Leben und die Arbeit des Erfinders, Ingenieurs und Futuristen Nikola Tesla geprägt, der vor allem für seine Beiträge zur Entwicklung des elektrischen Wechselstromsystems bekannt ist. Der Titel bezieht sich auf historische Bezüge zu den ersten elektrischen Lampen. Die neuen elektrischen Glühbirnen, die nicht mehr auf Feuer zur Beleuchtung angewiesen waren, wurden als "kaltes Licht" bezeichnet.
The Real Line, Arantxa Etcheverria, Adelina Ivan und Alina Popa
The Real Line ist eine Ausstellung über Bewegung und Bewegung. Es geht um den Punkt und die Linie und alle Gesten dazwischen. Die Ausstellung bringt die in Bukarest lebenden Künstlerinnen Arantxa Etcheverria, Adelina Ivan und Alina Popa (1982 - 2019) zusammen, die sich mit der Geometrie und ihren Erweiterungen in Bezug auf die Ungleichheit der Geschlechter und die Konstruktionen unserer Gesellschaft in dem, was als Frauenplatz bekannt ist, beschäftigen.
Die Besonderheit dieses Vorschlags liegt in der direkten Konfrontation der scheinbar gegensätzlichen Konzepte von Feminismus und Häuslichkeit in einem kritischen Versuch, die Möglichkeit zu untersuchen, dass das eine das andere verstärkt. Kann die Häuslichkeit ein Ort des transformativen feministischen Diskurses und der Praxis sein? Kann die Geometrie, eine traditionell männlich dominierte Disziplin, ein Mittel für diesen Wandel sein?
Bitte spenden Sie 5€ pro Ticket. Als gemeinnützige Organisation ohne institutionelle Förderung ist das EW selbst dafür verantwortlich, jegliche finanzielle Mittel für zeitgenössischen Kunst und Energie zu sammeln. Jeder noch so kleine Beitrag ermöglicht es uns weiterhin, klimaneutralen Kunststrom zu produzieren und in das nationale Stromnetz einzuspeisen und einige der inspirierendsten zeitgenössischen Künstler*innen von heute zu zeigen.