Sales Have Ended
Registrations are closed
We are afraid that sales ended for this event have ended. Please check future events for additional alternatives, we hope to see you next!
Sales Have Ended
Registrations are closed
We are afraid that sales ended for this event have ended. Please check future events for additional alternatives, we hope to see you next!
Description
U.lab: a platform, a lifetime practice
U.Lab is a learning community for social change grounded in ecosystem thinking, mindfulness, and a vision of the future. Created by MIT's Presencing Institute and Otto Scharmer--participants have described the course as "eye-opening" and "life-changing". The underlying "Theory U" framework has guided transformative work around the world.
U.lab is a platform for activating a global and local innovation eco-system. Today's challenges call for profound innovation across all societal sectors. Rethinking, reinventing and evolving the way we operate in our society requires not only a profound shift in how we think but also to engage both the whole system and the whole self (intelligence of the head, heart, and hand).
We are excited for COKREA in Munich to get involved this year again as a Hub to collaborate, contribute and learn more about how U.Lab can help to move the community forward.
Actually… the idea of starting COKREA was born at 2015´s #ulab course! https://twitter.com/Offtimeeu/status/644531660348882945
What is a Hub?
u.lab is learning by doing – which means that it is not enough to learn new concepts intellectually; the real learning happens through application and practice in the real world.
A hub is a physical space where u.lab participants come together to learn and co-create, using the frameworks and methods offered through the u.lab MOOC.
In that sense, hubs are helping people to translate insights into action, as well as co-creating with others. The physical space enhances the typical MOOC experience by providing group support for self-organized learning and co-creation.
At a local level, hubs can help connect people around common interests. At a global level, the various hubs from around the world will be part of a network of hub hosts that exchange insights, experiences, and knowledge.
U.Lab 1x - Leading from the Emerging Future
U.lab 1x launches on Sept 14th 2017. Registrations have opened: https://www.edx.org/course/u-lab-leading-emerging-future-mitx-15-671-1x-0.
If you have never joined a course before, please also join the introductory course into u.lab: https://www.edx.org/course/awareness-based-systems-change-u-lab-how-mitx-15-671-0x
When do the live sessions take place?
Live session #1 - September 21st, 2017
Live session #2 - October 19th, 2017 *** Surprise***
We welcome you to join our hub for the second live session of u.lab: Leading From the Emerging Future which will focus on the Co-Sensing phase of Theory U. Kelvy Bird, from the Presencing Institute, will be with us at COKREA to scribe remotely for the broadcast and to participate in the hub activities.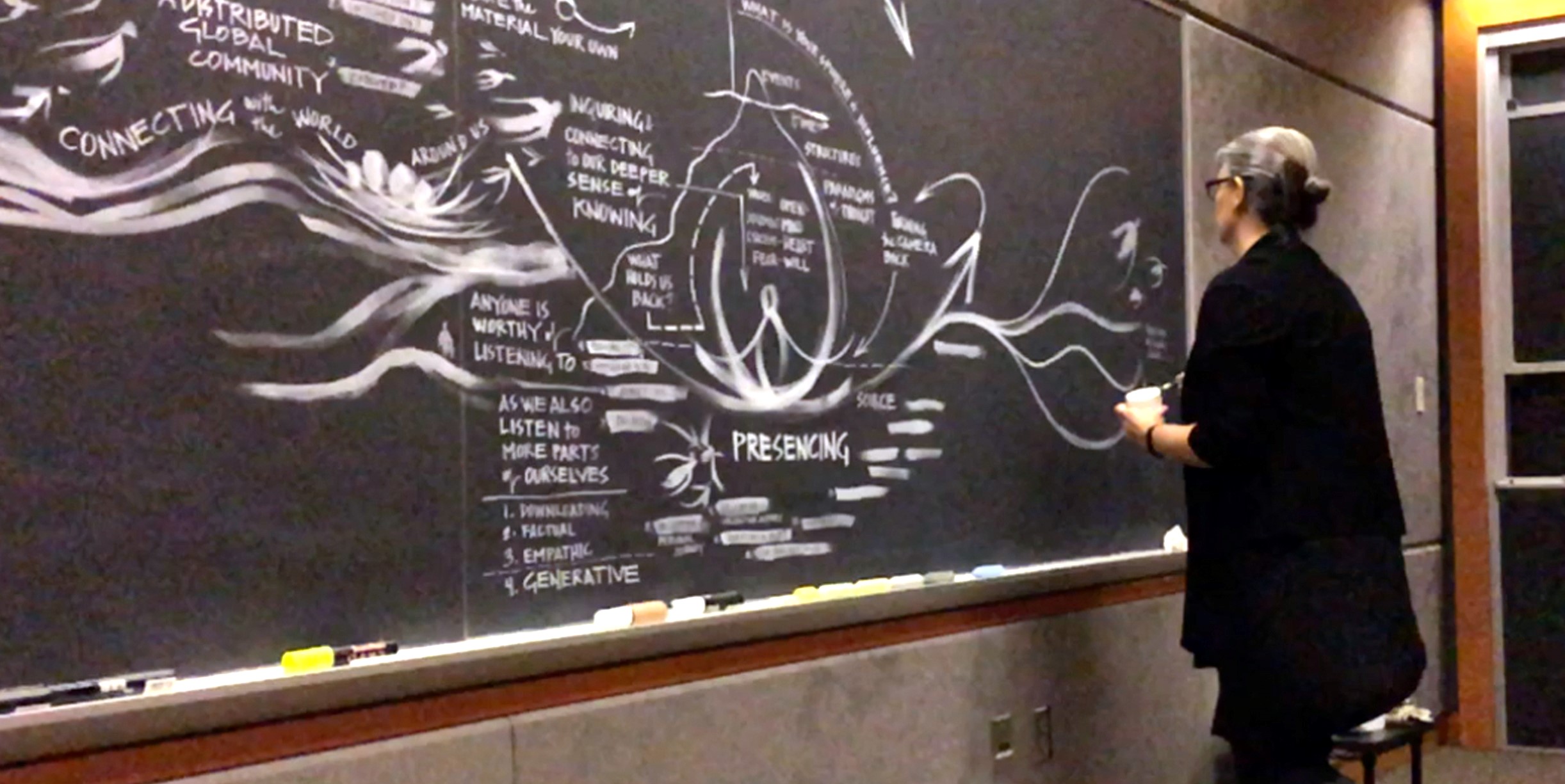 This will precede a three-day workshop on Visual Practice that she will be leading at COKREA. To find out more, you can visit this site (3 day visual practice workshop in Munich or http://visualpracticeworkshop.com)
Live session #3 - November 9th, 2017
Live session #4 - December 14th, 2017
How to join?
The COKREA Hub is a space open to all who want to reflect and learn together. Registration is required for each live session independently. We have limited spots.
We are "experimenting" with PWYW - Pay what you want (PWYF - Pay what you feel) this year to cover for organization costs, time, space and cleaning.
How?
If you plan to join us at COKREA for the course, please register here via Eventbrite for every live session you are planning to join so we know how many people to expect - spots are limited!
Doors will open 30 minutes prior to each session (15:30) to allow some time to get to know each other and then join live session together (from 16:00 to 17:30).
If you have time, we are also staying until 18:00 (30 minutes after the sessions) to reflect together.
Who?
Co-creators, Facilitators, Innovators, Community movers, Intrapreneurs, Theory U fans. Interested/ curious about exploring ways to in particular when it comes to finding solutions to problems that require co-creation and collaborative approaches in organizations (culture, leadership change & innovation)
What is Theory U?
See here, here and here for an introduction.
Why join u.lab?
People join u.lab for different reasons. Most participants join due to a desire to connect with the deeper purpose of their life and to create the time and space to prototype what that might look like.
Others join u.lab simply to learn about Theory U (an approach to bring about profound change,developed by action researchers at MIT)
Many join to connect to other change makers in their area, organizations or sector. By doing u.lab together they collectively develop a vision and ideas of how to bring change in their context and to deepen relationships.
Some people see an opportunity in using u.lab as a vehicle for connecting stakeholders in a collective effort to bring change to their local communities around a very specific initiative/project.
For people that alredy joined last year, additional reasons might include...
Missed sessions last year?
Would you like to deepen your knowledge? Not enough time to go through everything last year?
Are you considering on working on a prototype/ joining prototyping sessions (to be announced separately)
Would you like to meet the COKREA U.lab community that is rejoining this year and join regular coaching circles?
....
Sources: The Presencing Institute & the Hubhostguide
U.Lab is founded on the idea that "the success of our actions as change-makers does not depend on what we do or how we do it, but on the inner place from which we operate."
The Presencing Institute uses a Creative Commons Attribution Share Alike 3.0 Unported License, which lets others share: copy, distribute, and transmit the work, as well as remix: tweak, adapt, and build upon work even for commercial reasons. More under https://www.presencing.com/permissions


About the event location: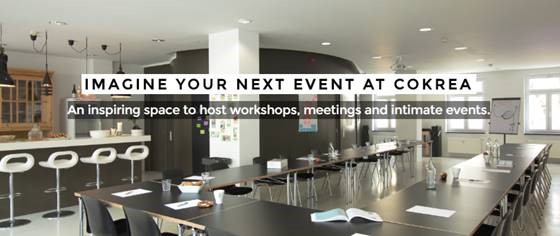 Go and check our web page www.cokrea.comand let us what you think
Take a look at our space and services
Join one of our upcoming events
Or just make an appointment to take a look … we would love to show you around.
FAQs
What are my transport/parking options getting to the event?
Directions to COKREA can be found here
Where can I contact the organizer with any questions?
Just click on the "contact" button below or send an e-mail message
Is my registration/ticket transferrable?
Yes, up to 1 day prior to the event
Can I update my registration information?
Yes, up to 1 day prior to the event
Do I have to bring my printed ticket to the event?
We would appreciate if you could bring a printed ticket or download it to your mobile phone to ease registration.
What is the refund policy?
Event is free of charge, we would appreciate a real count beforehand for organizational purposes, so please do let us know if you are unable to attend at least one day before or update your registration accordingly.
The name on the registration/ticket doesn't match the attendee. Is that okay?
If you would like to transfer your ticket to another person, please contact us up to one day prior to the event and we will proceed to update accordingly.
Is the event in English?
The event is going to be held in English as it attracts a very international crowd.
German, Spanish & Denglish support will be offered as much as needed.