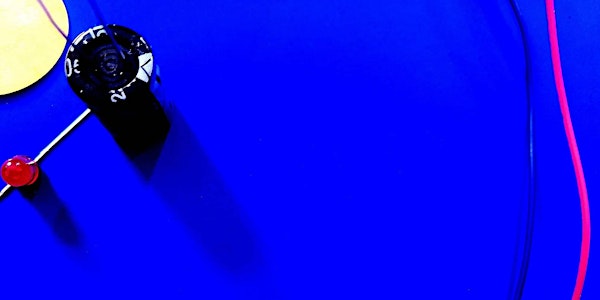 Cluster #20: Viola Yip, Circuit Scores (Performances) 17. 18. 19. October
In the context of Cluster Series, Viola Yip shows, performs, and invite musicians to interact with her new light and sound installation.
When and where
Location
Labor Neunzehn Kiefholzstr.19/20 2.HF 4.OG Raum 11/12 12435 Berlin Germany
Refund Policy
Contact the organizer to request a refund.
About this event
Circuit Scores is a light and sound installation. In her core practice, Viola Yip creates new self-built instruments and sculptures for her sound performances that allow her to form unorthodox relationships between materials, space and the performer's body. In this new installation, Yip explores the hierarchies within circuits as her compositional building blocks, and eventually the circuit will become a score to perform.
Opening
Oct. 7, 18:00-22:00, solo performance by Viola Yip, 20:00.
Performances (DOORS 19:30)
Oct. 17, with Emilio Gordoa and Kriton Beyer, 20:00.
Oct. 18, with Nicola L. Hein and Ute Wasserman, 20:00.
Oct. 19, with Weston Olencki and Jacob Greenberg, 20:00.
Finissage
October 23, 18:00-22:00, solo performance by Viola Yip at 20:00
The installation is open to the general public Mo.-Sat. from 14:00 to 18:00. A registration is required to access the building.
For information info@laborneunzehn.org
Viola Yip
Viola Yip is an experimental composer, performer, improviser, sound artist and instrument builder. She has been interested in creating new self-built instruments and sound works in the intersection of composition, performance, improvisation and sound art, exploring various relationships between media, materiality, space and our musical bodies in experimental music.
Her instruments and sound performances have been presented in music festivals and venues such as Issue Project Room (NYC), The New School (NYC), Look and Listen Festival (NYC), CNMAT at UC Berkeley (Berkeley), CCRMA at Stanford University, Center for New Music (SF), Constellation (Chicago), Cycling '74 Expo, Hong Kong Arts Center (HK), Klex Festival (Kuala Lumpur), Sonic Arts Research Center at Queen's University Belfast (UK), QO-2 (Brussels), Currents/ Festival für aktuelle Tiefkultur (Köln), Kunst Station Sankt Peter (Köln), A L'arme! Festival (Berlin), DARA String Festival (Berlin), Seanaps Festival (Leipzig), Festival für Immaterielle Kunst (Hamburg) and Pinakothek der Moderne (München).
She recently received an Honorary Mention from Giga-Hertz-Preis 2021 at ZKM (Center for Arts and Media) in Karlsruhe, Künstlerhaus Villa Waldberta stipendium in Munich as well as an residency at Studios für Elektroakustische Musik, Akademie der Künste Berlin.
Cluster is a new-music series devoted to the investigation of sound and notation, which provides musicians and composers with an exchange area in Berlin-Treptow, at the crossroad of compositional and performance practices.
Labor Neunzehn is an artist-run project engaged in a cross-disciplinary discourse on time-based-art that involves expanded cinema, modern music, publishing, and the critical reflection in media art, with a specific focus on the migration of these languages between the online and offline domains. As an independent curatorial platform and a non-profit initiative for the production of research projects, exhibitions, performances, workshops, we are committed to the presentation of collaborative outcomes and hybrid formats.
Labor Neunzehn constantly extends own curatorial concepts with the aim of opening up spaces for experimentation and discovery, fostering bottom-up community building, as well as endorsing interdisciplinary exchange between art practitioners, institutions, and audience in Berlin.
The project CLUSTER is generously supported by Initiative Neue Musik Berlin / field notes and Dezentrale Kulturarbeit Berlin-Treptow.