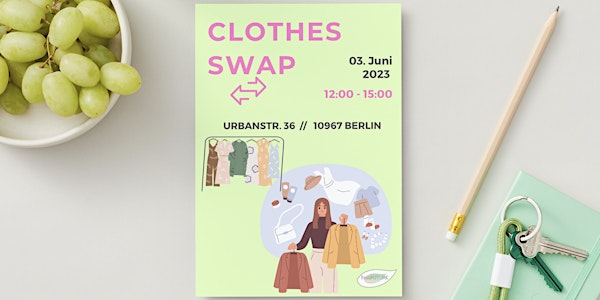 Clothes Swap | Sommer edition
Find new clothes for free, clean up your closet and have a chat with us!
Date and time
Saturday, June 3 · 12 - 3pm CEST
Location
FrauFUTURE Urbanstr. 35 10967 Berlin Germany
About this event
Feel like shopping, but the gas billing is coming soon? Don't worry, we got you covered.
At our Clothes Swap we combine shopping for free with cleaning up your closet and throw in some coffee and cake on-site.
1) Clothes Swap: To attend this event you must either donate a minimum of 5 items of clothing or pay a 5€ entrance fee.
Adult (all sexes) and kids clothes welcome. As well shoes and accessories. No underwear please!
Please make sure to only bring washed and clean clothes. Items should not be stained or unwearable.
Guests must first drop the clothes they would like to donate at the sorting table before entering the shopping space.
What happens if my clothes do not get swapped? All leftover items will be donated to a charity in Berlin.
Is there a limit on how many items I can take? No, there is not (although we hope you will be collecting reasonably).
Can I only swap summer clothes? No, you can swap anything that fits our guidelines (see points 1 and 2)
IMPORTANT: After last time we decided that clothes can only be taken from the tables! So please don't wait around at the entrance/sorting table for hot new items!
2) Coffee/cake: We will provide some beverages and food for a reasonable price.
3) Networking: With so many people in the room, why not make new friends or business contacts?
So, are you still on Team fight my urges?
Or are you on Team go shopping and have fun?
-------- --------- --------- --------- -------- -------- -------- --------
Lust auf Einkaufen, aber die Gasabrechnung kommt bald? Machen Sie sich keine Sorgen, wir sind für Sie da.
Bei unserer Kleidertauschbörse kombinieren wir den kostenlosen Einkauf mit dem Aufräumen des Kleiderschranks und dazu noch Kaffee und Kuchen vor Ort.
1) Kleidertausch: Um an dieser Veranstaltung teilzunehmen, müssen Sie entweder mindestens 5 Kleidungsstücke spenden oder einen Eintrittspreis von 5 € zahlen.
Erwachsene (alle Geschlechter) und Kinderkleidung sind willkommen. Sowie Schuhe und Accessoires. Bitte keine Unterwäsche!
Bitte achten Sie darauf, nur gewaschene und saubere Kleidung mitzubringen. Die Artikel dürfen keine Flecken aufweisen oder untragbar sein.
Gäste müssen die Kleidung, die sie spenden möchten, zunächst am Sortiertisch abgeben, bevor sie den Einkaufsbereich betreten.
Was passiert, wenn meine Kleidung nicht getauscht wird? Alle übrig gebliebenen Artikel werden an eine Wohltätigkeitsorganisation in Berlin gespendet.
Gibt es eine Begrenzung, wie viele Kleidungstücke ich mitnehmen kann? Nein, das gibt es nicht (obwohl wir hoffen, dass Sie vernünftig und massvoll sind).
Kann ich nur Sommerkleidung tauschen? Nein, Sie können alles tauschen, was unseren Richtlinien entspricht (siehe Punkte 1 und 2).
WICHTIG: Nach dem letzten Mal haben wir beschlossen, dass Kleidung nur von den Tischen genommen werden darf! Warten Sie also bitte nicht am Eingang/Sortiertisch auf heiße Neuheiten!
2) Kaffee/Kuchen: Wir stellen einige Getränke und Speisen zu einem angemessenen Preis zur Verfügung.
3) Networking: Warum nicht bei so vielen Leuten im Raum neue Freunde oder Geschäftskontakte knüpfen?
Also, bist du im Team, das meine Triebe bekämpft?
Oder gehst du im Team einkaufen und hast Spaß?
Financial & Career Solutions for Women
FrauFUTURE – this name stands for tailor-made FINANCIAL and CAREER solutions for women and everybody else with a more female approach to life.
If you want to be TRULY INDEPENDENT, we strongly believe you need to be FINANCIALLY INDEPENDENT and stand on your own two feet.
So whether you want to save up for your own flat, be able to retire at 55 or pursue your dream-career, we help you achieve your VERY OWN GOALS!
Yvonne & Verena
www.fraufuture.com
About the organizer
FrauFUTURE – this name stands for TAILOR-MADE financial and career SOLUTIONS for WOMEN.
We strongly believe that you need to be FINANCIALLY INDEPENDENT and stand on your very own feet, if you want to be truly independent.
So whether you want to save up for your own flat, be able to retire at 55, or finally pursuit your dream-career, we help you ACHIEVE your very own GOALS!