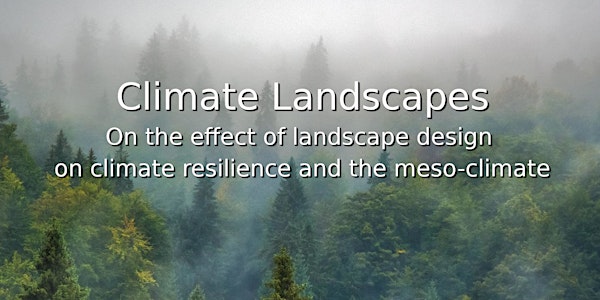 Climate Landscapes
Climate Landscapes: On the effect of landscape design on climate resilience and the meso-climate
Refund Policy
Refunds up to 1 day before event
About this event

Objective & focus
Our work aims to show people from the fields of science, practice, politics, media and companies the enormous potentials of ecosystemically oriented crop production and appropriately designed water management on the water balance of land used for agriculture and forestry. At the same time, the associated positive effects with regard to biodiversity, healthy soils and improved climate adaptation are to be considered. Appropriate and feasible solutions that increase the resilience of agriculture, forestry and water management will be presented and discussed.
Key questions & discussion of the meeting:
What do we know about the complex interrelationships of vegetation, soils, water & climate? How can (more) vegetation, (fertile) soils and water (retention) help cool the climate and rehydrate Earth's landscapes? What land use practices support these natural relationships? How can policy support implementation?
Tickets
We believe that this conference should be available and accessible to all who want to participate. That is why we offer tickets on a sliding scale model, which gives you, the participant, the ability to pay according to your income, and eventually allow persons with small income to also participate. You are invited to select whichever ticket price option works best for you (and others).