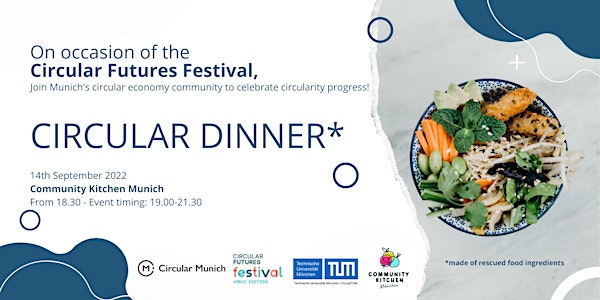 Circular Futures Festival 2022 - Munich 'Circular Dinner'
Time to celebrate circularity and strengthen the network driving a circular economy in Munich on occasion of the Circular Futures Festival!
When and where
Location
Community Kitchen München Fritz-Schäffer-Straße 9 81737 München Germany
About this event
For a long time and despite tough times brought about by the pandemic, whether as part of your job description, our voluntary activities or both, many individuals and organizations in Munich have not given up setting high standards, raising awareness and implementing a circular economy at different levels. NOW is time to honor our efforts and learn where we stand and where our common vision is taking us.
Come, unwind and celebrate with us Munich's progress in becoming a circular thriving city, by gathering around an inspiring 'circular' dinner setting at the unique Community Kitchen Munich. Meet and share a meal with the people that are making it happen. Help us set the tone for what is to come. Be part of it!
As a highlight on Germany-wide Circular Futures Festival's programme, the 'Munich Circular Dinner' is the result of a collaboration between Circular Munich, CFF organizers Project Together, TU München/CirculaTUM and Community Kitchen Munich building on the networking and learning pathway of the Good Food Circle, the pioneers' circular network for the food sector in the city.
***
Trotz schwieriger Zeiten durch die Pandemie, haben viele Einzelpersonen und Organisationen in München nicht aufgegeben, hohe Standards zu setzen, das Bewusstsein zu schärfen und eine Kreislaufwirtschaft auf verschiedenen Ebenen zu implementieren - sei es im Rahmen ihres Jobs oder bei ehrenamtlichen Aktivitäten. JETZT ist es an der Zeit, unsere Anstrengungen zu feiern und herauszufinden wo wir stehen und wohin uns unsere gemeinsame Vision führt.
Feiert mit uns Münchens Fortschritte auf dem Weg zu einer florierenden Kreislaufstadt bei einem inspirierenden Circular-Dinner in der einzigartigen Community Kitchen München. Trefft hier die Menschen, die diese Entwicklungen vorantreiben und esst gemeinsam mit ihnen zu Abend. Helft uns, den Ton anzugeben für das, was kommen wird. Seid ein Teil davon!
Das "Circular Dinner", ein Highlight im Programm des deutschlandweiten Circular Futures Festivals, ist das Ergebnis einer Zusammenarbeit zwischen Circular Munich, den CFF-Organisatoren von Project Together und der Community Kitchen München im Rahmen des Good Food Circle.
What should you expect?
meeting a community of people committed to Munich's sustainable future
a dinner made out of rescued food ingredients and specially designed and prepared by Community Kitchen Munich following circular economy principles
an impulse by Evelyn Weininger, Landeshauptstadt München, Referat für Klima- und Umweltschutz (RKU)
a didactic corner illustrating Munich's circularity effortS
a Schaufenster - display of circular products from CM ecosystem of actors
an opportunity to learn about initiatives driving circularity in our city, like Circular Munich's Good Food Circle' and the Community Kitchen Munich.
the acknowledgement and recognition of three innovative, pioneer and inspiring actors disrupting the status quo.
Why should you sign up and agree to 'investing' a fee of 17.85 Euros? You will be…
supporting Community Kitchen's social business of making delicious meals out saved food ingredients,
meeting and networking with Munich's circular economy ecosystem actors and enthusiasts.
getting a clear picture of how circular the city of Munich is and its progress in the journey towards circularity: key actors, projects, initiatives, people…
having a chance to meet and hear the latest from our Guest of Honor
Injecting a good dose of novelty right in the middle of your week
Expect the unexpected! Acquire new knowledge, friends, potential partners, and ideas!
Spaces are limited, make sure to get your tickets. We are looking forward to seeing you there!
Your team,
Circular Munich, Community Kitchen Munich, Project Together (Circular Futures) and TUM/ CirculaTUM
*Refunds are not available
***
Was könnt ihr erwarten?
Ein Treffen einer Gruppe von Menschen, die sich für Münchens nachhaltige Zukunft engagieren
Ein Abendessen aus geretteten Lebensmitteln, das von der Community Kitchen München nach den Prinzipien der Kreislaufwirtschaft konzipiert und zubereitet wird
Einen Impuls durch Evelyn Weininger, Landeshauptstadt München, Referat für Klima- und Umweltschutz (RKU)
Eine informative Ecke, die Münchens Bemühungen um Kreislaufwirtschaft veranschaulicht
Ein Schaufenster - Ausstellung von Kreislaufprodukten aus unserem CM-Ökosystem von Akteuren
Die Möglichkeit, sich über Initiativen zu informieren, die die Kreislaufwirtschaft in unserer Stadt vorantreiben, wie z.B. der Good Food Circle" von Circular Munich und die Community Kitchen München.
Die Anerkennung und Würdigung von drei innovativen, bahnbrechenden und inspirierenden Akteuren, die den Status quo verändern.
Warum solltet ihr euch anmelden und eine Gebühr von 17,85 Euro "investieren"?
Ihr werdet...
das soziale Unternehmen Community Kitchen unterstützen, das köstliche Mahlzeiten aus geretteten Lebensmitteln zubereitet,
Münchens Akteure und Enthusiasten der Kreislaufwirtschaft treffen
ein klares Bild davon erhalten, wie kreislauforientiert die Stadt München ist und welche Fortschritte sie auf dem Weg zur Kreislaufwirtschaft gemacht hat: Schlüsselakteure, Projekte, Initiativen, Menschen...
die Möglichkeit haben, unseren Ehrengast zu treffen
Eine gute Dosis an Neuigkeiten mitten in der Woche erhalten
Erwartet das Unerwartete! Neue Erkenntnisse, Freund:innen, potenzielle Partner:innen und Ideen!
Die Plätze sind begrenzt, sichert euch frühzeitig Tickets. Wir freuen uns, euch zu sehen!
Circular Munich, Community Kitchen Munich, Project Together (Circular Futures) und TUM/ CirculaTUM
About Circular Munich
At Circular Munich (CM), we believe in the power of cities to shape a transformation towards more circularity in economy and society. Therefore, we bring together engaged actors from Munich's business, academia, administration, and society to learn and create solutions for a thriving city jointly. We connect active Munich players and enable collaboration. We walk the talk by initiating circular economy projects in Munich.
The 'Good Food Circle' is CM's first Pioneer Circle, a network of 20+ actors driving a circular economy for food in Munich.
About Community Kitchen Munich
With Community Kitchen Munich, we want to bring the issue of food waste into the center of society, as it is one of the most effective measures in global climate protection. We rescue food that would otherwise end up in the trash, validate it for edibility, clean and process it, and use it to create delicious meals. We serve these in our restaurant and bring them back into retail by preserving them in jars.
***
Über Circular Munich
Wir von Circular Munich (CM) glauben an die Kraft der Städte, den Wandel hin zu mehr Kreislaufwirtschaft in der Wirtschaft und Gesellschaft zu gestalten. Deshalb bringen wir engagierte Akteure aus Münchens Wirtschaft, Wissenschaft, Verwaltung und Gesellschaft zusammen, um gemeinsam Lösungen für eine prosperierende Stadt zu erarbeiten und zu entwickeln. Wir vernetzen aktive Münchner Akteure und ermöglichen Kooperationen. Wir setzen Akzente, indem wir Projekte der Kreislaufwirtschaft in München initiieren.
Der 'Good Food Circle' ist der erste Pioneer Circle von CM, ein Netzwerk von über 20 Akteuren, die eine Kreislaufwirtschaft im Bereich "Food" in München vorantreiben.
Über Community Kitchen München
Wir möchten das Thema Lebensmittelverschwendung in die Mitte der Gesellschaft bringen, da es eine der wirksamsten Maßnahmen im weltweiten Klimaschutz ist. Wir retten Lebensmittel, die ansonsten im Müll landen würden, validieren auf Verzehrfähigkeit, putzen und verarbeiten sie und zaubern damit leckere Mahlzeiten. Diese geben wir im Lokal aus und bringen diese als Mahlzeiten im Glas in den stationären und OnlineHandel.