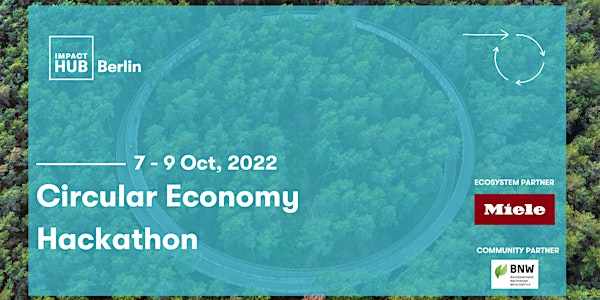 Circular Economy Hackathon
Join Impact Hub Berlin's Circular Economy Hackathon and be part of a weekend of innovation and inspiration.
Refund Policy
Contact the organiser to request a refund.
About this event
A circular economy turns resources into products that can be reused, repurposed, and eventually recycled. On a global scale, this approach can reduce the massive stress placed on our planet by our current linear 'take-make-waste' system, bringing down carbon emissions and making for a healthier, happier world.
Impact Hub Berlin's Circular Economy Hackathon seeks to encourage circular economy innovation, and bring passionate people together to co-create solutions. The hackathon will focus on several sub-topics within circularity, and is supported by Impact Hub Berlin's Ecosystem Partner Miele.
Over three days, you'll receive expert input from Impact Hub Berlin's team and partners on how to develop and refine your circular economy innovations, and connect virtually with collaborators who can drive your collective vision forwards.
CHALLENGE
Create a digital solution to assess the condition of a used Miele appliance, to provide assistance for subsequent actions and to reward customers.
Imagine a household appliance is defective or for other reasons no longer used. Miele wants to receive this device to start "circular actions", such as repair, refurbishment or parts harvesting. Your idea shall provide a digital solution for a smart and consumer-friendly interaction with Miele, and should be the foundation and concept of an app to be developed later. We are looking for a digital solution to assess the condition of a used appliance and to provide assistance for subsequent actions. For the customer, the digital solution shall state an estimated financial gain and further information on take back logistics and actions to take. For Miele, the digital solution shall assess the condition of the appliance, the residual value and the best take-back scheme. That is, it shall recommend the best-suiting and most sustainable action, from reselling to refurbishment to disposal etc.
More challenges to follow soon!
PRIZES
WINNER MIELE CHALLENGE: Miele Triflex HX1 Active Akku-Staubsauger / team member*
BEST IN SHOW: €1000 / Fasttrack entry into Circular Together Incubator Shortlist
ZOOM Link:
https://us02web.zoom.us/j/87102324388?pwd=Y2VreCtzKzNGamRRUjkxTklPUjV0dz09
All who is interest in new ideas in the field of the circular economy – whether developers, designers, entrepreneurs, students, activists or other – are welcome to take part. Get one of the 100 Early Bird tickets for free now! After these places are booked, there will be an entry cost of 10 EUR per person to cover costs.
This event is brought to you by Impact Hub Berlin – where change goes to work. To be the first to hear about our upcoming events, opportunities and news, sign up for our monthly newsletter.