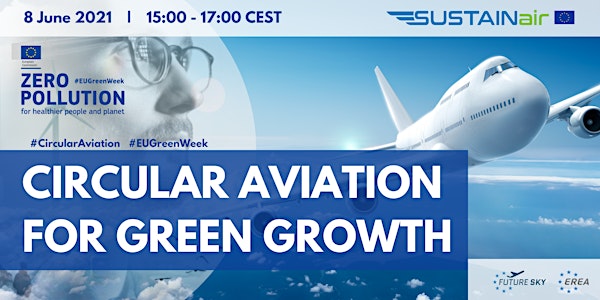 CIRCULAR AVIATION FOR GREEN GROWTH - EU Green Week
Cost-effective circular economy approaches tackling resource consumption and emissions along the entire aircraft value chain.
About this event
Is there a business case for sustainable aviation? Circular aviation is responding to the societal demand for sustainable aviation. It enables us to see turning a profit or minimizing pollution and carbon footprint as two sides of the same coin.
Its approach is complementing the search for carbon neutral solutions to novel propulsion systems. Its impact throughout all aspects of aviation, beyond in-flight operations, offers a pathway to the post-COVID-19 recovery and resilience.
The European Green Week 2021 is an excellent platform to raise awareness about the circular economy approaches  tackling resource consumption and emissions along the entire value chain, including production of aircraft, maintenance, and end-of-life solutions.
Join the panel with representatives across the industry, technology, research, and regulation spectrum followed by a showcase session of H2020 and Clean Sky 2 projects working on key enabling technologies.
✈ ✈✈ PROGRAMME
15:00 CEST 🎯 PART I: Panel discussion - Circular Aviation: Past, Present, and the Future
WELCOME Jürgen Roither, AIT-LKR
PANELISTS
16:00 CEST 🎯 PART II : Showcase H2020 and CleanSky 2 Key Enabling Technologies
WELCOME Hugues Felix, CINEA
MODERATION Stein Janssens, KU Leuven
PRESENTERS
✈ JOINING THE EVENT ON ZOOM
To receive your link to join the event please register on Eventbrite.
The registration is free.
Anyone can register, however places are limited.
✈ EVENT HOMEPAGE
✈ PRIVACY POLICY AND DISCLAIMER
✈ CONNECT ON SOCIAL MEDIA
#CircularAviation
#EUGreenWeek