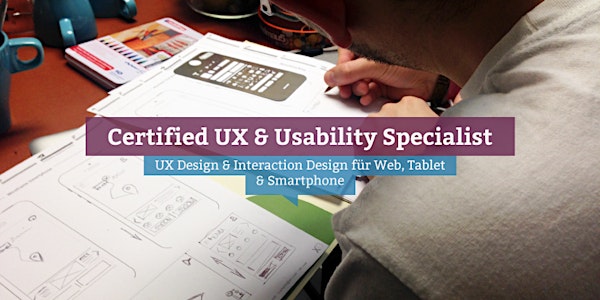 Certified UX & Usability Specialist, online
Erfolgreich nutzerfreundliche Websites, Apps und Software konzipieren lernen
Refund Policy
Contact the organizer to request a refund.
About this event
Worum es geht
Die digitalen Medien haben sich längst in allen Bereichen des Lebens etabliert. Das Internet, Tablets und Smartphones sind unser ständiger Begleiter geworden. Inhalte, Funktionen und Applikationen wollen daher kanalübergreifend und medienkonvergent genutzt werden – Informationen und Dienste sollen immer und überall abrufbar sein. Die zahlreichen Inhalte unterschiedlicher Art gilt es in adäquater Form auf die verschiedenen digitalen Endgeräte wie Desktop PC, Mobile und Tablet zu bringen.
Was Sie erwartet
Wissen und Fähigkeiten in den Professionen User Experience Design und Usability sind wichtiger und gefragter denn je. Sie werden immer umfangreicher, differenzieren sich immer weiter aus und verlangen nach speziellem Know-how. In diesem Seminar befähigen wir die Teilnehmer dazu, erstklassige User Interfaces für Websites, Apps und andere Screen basierte Anwendungen zu entwickeln.
Was Sie lernen werden
Dieses Seminar befähigt Sie dazu, erfolgreich Websites, mobile Apps und Browser basierte Software konzeptionell zu entwickeln. Sie lernen die Methoden, Phasen und Prozesse in der Konzeption von digitalen Produkten kennen und erhalten konkrete "Tools" und "Guidelines" für die Konzeption interaktiver Produkte mit einer hervorragenden User Experience. Sie lernen Inhalte, Strukturen und Funktionalitäten von Webseiten, mobilen Applikationen und Softwareanwendungen zu gestalten.
Wer teilnehmen sollte
Das Seminar wurde für Designer und Design-Manager, Projekt- und Produktmanager, Web- und Software-Entwickler, Referenten und Redakteure, Texter und Konzepter, Marketing- und Content-Manager, Media- und Information-Officer, Information- und Interaction Manager, Social Media Berater und -Manager, Usability Engineers, Scrum Master und Product Owner entwickelt, die in Agenturen, Unternehmen und Organisationen für die konzeptionelle und strategische Entwicklung von Webseiten und Apps verantwortlich sind.
Inhalte
Produktumfang und -anforderungen
Informationsarchitektur & Sitemap
Navigation & Suche
Prozesse, Flüsse & Wege
Skizzen, Wireframes & PrototypenInteraktionsdesign & Design Patterns
Styleguide & Grafische Elemente