Event Information
Location
Banz Abbey
Kloster-Banz-Straße
96231 Bad Staffelstein
Germany
Refund policy
Refunds up to 7 days before event
Description
Cell Biology of Prokaryotes

07-11 April 2019 | Banz Abbey, Bad Staffelstein, Germany



** Late registration still possible **

About the conference
---
This international conference focuses on the molecular mechanisms that underlie the spatiotemporal organization of fundamental cellular processes in prokaryotes. It covers a wide range of topics, including
Cell growth & morphology


Cell division


DNA organization & segregation


Cell surface structures & motility


Intracellular regulation

The conference will provide the opportunity to present and discuss the latest developments in the field. It will bring together researchers from a range of different disciplines, including cell biology, biochemistry, biological physics, and synthetic biology.
Invited speakers
---
Sonja Verena Albers (University of Freiburg, DE)

Nelly Dubarry (Evotec, FR)

Tom Bernhardt (Harvard University, USA)
Julie Biteen (University of Michigan, USA)
Yves Brun (University of Montreal, CA)
Silvia Bulgheresi (University of Vienna, AT)
Cees Dekker (TU Delft, NL)
Johan Elf (Uppsala University, SE)
Jeff Errington (Newcastle University, UK)
Erin Goley (Johns Hopkins University, USA)
Christophe Grangeasse (CNRS, FR)
Stephan Gruber (University of Lausanne, CH)
Christine Jacobs-Wagner (Yale University, USA)
Urs Jenal (University of Basel, CH)
Suckjoon Jun (UC San Diego, USA)
Jan Löwe (MRC Laboratory of Molecular Biology, UK)
Mariana Pinho (Instituto de Tecnologia Química e Biológica, PT)
Susan Schlimpert (John Innes Centre, UK)

Dirk Schüler (University of Bayreuth, DE)
Petra Schwille (MPI of Biochemistry, DE)
Liz Sockett (Universtiy of Nottingham, UK)
Kai Thormann (University of Gießen, DE)
Anthony Vecchiarelli (University of Michigan, USA)

Patrick Viollier (University of Geneva, CH)
Jie Xiao (Johns Hopkins University, USA)
Program
---
Beginning: 07 Apr 2019 at 5:00 pm

End: 11 Apr 2019 at 1:00 pm

Deadlines
---
Abstract submission deadline
14 Jan 2019
Registration deadline
14 Jan 2019

Abstracts selected for short talks will be announced by
06 Feb 2019

Registration
---
All participants need to register via this website. Registration will be on a first-come first-served basis.

Registration fees

Members of TRR 174: Free
Undergraduate & PhD students: 380 € (+ plus 21,89 € fees)
Postdocs & Group leaders: 450 € (+ 25.74 € fees)
Registration includes

Registration and conference fees

Welcome reception
Lunch, dinner and coffee breaks


Conference dinner

---
The conference dinner will take place in Würzburg, a historic city located in one of the major wine-growing regions in Germany (Franconia).
The costs of the dinner are 35 € (+ 2.92 € fees). It includes

Bus trip from Bad Staffelstein to Würzburg

Cellar tour
Dinner in a local winery
Abstract & poster specifications

---
Abstracts

Abstracts should include the following information:

Title
Authors
Affiliations
Summary (max. 300 words)
We accept files in Word (doc or docx) and pdf format. Please submit your abstract via e-mail at trr174@uni-marburg.de.
Posters
Please bring along a printed copy of your poster (max. A0 format, in portrait orientation).
Venue
---
The conference takes place at Banz Abbey, a medieval monastery that has been recently remodeled into a conference center. It offers a state-of-the-art conference facilities, a nice pool & spa area, various leisure facilities, convenient accomodation and beautiful surroundings.
Banz Abbey is located close to the historic town of Bad Staffelstein, which is well-known for its cultural heritage, including the impressive baroque Basilica of the Fourteen Holy Helpers, as well as its spa & wellness facilities.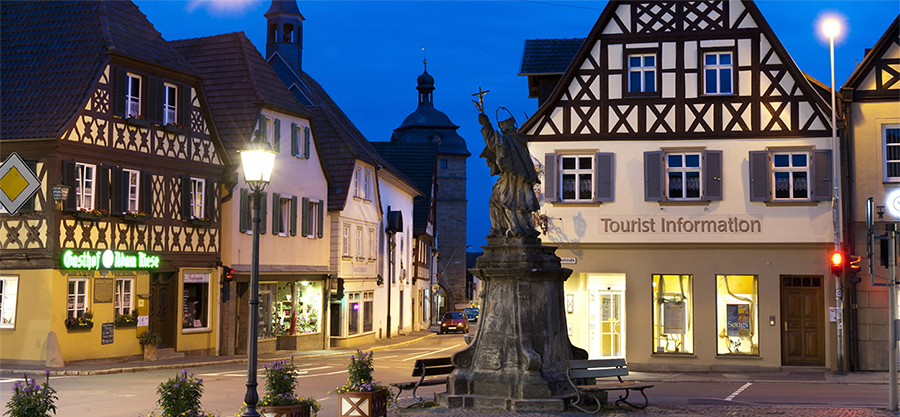 For more information, please refer to the website of Bad Staffelstein.

Travel & accomodation

---
Travel

Banz Abbey (Bad Staffelstein) is located about 250 km from the cities of Frankfurt or Munich.
There is an hourly train service from Frankfurt or Munich main station to Bad Staffelstein (via Nürnberg). For details, please refer to the website of Deutsche Bahn.

Banz Abbey can be easily reached by car. The GPS coordinates are: 50°08'02" N / 11°00'02" O
Accomodation
There is a limited number of rooms available at Banz Abbey, which can be reserved via this website. The total prices for four nights (including breakfast) are:

Single room: 320 € (+ 18.59 € fees)

Bed in a double room: 260 € (+ 15.29 € fees)

Bed in a triple room: 220 € (+ 13.09 € fees)

In case you chose a bed in a double or triple room, you have the chance to indicate the names of your preferred room mate(s) during the registration process.
For participants who cannot stay at Banz Abbey, Bad Staffelstein offers a good selection of hotels and pensions, several of which are within walking distance to the conference site. Please refer to online booking sites for further information.
For reservations made by January 31, 2019, the following hotels offer reduced rates for participants of this conference:

Organizers
---
This conference is organized by the DFG-funded Collaborative Research Center TRR 174, an interdisciplinary consortium comprising 16 different groups from the Marburg and Munich areas that have a common interest in the Spatiotemporal dynamics of bacterial cells.

Please see this website for more information on the members and the goals of the center.
Funding
---
This conference is made possible through generous support by


Contact
---
If you have questions concerning the scientific program of this conference, please contact Martin Thanbichler (thanbichler@uni-marburg.de).
In all other cases, please contact the administrative office of TRR 174.

Date and time
Location
Banz Abbey
Kloster-Banz-Straße
96231 Bad Staffelstein
Germany
Refund policy
Refunds up to 7 days before event