Dieses Event ist beendet.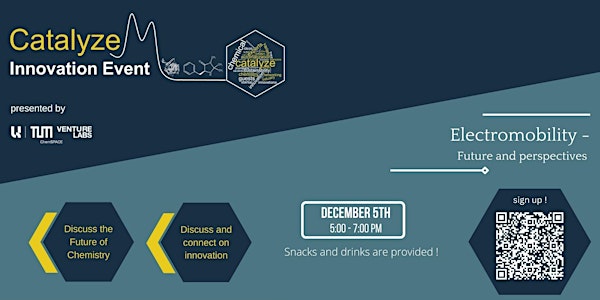 Catalyze-Innovation: "Electromobility - Future and perspectives"
Get your free ticket for the next Catalyze-Innovation event on 5th December 2022 at the TUM Campus in Garching!
Zeit und Ort
Veranstaltungsort
TUM, Center for Functional Protein Assemblies (CPA) Ernst-Otto-Fischer-Straße 8 Room EG.006A &B (5415.EG.006A) 85748 Garching bei München Germany
Karte und Wegbeschreibung
Zu diesem Event
TUM Venture Lab ChemSPACE presents:
Catalyze-Innovation "Electromobility - Future and perspectives"
This event is all about the topic of e-mobility and its contribution in reducing CO2-emissions.
We are happy to announce our guest speakers:
Dominic Förstermann: Dominic will discuss the importance of chemistry for battery development, with a special focus on electric aircraft and what is required to make them a reality. He will also discuss how chemistry was key for him to co-found a deeptech startup in this field.
Florian Dötzer: Florian will elaborate on electromobility and explain the importance of battery systems. Highlighting opportunities for future entrepreneurs, he will also give a brief overview of existing startup teams and more established companies in the munich region.
Moran Balaish: Moran will give insights into her current research on fast-screening and high-throughput automated synthesis and characterization of solid-state battery materials coupled with machine learning tools for accelerating material discovery.
During the Catalyze-Innovation event, you will learn about the future and perspectives of the widely discussed topic of electromobility. The motto of the evening: How can we have an impact to create a better future for us and the next generations?
Connect and discuss with like-minded people, coming from all different kinds of study fields (not only chemistry)! While exchanging with other participants, enjoy some drinks & snacks and have a good evening.