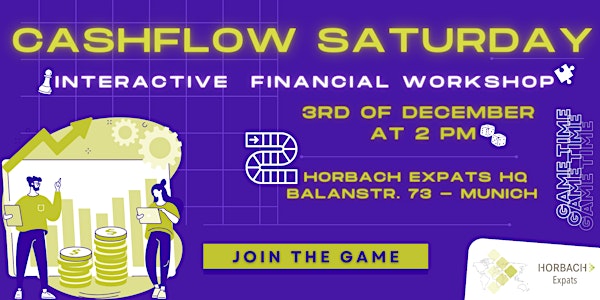 Cashflow Saturday - Interactive Financial Workshop
Learn how to best manage your cashflow and how to maximize your wealth in our interactive financial workshop!
When and where
Location
HORBACH Expats Balanstraße 73 Haus 12 2.OG 81541 München Germany
About this event
You have taken your first steps in Germany, are now studying or have already received a fixed salary and are wondering how to make your money work for you?
Then come to our event on Saturday 03.12.2022 at 2 pm at our office! Click here to see the location in Google Maps
We will show you how to best manage your money and make it work tailored-based on your personal needs and future goals!
We'll show you what it means to invest, give you tips on how to take advantage of tax benefits and why it's important to set a firm foundation through good hedging!
We will work on this together in a relaxed atmosphere and teach you the most important basics in a playful way!
Are you ready to get more out of your money?
Are you ready to make more out of your money or are you just interested in getting to know the German system?
We are looking forward to each of you coming by!
Tickets are limited! Save yours through the link!