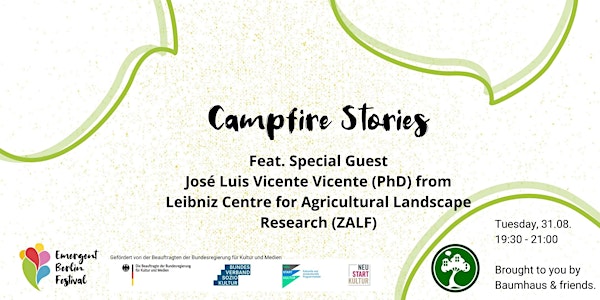 Campfire Stories feat. José Luis Vicente Vicente (ZALF) | Emergent Berlin
José invites you to look at the planet through the eyes of an environmental scientist—the search for solutions on a collapsing planet.
When and where
Location
Panke Culture Gerichtstraße 23 #Hof V 13347 Berlin Germany
About this event
About this Circle
Being an environmental scientist in times of a collapsing planet is not easy. The planetary crisis we are facing is getting worse much faster than the normal timing of the scientific works. Our planet is already collapsing and we do not have so much time to avoid the worst scenarios and, therefore, urgent radical solutions are needed.
In this Campfire Story, environmental scientist José Luis Vicente will tell us how he sees this unprecedented crisis, what solutions are already being implemented, which of them are really working, which are just greenwashing or counterproductive, and what solutions should be implemented as soon as possible.
Registration: This event is free, but spots are limited so please only sign up if you can really attend.
About José Luis Vicente Vicente (PhD Environmental Sciences)
José Luis is an environmental scientist with a PhD in biogeochemical cycles in agricultural ecosystems in the South of Spain. After finishing the PhD he started his career in Berlin collaborating in different scientific reports focused on assessing pathways for climate change mitigation and nature-based solutions. In other words, he assessed how nature can help us to mitigate climate change.
After this period, he moved to his current work as a scientist for the Leibniz Centre for Agricultural Landscape Research (ZALF), where he is currently in charge of assessing the ecological impact of alternative food initiatives, and especially focused in the case of the Lebensmittelpunkt (food hubs) in Berlin. He assesses how a Lebensmittelpunkt prototype (das Baumhaus) is impacting the natural system. As always when talking about food, many different topics are interlinked: human-nature connectedness, urban-rural relationships, food self-sufficiency and food system resilience, agro-ecology and traditional local knowledge, or climate change mitigation and adaptation.
Follow José on Twitter: @JL_Vicente_
Emergent Berlin 2021 - An event series by and for local projects.
Every Tuesday night in the second half of 2021, this year's EMB provides a platform for people and places to reconnect, reflect on and share our collective and individual experiences and strategies.
Theme 2021: "Rising to meet the crises." As we gradually emerge from the pandemic in Berlin, the climate catastrophe is knocking at our doorstep. We need to act with a sense of urgency. We invite fellow social-ecological projects and people who want to take action to reconnect, reflect on and share our collective and individual experiences and strategies. Where are we at? What can we learn from the pandemic? How can we step up to the evermore urgent climate and sustainability crises now?
Each month, we shift our focus on another aspect of taking action for transformation: personal, ecological, aesthetic, cultural, economic and social.
Month #1 July: Local Projects & Personal Sustainability
Month #2 August: Local Projects & Ecological Sustainability
Month #3 September: Local Projects & Aesthetic Sustainability
Month #4 October: Local Projects & Cultural Sustainability
Month #5 November: Local Projects & Economic Sustainability
Month #6 December: Local Projects & Social Sustainability
As always, Emergent Berlin Festival is brought to you by Baumhaus & friends. If you have trouble finding us, call Karen: 0176-7856-6593
Website: www.emergentberlin2021.de
IG: @baumhausberlin