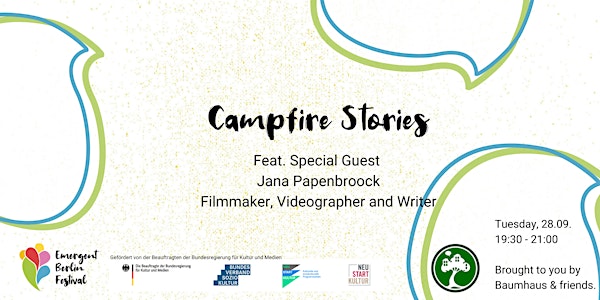 Campfire Stories feat. Jana Papenbroock | Emergent Berlin
Join us for an evening with Jana Papenbrook!
When and where
Location
Panke Culture Gerichtstraße 23 #Hof V 13347 Berlin Germany
About this event
Jana will share her work in progress "Ecologies of Psychiatry".
The psyche and the environment are structurally linked, politics have direct psychic effects, hence psychiatry is a testing ground to debate the political and shape the environment. Geo-psychiatry started around the Catalan resistance fighter and anarcho-syndicalist psychiatrist François Tosquelles as a practice against fascism, and was later adapted as an anti-colonial strategy within institutional psychiatry by Frantz Fanon in Algeria as well as in Brazil for the decolonisation of the mind. Geo-psychiatry creates environments out of conditions of war, repression and migration. It formulates experimental anarcho-syndicalist societies against the state within a psychiatric framework.
After the input we're looking forward to dive into an open conversation. If you have trouble finding us, call Karen: 0176-7856-6593
Registration: This event is free, but spots are limited so please only sign up if you can really attend.
About Jana Papenbrook
Jana works as a documentary filmmaker with a particular focus on visual anthropology and radical psychiatry. Her current work in progress is a documentary film about the ecology of psychiatry investigating how acting upon environments instead of subjects can resolve crises. http://janapapenbroock.com
Emergent Berlin 2021 - An event series by and for local projects.
Every Tuesday night in the second half of 2021, this year's EMB provides a platform for people and places to reconnect, reflect on and share our collective and individual experiences and strategies.
Theme 2021: "Rising to meet the crises." As we gradually emerge from the pandemic in Berlin, the climate catastrophe is knocking at our doorstep. We need to act with a sense of urgency. We invite fellow social-ecological projects and people who want to take action to reconnect, reflect on and share our collective and individual experiences and strategies. Where are we at? What can we learn from the pandemic? How can we step up to the evermore urgent climate and sustainability crises now?
Each month, we shift our focus on another aspect of taking action for transformation: personal, ecological, aesthetic, cultural, economic and social.
Month #1 July: Local Projects & Personal Sustainability
Month #2 August: Local Projects & Ecological Sustainability
Month #3 September: Local Projects & Aesthetic Sustainability
Month #4 October: Local Projects & Cultural Sustainability
Month #5 November: Local Projects & Economic Sustainability
Month #6 December: Local Projects & Social Sustainability
As always, Emergent Berlin Festival is brought to you by Baumhaus & friends. If you have trouble finding us, call Karen: 0176-7856-6593
Website: www.emergentberlin2021.de
IG: @baumhausberlin