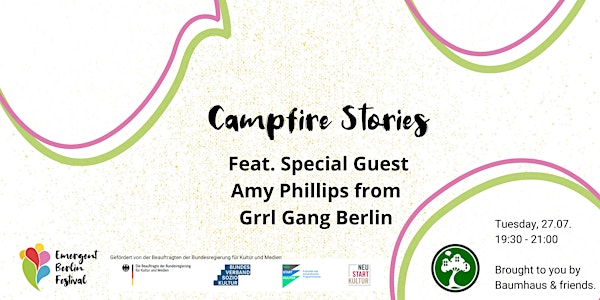 Campfire Stories feat. Amy from Grrl Gang Berlin | Emergent Berlin Festival
Amy shares how the pandemic helped her accelerate positive transformation on a personal, professional & wider community level.
When and where
Location
Panke Culture Gerichtstraße 23 #Hof V 13347 Berlin Germany
About this event
About this Circle
During lockdown Amy was able to dedicate some of her personal time to launching her own community project, "Grrl Gang Berlin". Telling the stories of the womxn and non-binary folks who had supported her own personal development and growth intending to uplift those people, their projects and connect them with each other. This experience opened her eyes to a new purpose with which to apply her digital marketing skills.
In this sharing session, Amy shares perspectives on how the pandemic helped her accelerate positive transformation on a personal level, on a professional level and on a wider community level in Berlin. This is an opportunity to get to know her, she will gladly answer questions about her process and journey.
Circle members will also be invited to share their experiences in these areas in the hopes that we can inspire and learn from each other. There will be prompts and a mix of short personal and group exercises to create space for reflection and promote a dialogue between attendees. As this is a safe space, everyone is invited to participate however they wish - come join the conversation or simply sit with us and listen.
Registration: This event is free, but spots are limited so please only sign up if you can really attend.
About Amy Phillips , Grrl Gang Berlin Founder
Starting out her career in marketing with a focus on copywriting and editorial, Amy shifted her focus to social media and community management in 2014 when she was offered the opportunity to manage and grow a community of analog photography enthusiasts with "The Impossible Project" -- a start-up that set out to save Polaroid film from extinction. That mission was accomplished in 2018 when the original brand was revived for the internet age. Playing a part in bringing one of the world's best-known heritage brands into the present day was the rebranding opportunity of a lifetime. Amy acted as Global Social Media Manager for the relaunch of "Polaroid Originals" and grew their fledgling group of analog fans into a vast online community which grew into a vibrant mix of long-term fans and newcomers to the brand.
When the company relocated their HQ to Amsterdam in 2019 Amy moved on to her next challenge, developing a fresh strategy for one of the most influential YouTube channels in the music sphere — majestic casual — setting up new structures and strategy for their internal team as a basis for future growth. At the end of 2019, she went in-house at the marketing agency LURE Media, whose clients include Coca-Cola, Johnson & Johnson and EON. There she consulted on social media strategy for clients such as the Finnish Distillery Kyrö, as well as LURE's own brand. She led the project management for the launch of their new website and social media strategy, and together with an inspiring team of individuals, navigating the ever-changing nature of the marketing world amidst the global pandemic.
Grrl Gang Berlin was founded as a storytelling project during the 2020 pandemic with the aim of immortalising the community who held her, helped her and saved her in so many small and big ways over her last decade spent here in Berlin. When the community looks back on their stories in years to come, they will be able to remember what they built together, how they embraced the spirit community over competition, and how they lifted each other up in both the darkest times and the light. She's now on a not-so-secret mission to connect and grow that inspiring community even further.
Head to the Grrl Gang website to find out more: https://www.grrlgangberlin.com
Emergent Berlin 2021 - An event series by and for local projects.
Every Tuesday night in the second half of 2021, this year's EMB provides a platform for people and places to reconnect, reflect on and share our collective and individual experiences and strategies.
Theme 2021: "Rising to meet the crises." As we gradually emerge from the pandemic in Berlin, the climate catastrophe is knocking at our doorstep. We need to act with a sense of urgency. We invite fellow social-ecological projects and people who want to take action to reconnect, reflect on and share our collective and individual experiences and strategies. Where are we at? What can we learn from the pandemic? How can we step up to the evermore urgent climate and sustainability crises now?
Each month, we shift our focus on another aspect of taking action for transformation: personal, ecological, aesthetic, cultural, economic and social.
Month #1 July: Local Projects & Personal Sustainability
Month #2 August: Local Projects & Ecological Sustainability
Month #3 September: Local Projects & Aesthetic Sustainability
Month #4 October: Local Projects & Cultural Sustainability
Month #5 November: Local Projects & Economic Sustainability
Month #6 December: Local Projects & Social Sustainability
As always, Emergent Berlin Festival is brought to you by Baumhaus & friends. If you have trouble finding us, call Karen: 0176-7856-6593
Website: www.emergentberlin2021.de
IG: @baumhausberlin