Location
MAYFIELD PRIMARY SCHOOL,
WARWICK ROAD (OFF HISTON ROAD)
CAMBRIDGE
CB4 3HN
United Kingdom
THIS IS A PROPHECY, HEALING & DELIVERANCE EVENT ORGANISED BY PROPHET JULIUS O. EGEONU OF WORLD MOVERS INTERNATIONAL CHURCH, HAMBURG, GERMANY
About this event
VENUE, DATES AND TIME: As shown on the flyer below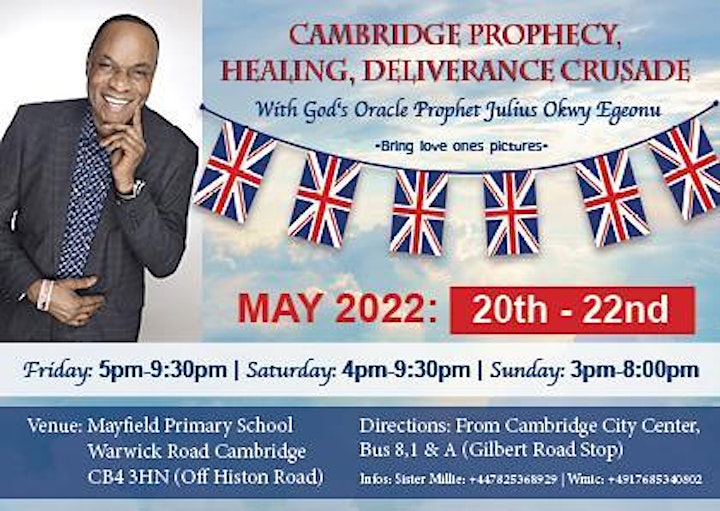 Prophet Julius Okwy Egeonu will be ministering at this event. He moves in accurate prophecy and solutions, healing, deliverance and preaching the gospel of our Lord and Saviour Jesus Christ.
Jesus said: except a man be born again, he cannot see the kingdom of God (John 3:3 & 6). Flesh gives birth to flesh and spirit gives birth to spirit (John 3:6). In this case everybody needs deliverance to inherit the kingdom of God.
Through the ministry of Prophet Julius Okwy Egeonu, many people have been healed, many have received their deliverance, many experiencing barrenness for many years have received their babies, many subject to deportation have received their documents, many marriages have been restored, many have found new jobs, many lives have been saved from destruction through deliverance and prophetic instructions and many have received countless many miracles as shown in some of the testimonies and video clips shown below.
At this event, there will be praise and worship, a rain of prophecy, healing, deliverance and undiluted word of God. So come and receive your own! Be blessed as you plan to come. Please invite somebody. Bring pictures of your loved ones if they are not able to come.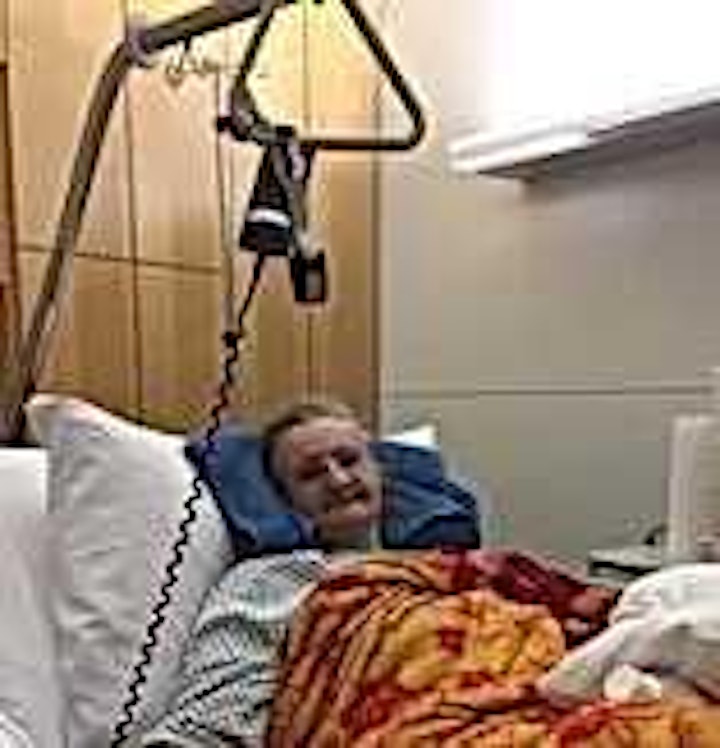 The above is a picture of Mrs. Simonlehner, an 84 years' old woman from Austria who was healed after prayer and contact with anointed handkerchief from Prophet Julius Egeonu.
Mrs. Simonlehner was bedridden in hospital and was connected to a breathing apparatus. Concerned about their sick mother, her children travelled the long way from Austria to the World Movers International Church in Hamburg, Germany to ask for prayer. The man of God, Prophet Julius O. Egeonu prayed for Mrs. Simonlehner and committed her into the hands of God. He anointed a handkerchief and instructed Mrs. Simonlehner's family to go back to Austria and put it on her body (Acts 19:12). They did it ... and …then, to everyone's surprise, she started to breath normally, got up from the sickbed and could walk free. The doctors disconnected her from the breathing apparatus and released her home. The entire family was amazed about the Power of God upon the ministry of Prophet Julius O. Egeonu. Praise God!
A few months later following her healing, Mrs. Simonlehner and her family wanted to honor the prophet of God and organized a day trip by plane to Austria for him. As you can see in the photo below, the Prophet visited Mrs. Simonlehner and blessed her for a long life. Glory to God!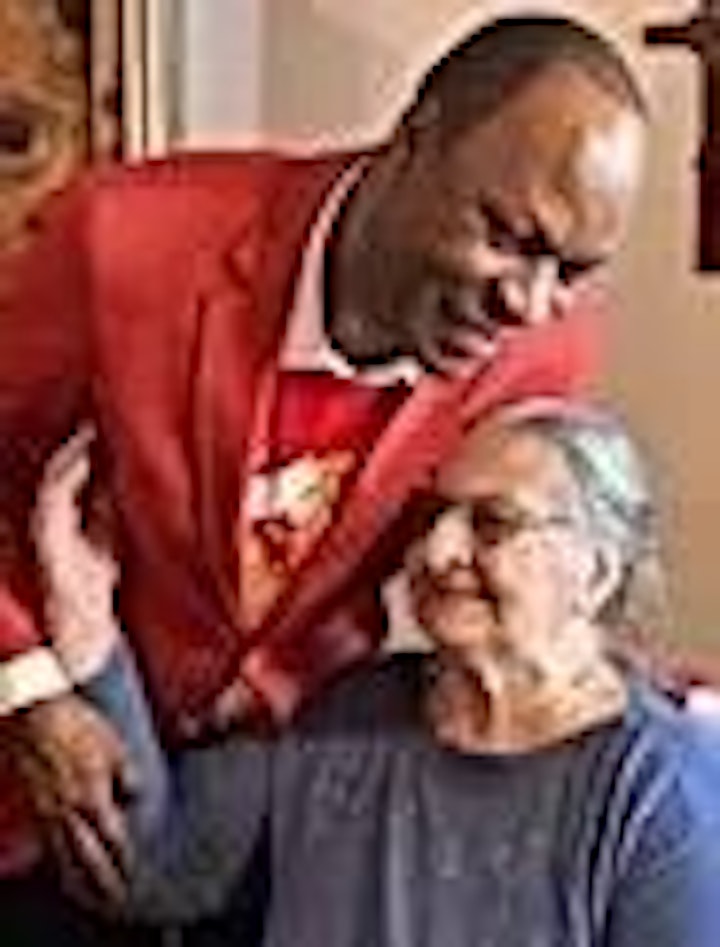 14 years of barrenness broken: Below is a picture of a woman whose 14 years of barrenness was broken following deliverance through prophet Julius Egeonu. Since her wedding, Mrs. Numuni (name changed) wished nothing more than a baby of her own. Years passed by and the frustration grew bigger and bigger. Fourteen sorrowful years of barrenness finally brought her to the World Movers International Church. When the man of God, Prophet Julius Egeonu prayed for the lady, the demonic forces - responsible for her barrenness - were exposed. Mrs. Numuni lost the control of her body and was thrown to the ground. The demonic powers consumed her until Prophet Julius finally delivered her, through the power of Jesus Christ. After her deliverance God released a prophetic word for her and Prophet Julius O. Egeonu said:​"God will give you double for your trouble, you will have twins". ​A few months later, Mrs. Numuni came back to the church with a big belly to give her testimony. After birth she sent her below picture to the church with her twins. Glory to God!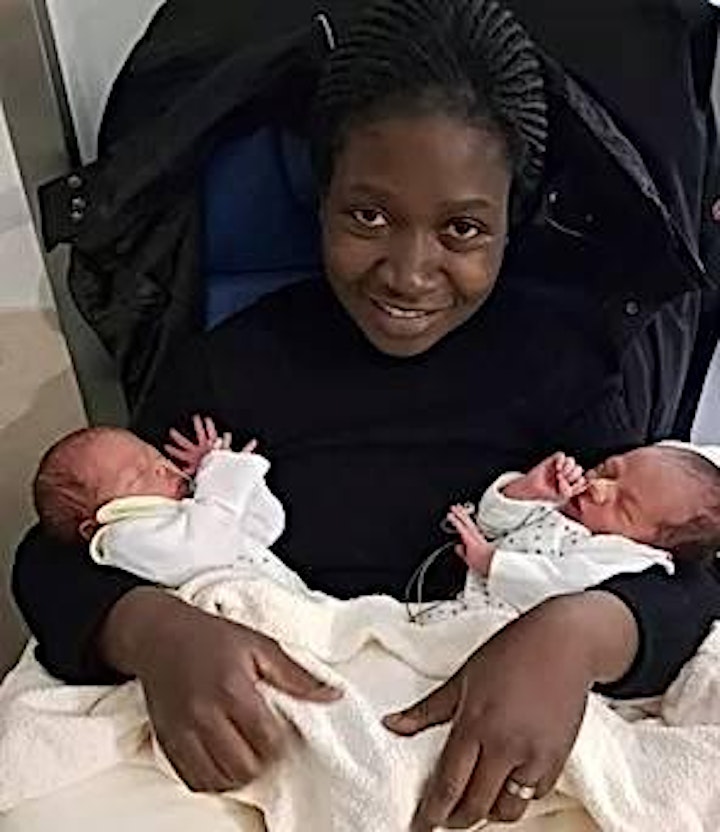 Delivered from lucifer spirit: Below is a video of a man who had a calling of God and wanted to be a pastor but he had been deep in the occultic kingdom where he was using occultic powers. The young man came from the occult and was buried alive by demonic forces. Tortured nights made life difficult for him. According to the man, he saw prophet Julius on YouTube ministering and saw something he had never seen. The man travelled with his mother from Denmark to prophet Julius' church in Hamburg, Germany for his deliverance. It was desperation and the longing for deliverance that brought the man with his mother all the way from Denmark to Hamburg. Here, during his deliverance, he begins to tell his story when the anointing that is upon the life of Prophet Julius O. Egeonu begins to challenge the demonic forces operating in the man. The demons in the man said "I AM LUCIFER"! Watch as the man receives his deliverance, through the name of Jesus Christ, and then accepts the Lord Jesus Christ as his Lord and Saviour. The man's live will never be the same again. Halleluyah to the Lamb of God!
Delivered from multiple evil spirits: Below is a video of a young girl who was delivered from the spirit of suicide and the spirit of old woman and old man, through the ministration of Prophet Julius O. Egeonu. Because she was a star, the enemy wanted to kill her through suicide. During her deliverance, the demons inside her said "she should not marry" but, by the power of God, the girl received her deliverance and was set free to the Glory to God!
The video below shows a girl who was delivered from a heavy python spirit after attending one of prophet Julius Egeonu's prophetic event in Denmark. Her future was so bright but the enemies had been attacking her. The girl was quiet at the beginning during her deliverance but as soon as the Prophet Julius commanded the evil spirit to leave the girl's body, the evil spirit began to manifest causing the girl to scream, rapidly turning round and round then falling to the floor where the evil spirit continued to manifest and the deliverance battle continued. The girl was eventually set free to the Glory to God!
What God has done for all the above people, He can do it for you too, because "All things are possible to him that believeth." Mark 9:23
For many more testimonies or videos like the above, please visit Prophet Julius church website www.wmichamburg.com; YouTube: Royal TV HH (https://www.youtube.com/channel/UCQ0SHqEvNN6K--K3GCnIwZw) Facebook: https://www.facebook.com/wmic.hamburg/
For any further information about the above event in Cambridge, please contact the UK crusade coordinator Millie on the number shown on the flyer above (+447825368929 ). You can also contact Prophet Julius ministry (World Movers International Church, Hamburg, Germany), on +49 176 85340802.