About this Event
Find intimacy in the age of disembodied bodies, win with joy, lean into the liminal and surrender in Sydney.
Doors Open
Welcome to Country
Intimacy
How do we relate in an ever de-humanising world?
What can business learn from training robots about human relations?
Let Bryony Cole, Host of The Future of Sex Podcast and Founder of Sextech School be your guide as we explore the power of touch, tech and human connection.
Play(ful)ness
To Win in Business You Need to Be Serious - Or Do You?
Together let's playfully manoeuver the ruling mythology of workplace personas.
Diana Nguyen, Comedian, Writer and Life Coach will lead you through an immersive and JOYFOOL experience and demonstrate how (even in COVID times) play, joy, humour - and bravely giving it a go - is what we need now more than ever to win in business and life!
Surrender
For some of us the post-bushfire, peri-lockdown COVID life has brought much reflection and respite.
But for many, it's been a catalyst to run faster. But wait, might we be missing a trick How might we surrender to the wisdom of now? 
Join Associate Professor Bem Le Hunte, critically acclaimed Novelist, Journalist, Script writer, Creative Practitioner and Course Director of the Bachelor of Creative Intelligence and Innovation (BCII) at the University of Technology Sydney for a very special transformative experience.
Lean into the liminal space, sit with what was, what is and what might be.  Surrender.
Closing and mingling. Well distanced networking welcomed
Special thanks to our Sydney local hub partners - University of Technology Sydney
We often forget the role that universities can have in our society. With public purpose at its core, the University of Technology Sydney (UTS) is focussed on making the world a better place.
Technology-driven research, incredible students and community engagement come together to make ripples (and often waves) of positive impact.
We're proud to partner with UTS for The Great Wave.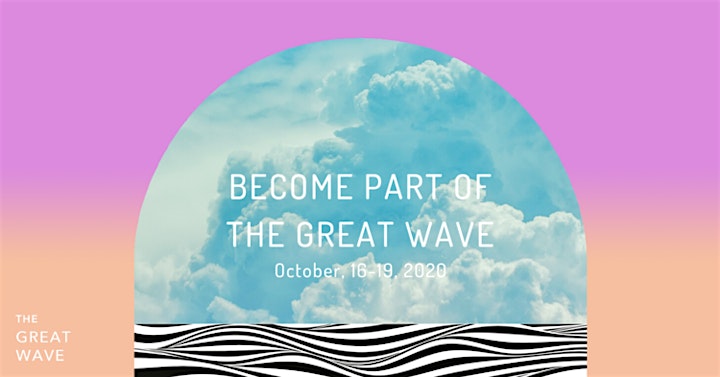 The Sydney hub is part of The Great Wave, the first-of-its-kind virtual and in-person festival that will connect thousands of people around the world from October 16-19, 2020 to explore how we can reinvent business, our organizations, and ourselves.
To reserve your spot, please get your The Great Wave pass. Once you hold a pass, you receive a password to sign up on this Eventbrite page for the hub. Due to limitations on crowd size, registration and admittance for hub events are first-come, first-served.
Virtual and in-person, global and local, indoors and outdoors, in cities and nature, alone and together, The Great Wave is an extraordinary festival for extraordinary times. View the global program here.
The Great Wave is a creation of the House of Beautiful Business, a global think tank and community to make humans more human and business more beautiful.
Any questions? Please email us at collaborate@thebusinessromanticsociety.com