Bubbles & Beats - Edible Alchemy PoPs uP the Bacteria Bar directly at the lab with local DJs to set the tone.
About this event
We look forward to welcome you to Edible Alchemy's Bacteria Bar right at our Laboratory Headquarters!
It will be a bubbly effervescent experience. A chance to meet and taste microorganisms as well as dance to some local artists beats!
BUBBLES : The bar is stocked with naturally carbonated beverages made with flower petals, spices, saps, roots & unrefined sugars. We forage and gather ingredients to brew these cocktails including wild yeasts harvested from the air to craft fizzy, lifting drinks.
Come pop in for a kombucha-cocktail, or a real Moscow-mule and chat with your Bacteria Baristas behind the bar and have a dance to support your local artists!
Craft beer from Vagabond Bier will also be at the bar!
BEATS :
14:00-15:30 Eric Maltz
15:30-17:00 Zeda Vega
17:00-18:30 The Jinxxx
18:30-20:00 Ruudkowsky
20:00-21:30 Moros Fold
FOOD: Edible Alchemy & Roots Radicals power together to put some 3D eats onto your plates! RAW - COOKED - FERMENTED tapas will be served during the afternoon with a focus on seasonal, regional & food saving. One of a kind dishes will be served, bring your curious tastebuds!
LIVE ART:
~ Dutch artist Marten Bart Stork will be capturing the day's vibes on canvas in an experimental live painting session. Come explore the scene as it takes shape before your very eyes in real-time. Some of his artworks will also be available on display and up for grabs.
~ Maia from Back to the Roots invites you to let your creative side run wild and free with crafty items sourced from Berlin's very own green spaces. We'll be making a mix of accessories from Mother Nature's palette. A collection of leaves, sticks and other natural materials will be provided for. Feel free to bring pressed flowers & your own foraged décor!
--------------
Bubbles Beats Bass Bakterien!
Endlich Bacteria Bar direkt vor unserem Labor im Moos!
Wie immer ein prickelndes, sprudelndes Erlebnis, nur diesmal im wunderschönen Fabrikinnenhof. Deine Chance, Mikroorganismen zu treffen und zu probieren, sowie zu den Beats Berliner DJs zu tanzen!
BUBBLES: Unsere Bar ist mit natürlich kohlensäurehaltigen Getränken bestückt, die mit Blütenblättern, Gewürzen, Säften, Wurzeln und unraffiniertem Zucker hergestellt werden. Wir suchen und sammeln Zutaten, um diese Cocktails zu brauen, einschließlich wilder Hefen, die aus der Luft geerntet werden.
Komm vorbei auf einen Kombucha-Cocktail oder einen echten Moscow-Mule, plauder mit den Bacteria Baristas hinter der Bar und unterstütze die Künstler*innen!
BEATS :
14:00-15:30 Eric Maltz
15:30-17:00 Zeda Vega
17:00-18:30 The Jinxxx
18:30-20:00 Ruudkowsky
20:00-21:30 Moros Fold
ESSEN: Edible Alchemy & Roots Radicals tun sich zusammen, um Ihnen 3D-Essen auf den Teller zu zaubern! RAW - COOKED - FERMENTED Tapas werden im Laufe des Nachmittags serviert, wobei der Fokus auf saisonalen, regionalen & sparsamen Lebensmitteln liegt. Es werden einzigartige Gerichte serviert, bringen Sie Ihre neugierigen Geschmacksnerven mit!
LIVE ART:
~ Der holländische Künstler Marten Bart Stork wird die Stimmung des Tages in einer experimentellen Live-Painting-Session auf Leinwand festhalten. Erkunden Sie die Szene, die vor Ihren Augen in Echtzeit Gestalt annimmt. Einige seiner Kunstwerke werden auch ausgestellt und können erworben werden.
~ Maia von Back to the Roots lädt Sie ein, Ihrer kreativen Seite freien Lauf zu lassen - mit handwerklichen Gegenständen, die aus Berlins eigenen Grünflächen stammen. Wir werden eine Mischung aus Accessoires aus der Palette von Mutter Natur herstellen. Eine Sammlung von Blättern, Stöcken und anderen natürlichen Materialien wird zur Verfügung gestellt. Bringen Sie gerne gepresste Blumen und Ihre eigene Dekoration aus dem Wald mit!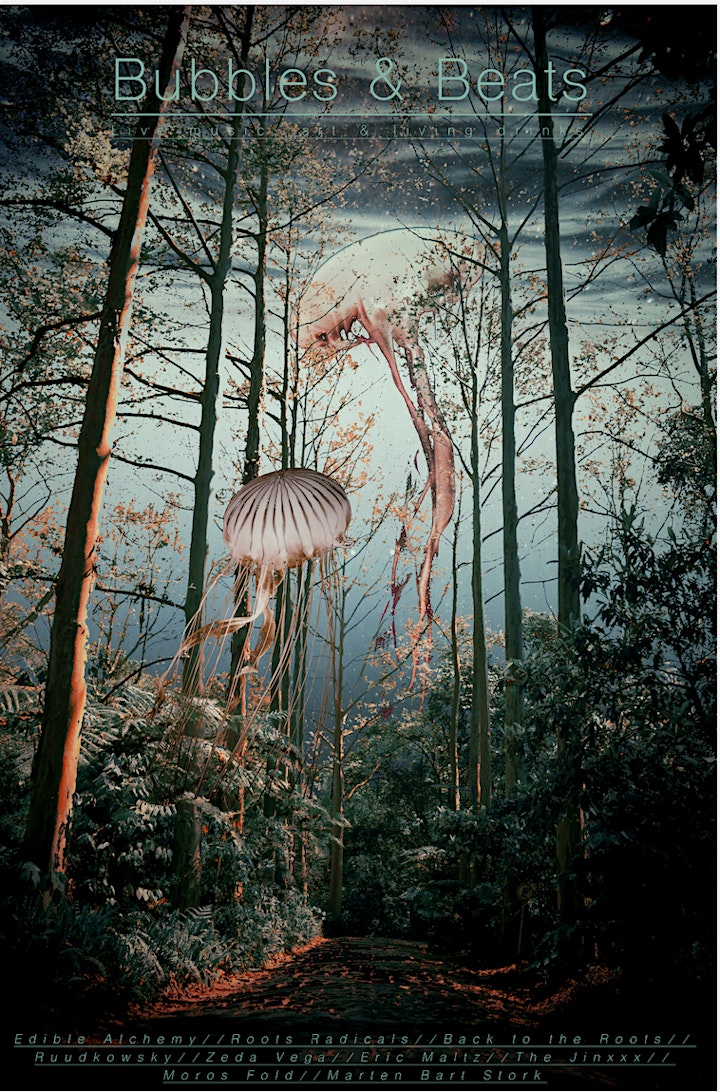 Organizer of Bubbles & Beats - Day Fest
Have you ever made your own brew? Or kimchi, sauerkraut and miso?
Alexis from Edible Alchemy CoLaboratory knows how to turn food in to gold: the secret is called fermentation! 

In the time of disinfectants, antibiotics and canned food, we forgot about these perfectly probiotic cultures, the valuable vitamins and nutrients they hold and of course their amazing taste! 
Schon mal deine eigene Brause gemacht? Oder Kimchi, Sauerkraut und Miso?
Alexis von Edible Alchemy CoLaboratory weiß, wie man Essen zu Gold verwandelt: Das Geheimnis heißt Fermentation; also die Bakterien einfach ihren Job machen lassen. 

In der Zeit von Desinfektionsmitteln, Antibiotica und Essen aus Dosen haben wir vergessen, dass es durchaus probiotische Kulturen gibt, die uns wertvolle Vitamine und gleichzeitig leckeres Essen bescheren.