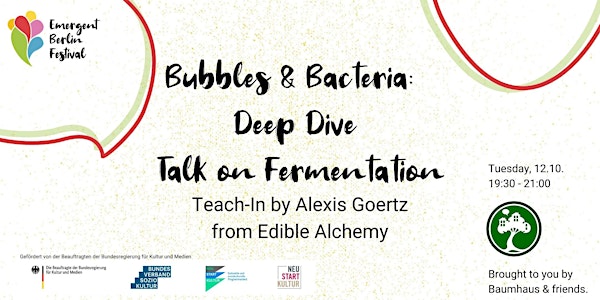 Bubbles & Bacteria: A Deep Dive Talk on Fermentation
Using our senses, taste, smell, audio, sight and touch, we will experience and learn about fermentation and how it can expand our worlds.
When and where
Location
Das Baumhaus Gerichtstraße 23 13347 Berlin Germany
About this event
Let's explore taste, health and ecology together! Bring your curious taste buds and your questions as we will open up the floor for more discussion on bacteria, yeast, mold and more.
Note about Covid restrictions: As of October 2021, all EMB events will take place in Das Baumhaus where the 2-G rules apply. Hence, you must either be vaccinated or recovered to attend this talk.
Registration: This event is free, but spots are limited so please only sign up if you can really attend.
About Alexis Goertz
Since 2014, Alexis has poured most of her time and love into experimenting with and expanding Edible Alchemy. She is constantly working to evolve her fermentation and foraging offerings in classrooms, festivals, kitchens, farmers' markets, urban gardens, parks, rooftops and creative spaces.
Website: https://ediblealchemy.co/
Follow: @EdibleAlchemy.co
Emergent Berlin 2021 - An event series by and for local projects.
Every Tuesday night in the second half of 2021, this year's EMB provides a platform for people and places to reconnect, reflect on and share our collective and individual experiences and strategies.
Theme 2021: "Rising to meet the crises." As we gradually emerge from the pandemic in Berlin, the climate catastrophe is knocking at our doorstep. We need to act with a sense of urgency. We invite fellow social-ecological projects and people who want to take action to reconnect, reflect on and share our collective and individual experiences and strategies. Where are we at? What can we learn from the pandemic? How can we step up to the evermore urgent climate and sustainability crises now?
Each month, we shift our focus on another aspect of taking action for transformation: personal, ecological, aesthetic, cultural, economic and social.
Month #1 July: Local Projects & Personal Sustainability
Month #2 August: Local Projects & Ecological Sustainability
Month #3 September: Local Projects & Aesthetic Sustainability
Month #4 October: Local Projects & Cultural Sustainability
Month #5 November: Local Projects & Economic Sustainability
Month #6 December: Local Projects & Social Sustainability
As always, Emergent Berlin Festival is brought to you by Baumhaus & friends. If you have trouble finding us, call Karen: 0176-7856-6593
Website: www.emergentberlin2021.de
IG: @baumhausberlin