Dieses Event ist beendet.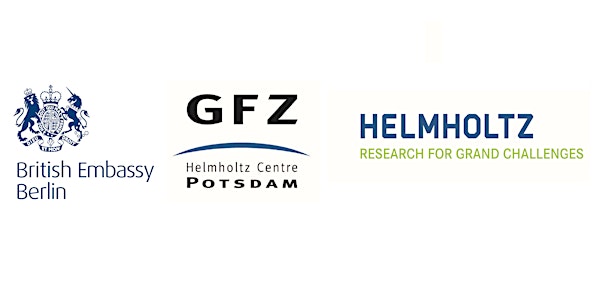 British – German Cooperation to Study Climate Change and Adaptation Options
Teatime lectures
Zu diesem Event
The upcoming UN Climate Conference COP26 in November 2021 in Glasgow marks a critical moment in the long running effort to find global solutions to climate change. Science is and will be a crucial partner in this process. This motivated the British Embassy in Berlin and the Helmholtz Centre Potsdam GFZ to jointly organize a bilateral symposium to discuss appropriate research and adaptation strategies for climate change.
Join us for digital and interactive "Teatime-Lectures" on
7 and 8 December 2020
The event brings together climate scientists and government officials and offer a platform to discuss current needs, research challenges and policy requirements.
The "Teatime-Lectures" are co-organized with the French Embassy to commemorate the 5th anniversary of the Paris Agreement on climate change (COP21).
AGENDA:
7 December
16:45 – 18:30 Welcome addresses by
• Miriam Laurance, Regional Director, Science & Innovation Network, Europe, Russia, Israel and Turkey, British Embassy
• Niels Hovius - Scientific Director of Helmholtz Centre Potsdam GFZ
Prospects for European Science Cooperation
• Paul Monks - Chief Scientific Advisor; Dep. for Business, Energy & Industrial Strategy
• Patrick Child - European Commission; Deputy Director-General in DG Research and Innovation (R&I): The road to the next COP: will it be another turning point?
• Roland Koch - The Helmholtz Climate Initiative: Hand in hand - facing climate change with research and communication
Keynote Lecture
• Liane Benning - Helmholtz Centre Potsdam GFZ: Filling a knowledge Gap: how small microbes melt the Greenland Ice Sheet
8 December 2020
16:30 – 18:00 Reports from bilateral scientific workshops
• Magda Titirici, Rüdiger-A. Eichel: Hydrogen research: Production, Storage, Distribution and Utilization
• Liane Benning: Addressing the Gaps in Climate Research
Keynote lectures
• Felix Christian Matthes - Öko-Institut; Research Coordinator for Energy & Climate policy; Member of the German National Hydrogen Council: From promise to practice: hydrogen in the German energy transformation
• Nick Pidgeon - University of Cardiff: Communicating Climate/Energy Transition Research to the Public