Dieses Event ist beendet.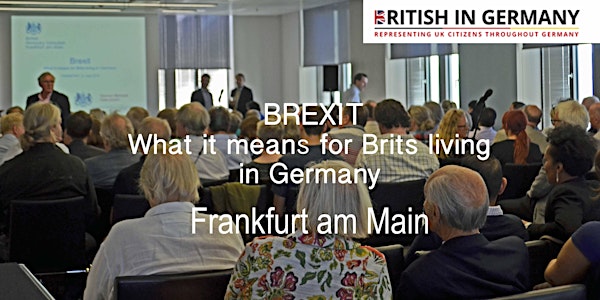 Brexit - What it means for Brits living in Germany
Zeit und Ort
Veranstaltungsort
Haus am Dom Domplatz. 3 Großer Saal 60311 Frankfurt am Main Germany
Karte und Wegbeschreibung
Beschreibung
While the terms of Britain's exit from the EU are still under negotiation, British citizens find themselves in a state of uncertainty with many asking themselves the question: "How will Brexit affect my work, my family and my future in Germany?"
Following the success of the first event, British in Germany, a group dedicated to protecting the rights of British citizens in Germany in the BREXIT negotiations and HM Consul General, Rafe Courage, invite you to catch-up on the latest status of the withdrawal negotiations and to discuss and explore topics such as residency requirements, dual citizenship, freedom of movement, health insurance, pension rights and recognition of professional qualifications.
The evening will be moderated by a member of the Deutsch-Britische Gesellschaft. Representatives of Frankfurt and Hesse have also been invited to join the discussion and to present their take on recent developments.
The event, which will be in English and German, is primarily aimed at British citizens living in and around Frankfurt. Others concerned about family members and friends are also welcome to attend.
Doors will open at 6.00 p.m. Please remember to bring your ticket and a form of photo ID.