Modern I Fresh I Enjoyable: Learn Simple and Effective Tools and Techniques To Reduce Your Stress and Anxiety (Live I Online)
About this event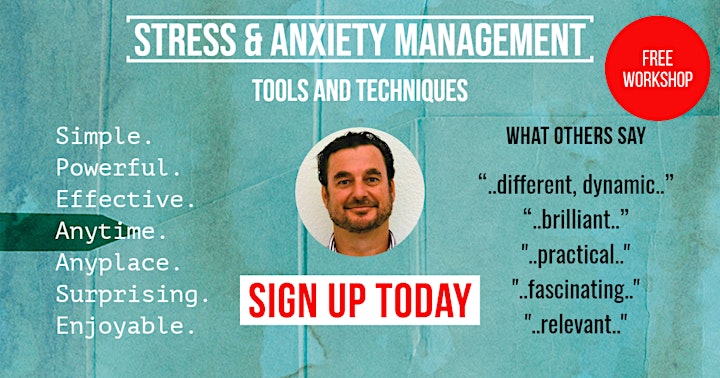 When Stress - or its tyranical cousin, Anxiety - take over, life begins to loose some of its shine. They rob us of our health, relationships, creativity and productivity. Left unadressed, they can lead to burnout.
The figures are staggering. In the USA, it is estimated that a whopping 60% of all illnesses and diseases are stress related. In Germany, 80% of people find their lives stressful. In Singapore, 92% of working people are stressed. In France, 12% of the workforce is at risk of burnout. In the UK, 74% of adults reported feeling "overwhelmed and unable to cope". And that was pre-pandemic!
Learning techniques to "relax more" are obviously an important part of combatting stress and anxiety, but in many ways they are is just putting a sticking plaster on the symptoms. It is much more important to dig a bit deeper and understand what is going on physiologically and cognitively.
Once we understand this (and the deep biological and evolutionary roots of stress), we can then begin to change our reactions to 'stress triggers'. We can also learn to break out of anxiety loops.

While the human brain might be incredibly complex, Unconscious Innovation focuses on simplicity.
This workshop introduces simple and effective 'anytime/ anyplace' tools ('Brain Hacks') that people can use to manage their stress and anxiety. But the tools go way beyond this: they can be used to learn new ways of thinking and increase creativity, innovation and problem solving. They are also enjoyable and surprising!
All you need to bring to the workshop is a curious mind. You are guaranteed to be surprised at discovering new things about your amazing mind!
IMPORTANT:
1. Before joining, please do check out more workshop details to make sure that this is the right event for you. See:
https://unconscious-innovation.com/events
2. Register / get access early, since places are limited.
Looking forward to seeing you soon!