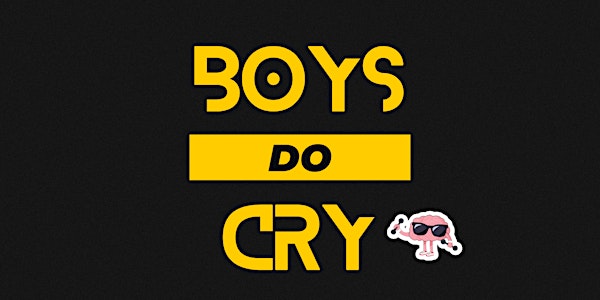 Boys DO Cry: Standup Comedy for Emotionally Repressed Men | in English
Emotional Openness is the new sexy.
When and where
Location
Göttin der Weisheit Lenaustraße 5 12047 Berlin Germany
About this event
Boys don't cry, they just drink beer, get fat, and then get hit by a truck. In our society, that's how the majority of men deal with their mental and emotional issues as there still is a stigmatised view regarding men's mental health, only a small portion of them are seeking therapy or any other non-addictive measures to handle their issues.
❓When you were a kid did your mom ever tell you when you got bruised "Stop crying, are you a man or a mouse, it will pass until you get married"? But she never told you what happens if you don't get married.
❓Did the deepest conversation with your father sound like this "Pass me the beer"
❓Are you still afraid to wear pink because you won't be macho anymore?
⬆️ If you answered yes to any of those questions then you arrived at the right place.
Come and join us for an open mic where you can witness the (once) emotionally repressed male comedians share their feelings, blame their parents, or unleash their inner dragon.
Audience get to vote the two most emotionally open comedians. And the winning comics will win 10€ each!
Warning: Some boys might have dark humor.
This event is part of Berlin Mental Health Festival.
🎤 Host by Moni Zhang 🇨🇳
Winner of Berlin New Standup Award 2019 & Founder of Berlin Mental Health Festival. Moni is featured by BBC, Euronews, Scottish Field, and The Scotsman. Now touring with her Edinburgh Fringe 2022 Sell-out show "Child from Wuhan".
Where & When?
📍8pm Friday @ Göttin der Weisheit: Lenaustraße 5, 12047 Berlin. Near Hermannplatz.
The bar itself is a very cosy space. They offer authentic Gambian food with vegan/meat/gluten-free options for 6-8€. Come early to grab a plate of deliciousness.
Predrink & dinner: 7 - 8.30pm
Show starts 8.30pm
Tickets:
Free Entry, Donation Based. Limited seating, please reserve a FREE ticket to make sure you have a seat.
We suggest a donation of 10 euros. Refugees welcome as guests. Students & Unemployed pay as able.
We accept card & cash.
Corona rules?
Currently, all Covid restrictions have been lifted in Berlin, masks are optional, please wear them if you wish, that is your business.