BOOTCAMP Agile Facilitation + Agile Coaching (ICP-ATF + ICP-ACC) -English!
Build up your Agile Coaching skills: Mindset, Active Listening, Powerful Questions, Solution Focus, Conflict or Feedback Conversation...
About this event
This BOTTCAMP is the combination of 2 Trainings:
-> Agile Team Facilitator and Agile Team Coach
Dates:
SEPT. 23rd/24th (ICP-ATF)
OCT 04th-6th (ICP-ACC)
About the Contents...
The Agile Team Facilitator training leads to the first of two knowledge-based certifications on the Agile Coaching Track.
This Agile Team Facilitator training introduces the participants to the Agile-Team-Facilitator-Framework and provides them with a toolkit and models for facilitating agile practices most relevant to their organization and context:
It focuses on the mindset and role of an agile team facilitator, while also providing group facilitation tools and techniques for effectively designing meetings and workshops that both engage the entire audience and drive towards clear decisions and valuable outcomes. Course participants will develop an appreciation for the art of facilitation as key to fostering collaboration and enabling self-organizing teams, and will gain experience facilitating for their agile teams.
This Agile Team Facilitator training will cover the required learning outcomes for this certification in 14 hours of instructional activities over the course of two days, remote.
This remote online training is highly interactive in zoom in large or small groups, with discussion visualization and topic elaboration on a miró collaboration board.... and lots of FUN included!
The Agile Team Coach course is the second certification on the Agile Coaching track. This training focuses primarily on the mindset, roles, and responsibilities of an Agile Coach. After finishing the course, the learner will be able to differentiate between and among mentoring, facilitating, professional coaching and teaching, and will also gain the skills needed to create a safe environment for meaningful collaboration and healthy conflict resolution within an agile team. This training introduces participants to foundational team coaching skills and team development concepts for starting and growing teams while focusing on teams and organizations as human systems. A key part focuses on developing an understanding of the professional coaching skillset and the value of honing these skills to serve individuals on an agile team. This training is delivered in theories, methods, discussions, exercises, and activities over the course of three days, or remotely in 21 hours.
Participants need good knowledge in Agile values, principles, and practices, as well as in Agile Team Facilitation. 
Agile Team Coach with Certificate ICP-ACC
After the course and fulfilling all exercises, participants of the "Agile Team Coach" training achieve thecertificate "Agile Team Facilitation" ICP-ACC by ICAgile:
Being accredied with the internationally acknowledged certificate this training proves to fulfill all Learning Objectives that are defined by interenational experts. In addigion to that, also the trainer fulfill the requirements that ICAgile defines for their trainers:
was bekommst du als Teilnehmer?
Selbstvertrauen - du weißt, dass du agile Facilitation und Coaching anhand von internationalen Standards erlernt hast und erfolgreich einsetzen kannst
Werkzeugkasten - du hast einen sicheren Werkzeugkasten für Facilitation und Coaching und kannst deinen Fokus in der Session besser auf deine Teilnehmer und ihre Themen richten
Wertvolle Gespräche - deine Konversationen werden besser, kreativer, inspirierender und bedeutungsvoller
Führungs-Fähigkeiten - du kannst deine neuen Skills in jedem Bereich einsetzen und wirst damit zu DEM gefragten Facilitator und Coach für kollaborative Team-Moderation und agile Leadership!
Zertifikate - bei erfolgreicher Teilnahme erzielst du die beiden international anerkannten Zertifikate von ICAgile: ICP-ATF Agile Team Faciliation und ICP-ACC Agile Coaching
Who should attend?
experienced or aspiring ...
Scrum Masters
Product Owners, Business Analysts
Agile Product Managers, Agile Project Managers
Agile Team Facilitators
Agile Team Leads, Agile Leaders
Agile Coaches
who want to explore all options how team facilitation helps collaboration and alignment for success in teams.
Trainer
This training is offered and delivered by Anja Stiedl (moccasoft).
Anja is a Scrum Alliance Certified Enterprise Coach CEC and Certified Team Coach CTC. She is also Path-to-CSP-Educator and member of the CTC-Review-Team. Since 2017 she is ICAgile authorized instructor for ICP, ICP-ATF, ICP-ACC, ICP-LEA, and ICP-PDV.
Anja supports organizations in their adaptation to fast changing markets and their transformation to agile and self organizing ways of working. She accompanies leaders and individuals on their learning journey to build up the knowledge and skills, that are required and demanded for their new role and their new understanding of collaboration.
Contact her for further information: contact-me@moccasoft.com
More information
International Consortium for Agile = ICAgile
DATES:
SEP-23rd/24th 9:00 - 17:00 CET
OCT 04th-06th 9:00 - 17:00 CET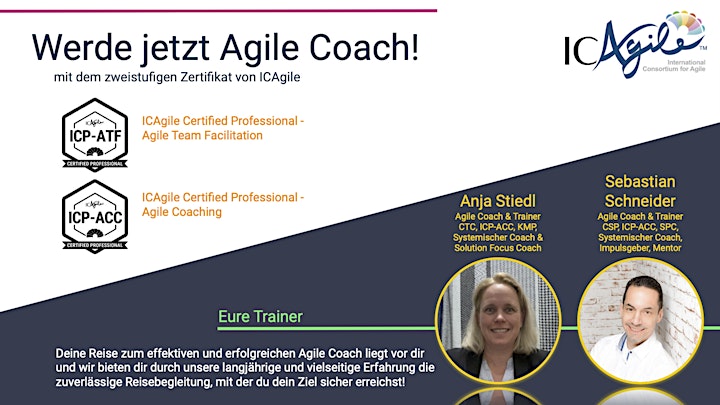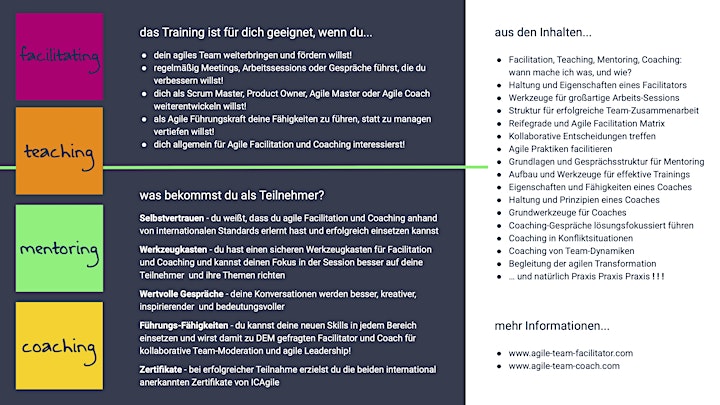 Organizer of BOOTCAMP Agile Facilitation + Agile Coaching (ICP-ATF + ICP-ACC) -English!
Anja Stiedl is a experienced Enterprise Agile Coach, Trainer and Speaker with expertise in individual, group, and professional coaching and development. She brings in her long term experience in facilitating major organizational transformation change.
Anja is a Scrum Alliance Certified Team Coach (CTC) since 2018, as well as a Certified Enterprise Coach (CEC) since 2020. As a Path-to-CSP-Educator she offers mentoring-programs since 2019 and serves the CTC-review-team since 2020.
Anja's mission is to enable the change that you need.
For any questions please contact me at / bei Fragen bitte hier Kontakt aufnehmen:
contact-me@moccasoft.com | fon: +49 8251 88 54 67