Lerne alle 4 Arbeitsmodi eines Agilen Coaches kennen und nutze sie in deinem Team-Kontext: Facilitation + Training + Mentoring + Coaching
About this event
Dieses Bootcamp ist die Kombination von 2 Trainings:
-> Agile Team Facilitator und Agile Team Coach
Termine
23./24.09. ICP-ATF (English) und 04.-06.10. ICP-ACC (English)
aus den Inhalten...
Facilitation, Teaching, Mentoring, Coaching:
wann mache ich was, und wie?
Haltung und Eigenschaften eines Facilitators
Werkzeuge für großartige Arbeits-Sessions
Struktur für erfolgreiche Team-Zusammenarbeit
Reifegrade und Agile Facilitation Matrix
Kollaborative Entscheidungen treffen
Agile Praktiken facilitieren
Grundlagen und Gesprächsstruktur für Mentoring
Aufbau und Werkzeuge für effektive Trainings
Eigenschaften und Fähigkeiten eines Coaches
Haltung und Prinzipien eines Coaches
Grundwerkzeuge für Coaches
Coaching-Gespräche lösungsfokussiert führen
Coaching in Konfliktsituationen
Coaching von Team-Dynamiken
Begleitung der agilen Transformation
… und natürlich Praxis Praxis Praxis ! ! !
was bekommst du als Teilnehmer?
Selbstvertrauen - du weißt, dass du agile Facilitation und Coaching anhand von internationalen Standards erlernt hast und erfolgreich einsetzen kannst
Werkzeugkasten - du hast einen sicheren Werkzeugkasten für Facilitation und Coaching und kannst deinen Fokus in der Session besser auf deine Teilnehmer und ihre Themen richten
Wertvolle Gespräche - deine Konversationen werden besser, kreativer, inspirierender und bedeutungsvoller
Führungs-Fähigkeiten - du kannst deine neuen Skills in jedem Bereich einsetzen und wirst damit zu DEM gefragten Facilitator und Coach für kollaborative Team-Moderation und agile Leadership!
Zertifikate - bei erfolgreicher Teilnahme erzielst du die beiden international anerkannten Zertifikate von ICAgile: ICP-ATF Agile Team Faciliation und ICP-ACC Agile Coaching
Wer sollte teilnehmen?
Agile Teamleiter oder angehende Teamleiter mit einer Leidenschaft für Servant Leadership und dem Wunsch, die Kunst der Moderation im Kontext von Team-Facilitation und Coaching zu lernen und zu üben. Relevante Rollen sind ScrumMasters, agile Projektmanager, agile Coaches und angehende Coaches, Product Owners, Business Analysts und alle, die die vielfältigen Möglichkeiten erkunden möchten, die Zusammenarbeit und Effektivität von Teams zu erleichtern und zu steigern.
Trainer:
Dieses Training wird von Anja Stiedl (moccasoft) durchgeführt.
Anja Stiedl ist ein Certified Enterprise Coach CEC und Certified Team Coach CTC der Scrum Alliance. Sie ist dort auch Path-to-CSP-Educator und Mitglied im CTC-Review-Team. Seit 2017 ist sie ICAgile Authorized Instructor für ICP, ICP-ATF, ICP-ACC, ICP-LEA und ICP-PDV.
Sie hilft Organisationen bei der Anpassung an schnell wechselnde Märkte und eine Umstellung auf agile und selbstorganisierte Arbeitsweisen. Führungskräfte und Mitarbeiter begleitet sie auf ihrer Lernreise zu den Kenntnissen und Fähigkeiten, die von der neuen Rolle und dem neuen Verständnis der Zusammenarbeit gefordert und benötigt werden.
Termine:
23./24.09. 9:00 - 17:00 CET
04.-06.10. 9:00 - 17:00 CET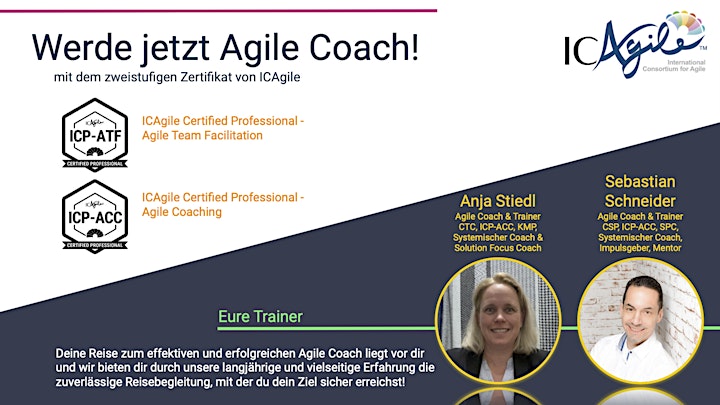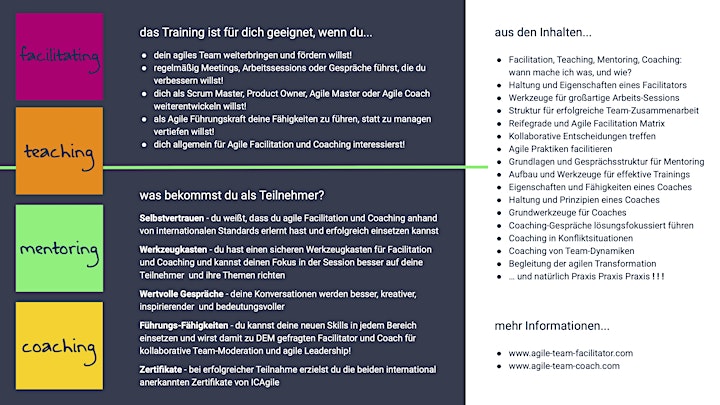 Organizer of Bootcamp Agile Facilitation + Agile Coaching (ICP-ATF + ICP-ACC) -English!
Anja Stiedl is a Certified Enterprise Agile Coach, Trainer and Speaker with expertise in individual, group, and professional coaching and development. She brings in her long term experience in facilitating major organizational transformation change.
Anja enjoys coaching organization leaders and teams on how to address and navigate through the growing challenges of today's volatile, uncertain, complex and ambiguous world by understanding, living and using Lean and Agile concepts and practices. In the role of an Agile Coach and Trainer, she has helped senior leaders to find alignment, gain clarity, develop the skills & the ability to strategize for the future in order to succeed in leading a their organization through the transformation, and teams to optimize their collaboration and processes to deliver customer value.
Anja's mission is to enable the change that you need.
For any questions please contact me at / bei Fragen bitte hier Kontakt aufnehmen:
contact-me@moccasoft.com | fon: +49 8251 88 54 67