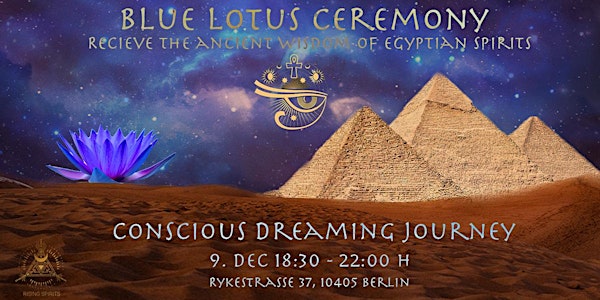 Blue Lotus Ceremony & Conscious Dreaming
Blue Lotus Ceremony and Conscious Dreaming - Journey into the Library of Wisdom - Meet the ancient spirits of Egypt.
When and where
Location
Yogalila Rykestraße 37 10405 Berlin Germany
Refund Policy
Contact the organizer to request a refund.
About this event
The Mystery School of the Soul and Rising Spirits invites you for a Blue Lotus Tea Ceremony to open up your visions and receive the wisdom of the ancient spirits of Egypt.
✨
Blue Lotus Tea has been used in the ancient Egypt culture to enrich dreams and states of altered consciousness. The petals of the blue lily plant contain psychoactive alkaloids that help you to relax, experience euphoria and ease feelings of anxiety - opening a portal into your conscious dream world.
✨
In the language of ancient Egypt, a dream is both an awakening and a place. When we close our ordinary eyes, our eyes of vision open.
As active Dreamers, we travel consciously and intentionally into the dreamspace for healing, initiation, adventure and inspiration.
✨
In our dream journey we will meet Seshat, the goddess of writing and the ruler of the books. She was an expert in the art of sighting the stars and planets and is guiding us through the Library of Wisdom to receive answers to our questions that are pending in our life right now.
We invite you for a night of an ancient ritual with:
✨ Blue Lotus Tea Ceremony
✨ Guided Dream Journey
✨ Journaling
✨ Sound Healing
✨ Chanting
✨ Collective Healing
✨ Creative Sharing
We are excited to do dive deep with you into a magical journey 💫
💛
Anna & Annette
Spots are limited! Book in advance 🙏
Location:
Yoga Lila
Rykestraße 37,
10405 Berlin